SAILING CLOSE to the WIND
by Leigh Lundin
It's been a while since we last looked in on our friend, Travis Erwin. He shared with Criminal Brief a story of trials, travails, and tribulations. It's not that Travis isn't a good story-teller; he is. But he does something few males dare try– he writes romance under his own masculine name.
You might think he could justifiably cry sexism, but that's not the masculine way and besides, Travis enjoys tremendous support from women writers and readers. In the face of adversity, Travis hunkers down and strives harder. In fact, he's currently at work on his next book, a humorous memoir of the stomach, titled Lettuce Is The Devil : The Culinary Dogma Of A Devout Meat Man. To learn more, visit Facebook.
But wait… Travis wants to share good news.
Texas: Tall Tales and Tall Ships
by Travis Erwin
Unexpected turns. Life throws them at us all the time. It's no different when you're a writer and often times it's only years later after your boat crashed into that unseen coral reef that you understand sinking at that particular time was the best thing for you. 
I was three unpublished novels into this path when an editor friend shot out a name to me in an email. She described this person as the perfect literary agent for me, personality wise and writing style wise. So I fire up the internet and see that this particular agent is not accepting queries. Not to be deterred, I check out her schedule for the next year figuring I can catch up with her at a literary conference and make my introduction that way. 
That's when my ship really began to take on water and list to the side. You see, she was only attending one event. In Arizona. A doable trip from Texas but this particular writer's function was more of a workshop than a conference and they only accepted 12 writers. I read the criteria and thought– what the hell, I'll never know unless I try. I fired off my resume, weak as it was, a rather lengthy writing sample, and settled in to wait. Never did I think I'd make it in. Then the email came.
Suddenly I have a bilge pump for my leaky vessel. I was one of the chosen few.
Day One in Arizona
We meet the editor who put the thing together. He was a rather stiff and brusque man of definite opinions. His first words to me at the airport were, "I hope just because you are from Texas doesn't mean you were stupid enough to have vote for Bush."
The next morning we gather together, the editor and we dozen writers. Introductions are made. I listen as three or four people talk about their MFA's from Harvard, Stanford, and other hallowed institutions. I decide not to mention I never finished my BA in Wildlife biology from West Texas State. One guy stands up and talks about his day as a former member of the White House Press Corp and his days as a foreign correspondent in Zimbabwe and Kenya. 
My turn is coming and my confidence lists to the side like a dingy in a typhoon. I stand and say, "My name is Travis Erwin. I'm a native Texan that writes Romance and Women's Fiction." When the laughter dies, I say, "No, I'm serious."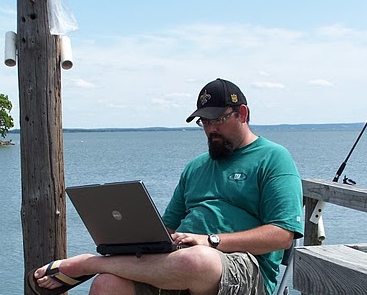 Day Two and …
Over the coming days I bond with my fellow writers. I believe I prove to them I have the chops if not the resume. I also learn the intimidating editor isn't intimidating. I meet that agent and although we came this close and still correspond with every project I write, she has yet to become my agent.
One might conclude from this that my ship sank. I spent time and money traveling to a weeklong writer's workshop and seemingly gained nothing for the effort. 
Wrong. I made friends, which in this business is often all you have and two, I received one pearl of wisdom from that gruff, opinionated editor. On the last day he sat me down and had this to say, "Travis, you are a talented writer with a great voice, but your words on the page aren't half as entertaining as the stories you tell each night when we're all sitting in front the of cabins drinking a beer or three. I want you to go home and write a story, but pretend you are sitting on a bar stool somewhere instead of at your computer. Pretend there is a beer in front of you and there is some sad lonely man sitting on the stool beside you. Write your story as if you were telling it."
Harbor Lights
That's how Plundered Booty was born. 
I wrote it as a modern day pirate story. A tale of love, lust, and brand new automobiles. I told it from the viewpoint of Hank Petty Zybeck.  
My name is Hank Petty Zybeck: Hank, after the greatest country and  western singer of all time. My dear departed daddy's description, not mine. Petty for the king of all race car drivers. Again, my daddy's opinion, but one I happen to share. And Zybeck, because I'm my father's son. Least that was my momma's claim to her dying day.
I let a few writing friends read Hank's tale. Every last one of them told me to turn Hank's story into a novel. I did. That ship sank. I couldn't get agents to read it much less agree to represent me. I abandoned the manuscript like treasure at the bottom of the sea.
Several years went by and I got wind of a new project being put together by Mark Terry, the bestselling author of the Mark Stillwater series of thrillers. The project was to be a crime anthology. Not exactly my normal genre but I'd been toying with an idea for awhile. I started writing this new story. Several hundred words into it, it hits me. Plundered Booty was about a crime. But even the original short story version was long and since writing the novel, there were things I wanted to add to the original. 
So, I donned my scuba gear and dove deep into my computer files. I hauled the story to the surface, scrubbed off the barnacles, put shine to the brass, and sent it to Mark.
I'm proud to say Plundered Booty had wind in her sails after all. It can now be found as the closing story in Deadly By The Dozen : 12 Short Stories Of Murder and Mayhem.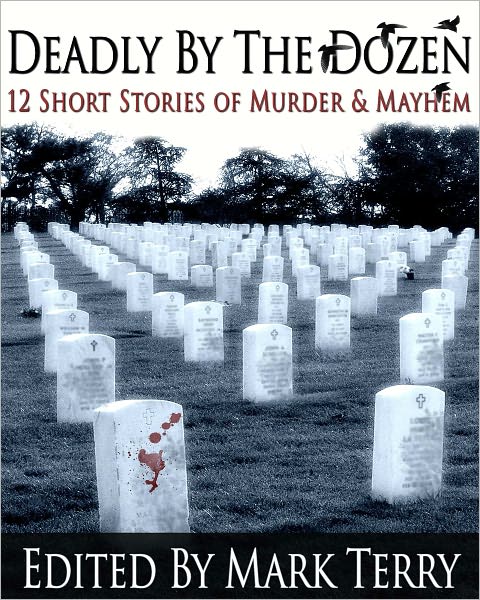 Plundered Booty blends the first person narrative style of a Kinky Friedman novel with the laid back vibe of a Jimmy Buffet song. It goes well with either a cigar or a margarita, but don't lose that shaker of salt. You may need a few grains. 

Pirates, rum, and Ford automobiles. Hank Zybeck is an expert on all three. He's yearned to visit the Caribbean for so long he can practically taste salt in the air. But his wife, Rachel, doesn't give a damn about his lifelong obsession. Her idea of exotic is Branson , Missouri, so she ain't about to traipse off to some tropical island only to get sand in her bikini. After thirteen years of marriage, Hank hasn't given up on changing her mind, but when Junior takes over the Ford dealership where Hank works, vacation spots are the least of his worries. Junior is a skilled salesman himself, but he reserves his talents for talking women into the back seat. And the woman he wants most — just happens to be Hank's wife. 

Under siege from Junior, Hank remembers history's most infamous female pirate, Anne Bonney and the last words she spoke to her lover, 'Calico' Jack Rackham "If you had fought like a man, you needn't be hang'd like a dog." In this tale of a man pushed to fight back or walk the plank, Hank sets out to prove that he is no dog. And even he doesn't how far over the edge he will go for the sake of love and the chance to fulfill his Caribbean dreams.
Deadly By The Dozen is now available as an e-book from Barnes & Noble and Amazon. A print version will soon be available as well.