EGOLESS
by Melodie Johnson Howe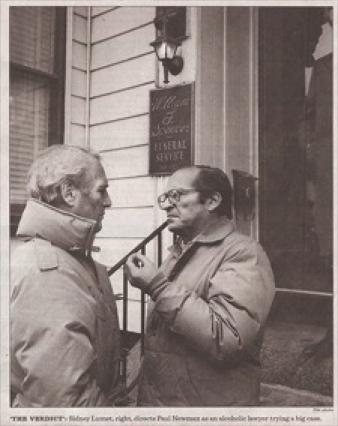 Director Sidney Lumet died earlier this month at the age of 86. The April 11th issue of the Los Angles Times had a thoughtful appreciation of the director's films from his first, "Twelve Angry Men" in 1956, to his last, a little known film titled "Before the Devil Knows You're Dead," released in 2006.
For me Lumet defined one decade, the 1970's, perfectly with such films as "Serpico", "Dog Day Afternoon", and "Network," written by Paddy Chayefsky. (A great writer not talked about much anymore.) Lumet's films were about adults facing moral dilemmas. The only moral dilemma we seem to have in movies today is, can the man-boy grow up or not? And why should he? Hey dude, who needs a moral dilemma?
What fascinated me about the article on Lumet was the photograph the newspaper used. It's a picture of Lumet directing Paul Newman in "The Verdict." The two men are standing close on the set, Lumet is gesturing with his hand—thumb touching forefinger. Both men are looking straight into the other's eyes, their expressions intense. The photographer caught a moment of the creative process in action: The director guiding the actor. The actor is listening, absorbing his words, then transforming them internally, trying to figure out how to make them his own. A performance is being created
Studying this picture, I couldn't get over how egoless the two men are in a business driven by egos. But the act of creating has to humble. The problem is getting to that point.
Ray Bradbury said that when he sits down to write he thinks, "poor Shakespeare." And he should, because it takes that kind of chutzpah to even begin. Once the writer has crossed over into his creative world he has to let go of the bravado that got him to his office chair in the first place. And that is not always easy.
John Cheever said he could tell when a "touch of the sherry" had gotten into a writers work. I think many readers have sensed when the writer's ego has taken over his novel. This seems to happen more in "literary" fiction than in mystery fiction. But there are authors in our genre whom I have stopped reading in the long form because I think they are preening and not writing
In a previous column I've written about another great director, Peter Hall. He had staged a play staring Alex Guinness and Ralph Richardson. Opening night was a huge success. The audience adored the two great actors. When Hall went back to see his play after it had been running for sometime he found the actors had fallen in love with themselves and the applause. Their performances had turned into pandering that made the audience clap even more. If I remember correctly he compared them to performing seals.
Alas, this narcissism can also happen with the non-pro. I don't know why I'm surprised, but I am, when unpublished writers come into one of my workshops and can't believe I'm asking them to rewrite or even to edit. Where does this unearned self-love and know-it-all attitude come from? I went to writing classes to learn. I took my knocks, I swallowed back my pride back, and I listened. I grumbled and complained all the way home from class, but I did what they advised. And I learned the craft.
Study this photograph of two great pros creating. There is a calmness, and a trust in each other because they both know there is no net to catch them if the fall.
It's the same for the writer. He has to peel away the ego that got him there and trust his unruly unconscious to drive his creative instincts.