DRIED FRUIT
by Steven Steinbock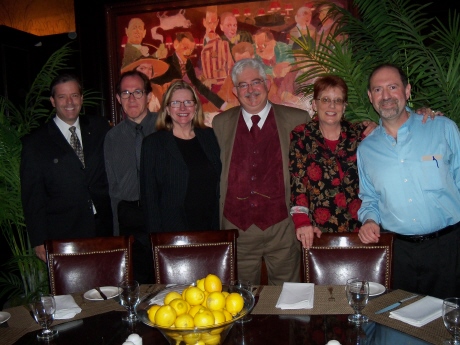 It's a frabjous Friday, and today your beamish correspondent is in the company of James Lincoln Warren, traveling by train from New York's Penn Station to Washington's Union Station. Last night members of the Mystery Writers of America gathered in the Grand Hyatt Ballroom above Grand Central Station for the annual Edgar Banquet and Award ceremony. (Alas, because your humble correspondent has not learned to use his vorpal sword to slice through time, I am writing this before the aforementioned banquet had occurred, so I'm unable to accurately report any details of that event).
On Wednesday, the day before the Edgars, a small group gathered at the Algonquin Hotel, the site of the famous Round Table. Criminal Brief lodge warden and keeper-of-the-keys James Lincoln Warren called the meeting to order. In attendance were Criminal Brief columnists Melodie Johnson Howe and Yours Truly along with special guest Stephen Ross, a regular visitor and occasional (well, once is an occasion) columnist at Criminal Brief who was here all the way from Whangaparaoa, New Zealand. (Stephen's short story, "Monsieur Alice is Absent," was nominated for an Edgar Award). Also present were Fact Crime writer Linda Lou Long and novelist Charles Todd.
Today through Sunday, fans and practitioners of the "traditional" mystery (however one defines it) are gathering at the Hyatt Regency in Bethesda, MD, for Malice Domestic. Keep an eye on the "comments" section below for up-to-date news. Perhaps James Warren will scribble us a post-mortem report in his Monday column.
DRIED FRUIT
The other night Melodie Johnson Howe complained that I spend too much time writing about food. This complain, of course, came between bites of her steak. (Lest I risk libel, I must say that each forkful of her steak was elegantly delivered to her mouth, and the chewing and speaking were never concurrent). At the risk of incurring Melodie's wrath, I have some further thoughts on food and the words we use to label them.
(Incidentally, during a lunch meeting on Wednesday with members of the International Association of Crime Writers – NA board, I learned not only that Edgar winner William Bayer is married to cookbook writer/designer Paula Wolfert, but also that Jonathan Santlofer's wife, Joy Santlofer, is a food writer, teacher, and historian).
For thousands – if not tens of thousands – of years, humans have been drying fruit as a means of preserving their provisions. The advent of the Frigidaire (r) has led the preserving of food from a necessity to an art form. Certain dried fruits have in fact taken on lives of their own to the point that they no longer share a name or resemblance to the fruits from which they were made.
A slice of dried apple is still called "apple." Dried cherries, apricots, and strawberries continue to carry the name of the source fruit even after they've been dried. Why then does a dried plum become a "prune"? And why does a grape cease to be called "grape" when it is transformed into a raisin (or a sultana or currant)? And as tasty as they may be, how did the driedcranberry acquire the retrofitted name "Craisins" (r)? It's pure craziness.
Some fruits, most notably dates and figs, can be eaten fresh or dried. But invariably when people think of figs and dates, it's the dried form.
While "prune," "sultana," and "currant" each get their name from a specific variety of plum or grape, the word "raisin" is a fairly generic term, from the Latin racemes, meaning "cluster of grapes or berries." Sultana is the feminine form of "Sultan" and in addition to the light-colored dried grapes, it can refer to a wife, daughter, or concubine of a Sultan. (Interestingly, a certain kind of large Spanish olive is called a "Queen Olive"). Currant gets its name from the Peloponnesian city of Corinth where the small dark grapes grow. There must be a story in there somewhere. But until I come up with it, I'll be busy eating.