Today and tomorrow, our regularly scheduled columns are being pre-empted by special programming. Over to you in the studio, Rob! —JLW

David Dean is an excellent writer of mystery stories, but don't take my word for it. Read "Tomorrow's Dead" in the current (July) Ellery Queen's Mystery Magazine. David also happens to be a police chief and he has shared with us before a little of what it feels like to combine those two jobs. Clearly a glutton for punishment, David has volunteered to help us with something that should be very important to all mystery writers: getting your guns right.

—Rob Lopresti
WRITE TO BEAR ARMS-Part I
by David Dean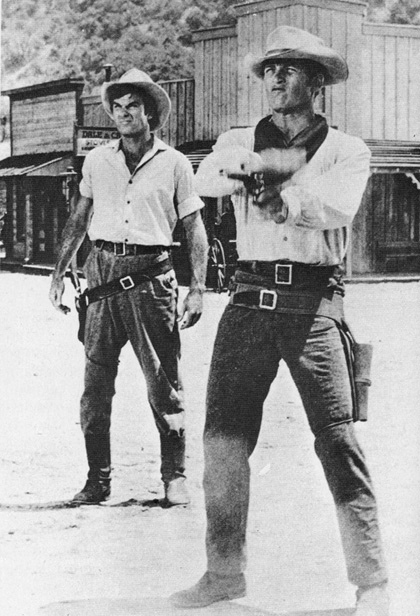 It's hard to write crime fiction and avoid running into a gun. Sooner or later, your detective, police officer, femme fatale, low-life thug, outraged citizen, criminal mastermind; someone lurking within your pages, is gonna pull their piece and all hell is gonna break loose. You know I'm right, so it's time to get to know your gat, your heater, your nine, your roscoe; that is to say, your gun.
Even though I'm a policeman I'm not an expert on guns; in fact, I'm not even a particularly good shot, but between seven years in the army and twenty-five with the force, I've handled quite a few. In this article I'm only going to focus on handguns.
As a writer it's easy to stumble when putting firearms into the hands of the characters we create. Firstly, there are so many to choose from, and secondly, the average writer, even of crime fiction, doesn't get the opportunity to handle guns very often, and may not even want to do so. But since you don't want your cop-under-fire to reload his service revolver with a magazine and risk being laughed out of the publisher's office, let's talk guns. I'll try not to get too technical and bore you with the details.
In essence there are two types of handguns: the revolver (as seen in all your favorite cowboy movies and early detective films) and the automatic (wielded by nearly everyone else and more accurately described as a semi-automatic, but I'll get to that later). There are a few other types such as the musket-style pistol used by duelers of old and the machine-pistol (that is truly automatic) that crops up most often within the military sphere, but for the sake of clarity I'm going to focus only on the first two categories because they are, by far, the most common.
A revolver is so-called because of its design: a revolving cylinder. With each pull of the trigger this cylinder rotates a chamber containing a bullet into line with the barrel of the gun. That bullet is fired with the action. (See below.) Generally a revolver has six chambers within the cylinder (hence the appellation, "six-shooter"), though some have only five or even fewer.
There are two basic types of revolvers: single-action and double-action. Oh Lord, you say, I thought you weren't going to bore us with details. Well, I lied. Wise up; it's important you know this so pay attention and keep your hands where I can see them.
A single-action is an old style of revolver that requires the shooter to pull back on the hammer with his thumb, thus rotating the next bullet into place; then pulling the trigger in order to fire that bullet. Remember the old Western TV series where the hero drew his six-shooter and then proceeded to 'fan' his gun by repeatedly slapping the hammer back with one hand while pulling the trigger with the other? That poor sap was wielding out-dated technology even for those times—he was saddled with a single-action gun and employing the only available tactic to make it shoot faster! It did look really cool though.
The new-fangled double-action only required that the gunman pull the trigger; the hammer cocking itself with the trigger-pull; then striking the bullet (technically, the firing pin, but I promised not to bog you down with details, and the point is the bullet gets struck) causing it to fire, thus combining the two actions with one trigger squeeze—double-action! It was a big improvement at the time because it allowed the gunman to fire much more rapidly while maintaining a degree of accuracy.
Revolvers, like their semi-automatic counterparts, are designed to fire one size of bullet, though again, I have to caution that there are exceptions. Bullets are generally described by their diameter, hence, .45 caliber, .38 caliber, 9 millimeter, etc. and it is their size and weight that determine the design, and limitations, of the gun itself. If the average pistol used in action films were truly able to fire as many bullets as Hollywood allows; they would weigh more than you and I could lift with one hand, much less accurately shoot.
Well, 'nuff said 'bout that—tomorrow: automatics. Until then, keep your powder dry and your head down.