WHERE DID YOU HEAR THAT?
by Deborah Elliott-Upton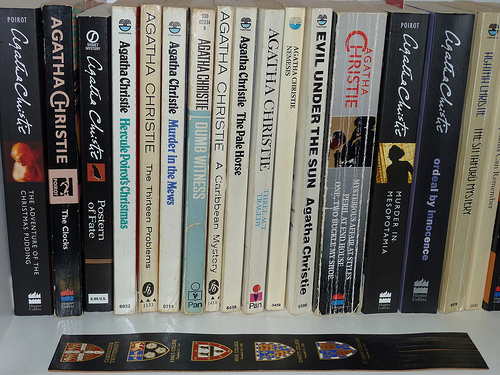 Like the rest of us, I am bombarded by information every day – some of it interesting enough to keep locked away in my mind's filing system or at least scribbled in a notebook for future use. Some of it may help me on "Jeopardy" or a game of "Trivial Pursuit", but most often, it ekes its way onto my computer screen for a new story. Today, I thought I might share just a few tidbits I've gathered along the roadway of life.
The creator of the "Nancy Drew Mysteries" was Edward Stratemeyer, but his name never graced the cover. Carolyn Keene was the pseudonym of various writers throughout the years.
While I knew many authors had thrown their hats into the ring writing as Carolyn Keene, I don't believe I'd seen Edward Stratemeyer's name associated with creating the teenage girl detective that drove so many of us toward a future as avid mystery lovers.
Proving that creativity doesn't end with one talent, the mysteries Armadillos and Old Lace and A Case of Lone Star were written by a country singer named Kinky Friedman.
If I needed any reminder that people aren't always what shows on the outside or on a performance stage, Country & Western singers prove a second look is often necessary to see the real person beneath the cloak of stardom, I think of the accomplishments of Dolly Parton, businessman woman extraordinaire, and John Rich, the impressive 2011 Celebrity Apprentice. Kinky Friedman, the singer from Texas who ran for Governor in 2006 with the catchphrase, "Why the hell not?", proves he has ability as a mystery writer. He's tried his hand at nonfiction, too, including the popular You Can Lead a Politician to Water, But You Can't Make Him Think: Ten Commandments For Texas Politics.
With billions of copies in print, Agatha Christie's novels rank among the best-selling books of all time, along with the Bible and works of William Shakespeare.
My first thought was WOW! Billions? WOW!
Agatha Christie seems to like the use of poisons in her stories, perhaps because she worked with pharmaceuticals during World War I.
I didn't know this about Christie, but it makes sense that with her methodical writing, a background with delicate and precise chemicals would come in handy. My personal opinion is smart people make the best mystery writers and the best readers.
Nothing stimulates our brain quite like solving puzzles and learning new things – even if they are bits of facts we hadn't known before. Keep reading. I believe it keeps us sharper, interesting, and adds a twinkle to our eyes. Who doesn't want that?