We have a special treat today. I have written before about James Powell whom I think is one of the best current writers of mystery short stories. A few weeks ago I reviewed his latest story, and that led to an e-chat, and that resulted to this lovely piece. By the way, the story he mentions about the dental student is "The Friends of Hector Jouvet" (in PDF format) and you can read it for free. Enjoy.

—Rob Lopresti
THE SHORT STORY SERIES: SHOULD YOU SAY IT AGAIN, SAM?
by James Powell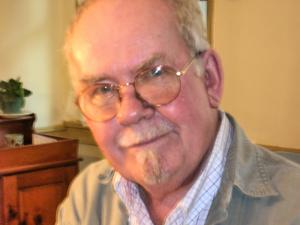 When EQMM published "A Dirge for Clowntown" someone at the magazine asked if I planned more Inspector Bozo stories. Surprised by the question I said no, I thought I'd used up all my clown-mime ideas in that one shot. Besides, a story where a clown is murdered by being hit in the face with a poisoned custard pie was a hard act to follow. (By the way don't forget that Clowntown was also inhabited by mimes, although some clowns didn't care for them because they wouldn't give you the time of day, and the rough clown element went in for mime bashing: pretending to punch a mime who then had to pretend he'd been punched and throw himself back against a wall or onto the ground until he hurt himself.)
And in fact although "Dirge" was one of my most popular stories in terms of reprints and reappearances in other forms I wasn't sure there was space enough for another story within Clowntown's original borders. It was 20 years later before I returned. I'm not too sure why except that I liked Bozo. We are kindred spirits, he and I. Perhaps it was the image I had of a war between an army of mimes and an army of clowns. This meant I had to get the mimes out of Clowntown by bringing their hereditary ruler Queen Mum back from exile to rally her people around her and found the city of Mimeapolis. Hence "Clowntown Pyjamas." I'm not sure what inspired "Last Laugh in Floogle Park" but it was expanding the whole idea. I like all three stories. But "Dirge" is my favorite, perhaps because it has a unity and logic that I like. At the moment I have no ideas for another Bozo story, though that of course might change tomorrow.
Here is another way that a series might develop. Forty-five years ago I wrote a story about a Canadian dental student who lost more than he could afford to lose at the casino in Monte Carlo. But I'd only spent an afternoon there several years before and didn't think I could get the true flavor of the place or my facts straight. (I had an inordinate fear of those pale denizens of the library stacks from hell who emerge, blinking into the daylight to catch innocent writers on questions of fact.) So I decided to invent San Sebastiano, my own Riviera principality. It became my first published story. I didn't plan it as a series. Canadian dental students wear thin pretty quickly.
A few stories later I returned to San Sebastiano to write about a private detective called Ambrose Ganelon whose ancestors had rid the principality of all serious crime. His great-grandfather was a detective of the armchair sort, his grandfather of a scientific bent, his father of the hard-drinking, two-fisted school. This made my detective of the out-of-work persuasion but not even able to close down the detective agency and find honest work elsewhere because if he did the master criminals of the world would descend on San Sebastiano whose police force, after so many generations of no serious crime, would be unable to cope with them. Again I didn't mean that story to be part of a series either.
But then I thought it might be fun to write about the Ganelon family. It is very comfortable to write about a country whose history and geography you have invented. By the way, just in case I should make a mistake about where a street is there or a building I have placed a geological fault (St. Felix Fault) across the center of the city so that with a quake or two I can rearrange things if I have to. (Eat your hearts out, pale stack denizens!)
At the moment I am trying something I seldom do, set a Ganelon story somewhere else, in Upper Canada in 1859. I don't know if I'll finish the story. I am, of course, a Canadian. But still it has cost me a good amount of time in research which I enjoy but the problem is to know when to stop.
Again, in 1975 I published a short story called "Bianca and the Seven Sleuths," a take-off on Snow White. No sane person would write a short story with seven detectives in it even if one of them has a day job driving a bread truck which meant they could all travel around at night in his step van. I never wrote another but I liked one of the detectives by the name of Grundig (I won't tell you which one of the seven dwarfs he was) who called himself Aardvark Investigations so he'd be first in the private detective listing in the phone book. So I've gone back to him in another three stories and am trying to finish another.
By the way, while researching the Ganelon story in Upper Canada I discovered this. In Toronto in 1855 occurred what was described as the Clown Riot. An American circus came to town and some of the roustabouts who set up the circus and then performed as clowns during the performances (Talk about multitasking) went to a brothel where they cut in line in front of some members of the Toronto fire brigade. Fistfights ensued and the fire fighters got the worse of it. The next day the fire brigade came and burned down the circus. This looks like a case for Inspector Bozo, a voice inside me says. But then another more authoritative voice said, "No, it does not."
Maybe I'll write that story in heaven. But then I remembered a story about Oscar Wilde. He admired a woman's poetry and told her she should try to get them published. But she was too busy raising a family and doing church work. "Perhaps in heaven," she said. He shook his head. "There are no publishers in heaven," he replied.