NO FILM at 11
by Leigh Lundin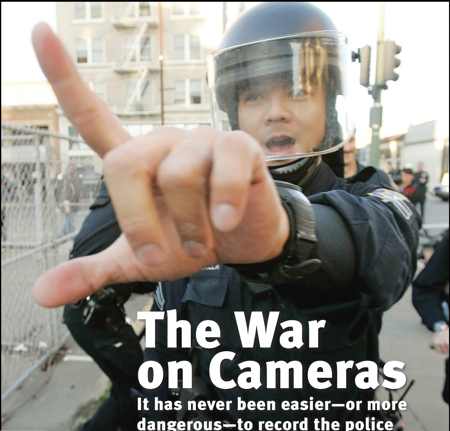 Government authorities want the right to spy on you, but they don't want you to record them. Some officials claim public scrutiny is espionage, even hinting at terrorism and criminal mischief. Indeed, the Cook County State Attorney's office now wraps itself in the cloak of homeland security for the most trivial of arrests.
75 Years for Recording Officials
Take Michael Allison, a backyard mechanic fighting Code Enforcement for the right to fix cars in his backyard. For his hearing, he asked for but was denied a court reporter. To obtain a permanent record, he informed the court he'd record it himself. Judge Kimbara Harrell ordered Allison arrested for violating her right to privacy.
If convicted, this man with no criminal record could be sentenced up to 75 years in prison, effectively a life sentence. He could have committed murder and been sentenced to a fraction of the time.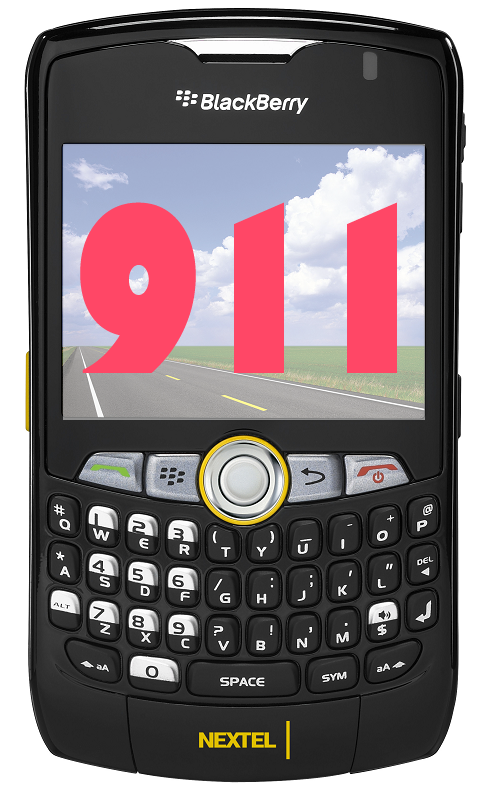 George Mason University's Mercatus Center rates Illinois next to the bottom in personal freedom. In 2008 alone, the state arrested more than 2% of its population for victimless crimes.
It comes as no surprise Illinois leads the retreat in reversing constitutional liberties, twisting a law meant to safeguard the people against overreaching government, protecting the rotten heartwood of power from examination by its citizens. Illinois aggressively prosecutes citizens who attempt to record public servants in the supposed performance of duties. Little wonder the state with a police commander imprisoned for years of torturing suspects and a series of indicted governors detests transparency.
A University of Chicago Law School study found 10,000 complaints filed against Chicago police in a two-year period, 40% more than the national average. Of those 10,000 complaints, only 19 resulted in significant discipline and in 85% of the complaints, the police department cleared the accused officer without troubling to interview him. That year of the study, officers in the elite Special Operations Unit were convicted of a number of crimes including physical abuse, robbery and theft, and conspiracy and planning to murder. Meanwhile, the state arrests citizens who attempt to document abuses of authority.
Take Tiawanda Moore who, after being groped by a policeman, was arrested when she tried to report the sexual violation to Chicago Police Internal Affairs. As they tried to dissuade her from filing a report, in her frustration she began recording them. She's now in jail with the possibility of a fifteen-year sentence while the person who groped her remains free.
More often, the state arrests and initiates prosecution of photojournalists and videographers, only to settle at the last moment in an apparent effort to avoid a Supreme Court challenge. This technique is used and abused in many ways, but the idea is to stop just short of a court ruling that might get the laws thrown out.
One Giant Step Back for Mankind
Video and cell phone cameras are credited with underpinning fledgling democracy movements in the Middle East and exposing government abuses. In the US and the UK, you find lawmakers, prosecuting attorneys, and law enforcement who want the opposite– they don't want to be caught on film and they're taking steps to see the public can't record their actions.
In our CB world, although crime literature may be rife with examples of cops who break the law, lawmen remain our heroes. Let me explain: I hope Lance Armstrong didn't take drugs like his outed buddy claims. If it's proved Armstrong used steroids and my respect drops to zero, that doesn't mean I dislike the Tour de France, only cheaters. Likewise, a disdain of bad cops only increases respect for good officers forced to deal with adversity from within and without.
Although I speak a lot about cops, this really isn't about lawmen. It's more about the failure of lawmakers. It's about a failure to protect civil liberties. Many times an A/V record is the only way either police or citizens can prove what happened, and the ability to make one's case shouldn't reside solely with authorities. Often, police aren't aware of laws regarding filming and recording. We can't simply blame police, because citizens are just as unknowing or naïve.
These issues aren't unique. Recently, Russia dismissed a quarter of its police forces during polygraphed corruption investigations while Mexico dismissed a tenth of its federal police force. It's not clear how these numbers compare to Chicago, New York City, Los Angeles, or Smudgepot, Florida, but corruption scandals occur in any city where public light fails to shine in the rat holes and dark corners of society. Just ask Philadelphia.
Some civil libertarians wish to push the issue into a test by the Supreme Court, believing the Court will rule in favor of the First Amendment. I'm not so sanguine. I cannot think of a single case in which the Scalia-Thomas-Alito trifecta has upheld individual liberties against the whims of the state. Even in the recent children-aren't-miniature-adults Miranda ruling, Chief Justice Roberts joined the trio arguing children don't deserve special consideration.
Decisions by the Supreme Court are difficult to reverse. Most people don't realize Dred Scott is still on the books; SCOTUS has never repudiated let alone reversed its ruling. Good or bad, once they make a decision, it's pretty much cast in stone.
As Memorial Day wound down, 22-year-old Raymond Herisse, who had a lengthy felony record, including fourteen arrests involving drug possession, driving without a valid license, and missing court dates, jumped the light at a traffic stop, striking although not injuring a police officer. Chase ensued and minutes later, the unarmed man was shot to death as police pumped more than a hundred rounds into his Hyundai. Four passers-by were wounded in the hail of gunfire and reports say three police officers may also have been injured in 'friendly fire'.
Even more startling, police turned their weapons on bystanders, smashing cameras and video phones, and locking several citizens in nylon cuffs. Police also seized the news camera of Channel 10 ABC affiliate, WPLG.
The public wouldn't have any record of this incident except for Narces Benoit and his girlfriend, Ericka Davis. After they recorded the shootout, a police officer rushed their car, pointing a pistol at their heads, demanding they stop recording and exit their vehicle. Other police aimed weapons at the couple and threw them to the ground. One officer shouted "You want to be ƒ-ing paparazzi?" and smashed their cell phone on the pavement.
Police cuffed and photographed the couple before taking them to headquarters for interrogation. During a moment when police were distracted, Benoit, a car stereo technician, managed to extract the SIMM card from his ruined phone and secret it in his mouth throughout his 'interview'. That hidden card contained this video. Miami Beach Police now demand Benoit and Davis turn the SIMM card over to them as evidence.
Three days after the fatal shooting, Police Chief Carlos Noriega announced investigators 'found' a pistol in the trunk of Herisse's car, prompting a local radio wag to comment "A spokesman announced they will discover gunshot residue later this week." Video gadfly Carlos Miller agreed, "Perhaps police will find spent shell casings by the weekend."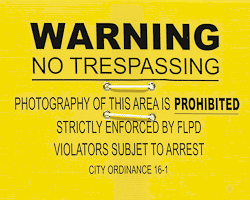 Hard to believe Tom Cruise is still a box office draw, but the guy who killed Mission Impossible's Mr. Phelps is in Fort Lauderdale filming the musical, Rock of Ages, based upon the 1980's music scene starring Catherine Zeta-Jones, Alec Baldwin, Russell Brand, and Mary J. Blige. The film company hired off-duty police as enforcers to 'protect their privacy'.
Without consulting Lauderdale officials or even a lawyer, police erected barriers and misspelled signs that referenced a non-applicable ordinance, and began writing tickets against photojournalists, even a photographer snapping photos from a public garage. "They're rewriting the laws as they see fit," said a photojournalist who asked to remain anonymous.
We like to think cops are the good guys and Plantation Police proved that when Broward County Deputy Paul Pletcher committed a sort of armed robbery. For reasons which aren't clear, Pletcher activated his patrol car's flashers and pulled over two women after giving them the finger, shouting racial slurs, and yelling at them to go back where they came from. Although armed and driving a Pompano Beach patrol car, Pletcher was not on duty.
During the stop, Pletcher noticed one of the women recording him. When he demanded her BlackBerry, she placed it in her purse, and the purse in the center console. Deputy Pletcher locked his forearm across her throat and snatched her purse from the vehicle. When the frightened women followed the officer's orders to pull into a bank parking lot, Pletcher pulled away with her purse.
After a bank security guard dialed 911, Plantation Police responded. They found the phone broken but were able to download video, confirming the women's story and the deputy's identity. Broward State Attorney's Office is investigating.
Elsewhere Across the Nation
Florida and Illinois are hardly alone.
Albuquerque, New Mexico.  KOB-TV newswoman Cristina Rodda was in the parking lot of the Tumbleweed Club reporting on drug activity. Off-duty officer Stephanie Lopez, in the employ of the nightclub, confiscated the television camera. Instead of turning it into her precinct, which is normally required at end of an officer's shift, Lopez kept the camera over the weekend, deleting relevant footage. Four weeks later, possibly because of a demand by the club, Lopez filed trespassing charges against the television reporter. (The link requires stepping through two pages to view the article.)
Boston, Massachusetts.  Simon Glik was born in the Soviet Union but, thirsting for freedom, he immigrated to the US and became a Massachusetts-licensed lawyer. He witnessed and videotaped officers roughing up and then arresting a man in that cradle of American independence, Boston Common. Noticing that Glik was recording them, they charged him with disturbing the peace, felony wiretapping, and aiding the escape of a prisoner although the arrestee did not escape and Glik offered no resistance. Glik sued for false arrest and violation of his 1st and 4th Amendment rights. The officers moved to dismiss, arguing 'qualified immunity', implying they didn't know public recording was legal, therefore saying ignorance of the law is an excuse.
Buffalo, New York.  A K9 officer threatened "If you take my picture again, I'm going to ƒ-ing break your face. That's not as a police officer, but as a person." Except that he wasn't a 'person', but a fully armed police officer in a public plaza.
Las Vegas, Nevada.  In separate incidents, police attempted to halt filming in public locations. Police detained a woman for one hour, less interested in her openly carried pistol and more concerned about her camera as she videotaped a traffic stop from a public sidewalk. Earlier, a Vegas policeman broke the nose and possibly ribs of a videographer in front of his own house, then charged the man with obstruction of justice and battery upon an officer, apparently with his nose. Fortunately, the district attorney realized the facts and dismissed charges. It's unclear if Officer Derek Colling will be investigated.
Los Angeles, California.  A security guard in a public park across from Union Station ordered professional photographer Neil Kremer not to film. Kremer specializes in high dynamic range imaging, and rather than risk further confrontation, he packed up and departed. Had he bothered to call, it's entirely possible a police officer might have backed Kremer's right to film.
SeaTac, Washington.  South of Seattle, a couple reported their car stolen, not realizing their daughter and another girl were joyriding in it. The girls were arrested and taken to SeaTac jail. Perhaps already irritated by the girls' "real lippy" attitude, 6'2 two-hundred pound Deputy Paul Schene beat the complainant's daughter in a holding cell after she kicked off her tennis shoes upon his instruction. He kicked her, flung her into the concrete wall, threw her to the floor, and while he and another deputy sat on her, delivered two more "overhand blows" as she was being handcuffed. Attorney Anne Bremner argues the jailhouse video violates Deputy Schene's privacy and only serves to "inflame public opinion." Schene sought treatment for a "blood filled pocket" at Auburn General Hospital, although video analysis by the Seattle Post-Intelligencer suggests his injury was caused by his shin striking the metal toilet as he shoved the girl into the wall.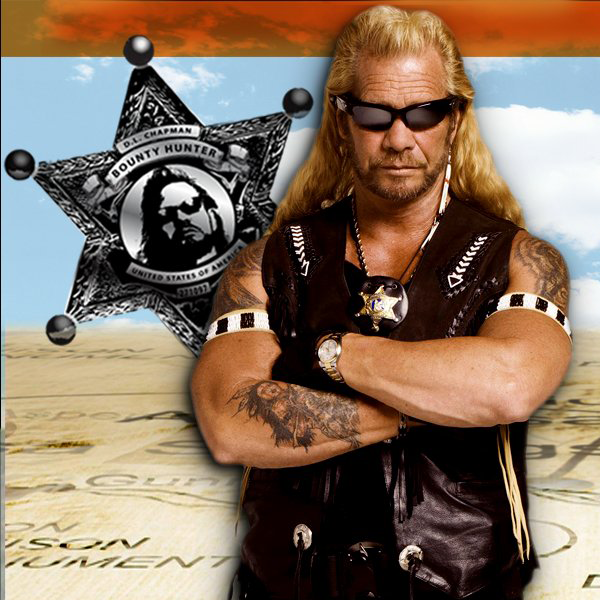 Wailuku, Hawaii.  A star-struck police officer struck a star reporter after the news writer was assaulted by Dog the Bounty Hunter's wife and Sonny Westbrook. Tommy Russo had left the Maui Times office and crossed the parking lot where he found the Dog's entourage next to his car. Westbrook snatched Russo's phone and slammed him in the teeth. When Russo tried to call 911, Beth Mrs. Dog Chapman began yelling, drowning out the call. When MPD officers arrived and Russo began filming again, Officer Nelson Johnson told him he was 'antagonizing' and seized Russo's phone, hit him open-handed in the face, and painfully wrenched his arm behind his back. Johnson claimed Russo's rights as a member of the press did not supersede his own demands to turn the camera off. Afterwards, Officer Johnson enjoyed a laugh and high five with Dog Chapman and his crew. Fortunately, they forgot about Russo's video and to date, Chapman has refused to make his own film of the incident available. Funny, isn't secret filming how he made the leap to television?
West Point, Georgia.  Less clear cut is the situation of 17-year-old Ciara Flemister who tried filming the arrest of her cousin in West Point, a small town as far west in Georgia as you can get and still remain in the state. An officer ordered her to stop filming and when she refused he grabbed her. West Point Police Chief J.K. Cato seems a reasonable fellow and admits his officers used excessive force when officers slammed her face down on the hood of the car and one officer pounded her head with his elbow. What may not be clear is that Ciara wrestled with an officer, knocking off his glasses: A right to record became an assault. Perhaps our very sensible Chief Cato can put out this fire.
I like the spirit of what Florida calls 'Sunshine Laws', meaning that public officials and public meetings are supposed to be open to the light of day. It's not perfectly enforced; I recall Orlando's mayor ignored the Sunshine Law in his pursuit to tear down a historical building.
But the spirit is there and courts and legislators would serve the public well if they acknowledge that freedoms aren't solely for people fighting for rights in Yemen, Egypt, Libya, and the Sudan. They need to clarify officials work for the public and the public has the right of accountability. Police and the public aren't entirely clear regarding their civil liberties. It takes the law to make right what already isn't.