PORTMANTEAU MANIFESTO
by Steven Steinbock
Last week, while following on the (high) heels of Melodie's WORDY column, I mentioned that I found the word "fanzine" to be awkward. As unpleasant-sounding as it might be, at the time I could think of no better alternative.
The term "fanzine" was coined in 1940 within the science fiction world, and has remained primarily in the domains of science fiction, horror, and comic book fans.
Today I have a proposal that will once-and-for-all liberate mystery and crime devotees of this awkward term:
"Fanzine" is a portmanteau. While portmanteau originally meant "suitcase," Lewis Carroll (who also provided me with the name of my weekly column) gave it a new meaning in Through the Looking Glass when Humpty Dumpty explained the words of "Jabberwocky" to Alice.

Since the word magazine originally meant "storeroom" and the word portmanteau originally meant "suitcase" or "coat-bag," AND since fanzine is a portmanteau (in the Lewis Carroll sense of being a word invented by slapping together two word fragments), it would be logical to cease using the awkward fanzine and begin calling amateur fan publications portmanteaus.

As of today, by Vorpal decree, any non-commercial periodical journal published by and for mystery enthusiasts and aficionados shall heretofore be referred to as a Portmanteau.
In today's column I'd like to share a little about the current state of mystery fan publications (i.e. portmanteaus, formerly known as fanzines). Next week I'll go into a little more detail about the history of mystery portmanteaus, especially the granddaddy of them all, The Armchair Detective.
(Give Me That) Old-Time Detection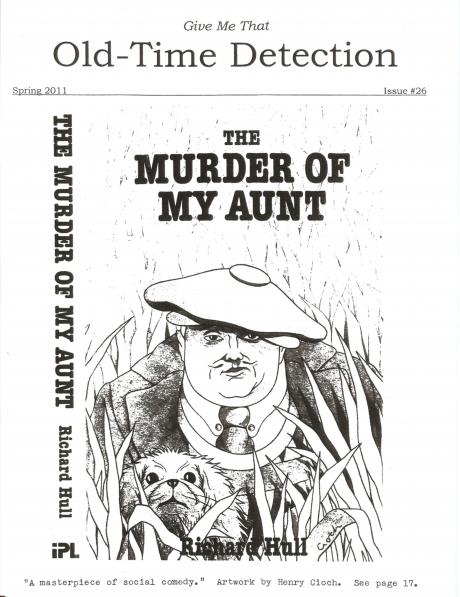 When the most recent issue of Old-Time Detection arrived in my box, I was struck by how far it's come since its launch in 2002, and yet how much it hails back to the early years of The Armchair Detective. Old-Time Detection is the brainchild of Arthur Vidro, a lifelong fan of Ellery Queen, Cornell Woolrich, and many others in between.
There's a charmingly retro quality to the magazine. The early issues appear to be hand-typed, and printed on one side of high quality parchment paper, with two staples along the left-hand edge. The articles and reviews, written by Vidro or solicited from his friends, addressed all aspects of classic detective fiction – Christie and Allingham, Edgar Wallace, Wilkie Collins, Stuart Palmer, T.S. Stribling and others.
Today the magazine still has a hand-typed appearance. The average page count has doubled, and pages are printed on both sides. The parchment paper is gone, but the magazine has a more professional look to it. The current issue includes four pages of letters, an article by John Curran about Agatha Christie adaptations, a Lord Peter Wimsey pastiche that features an all-star cast of characters, a round-up by Jon Breen of mystery news from thirty years ago, and a history of crime on the theater stage by Marvin Lachman.
You won't find Old-Time Detection on the web. It remains intentionally traditional. Old-Time Detection is published three times a year, is commercial-free, and subscriptions are $15 per year. If you're interested, you can contact Arthur at
Old-Time Detection
2 Ellery Street
Claremont, NH 03743
C.A.D.S.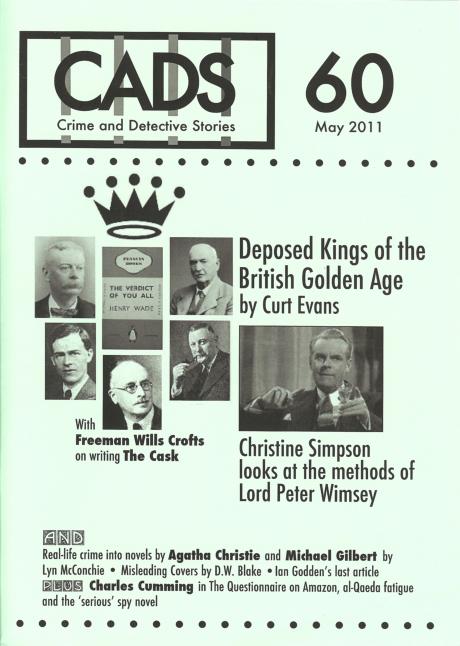 In its recognizable green cover and A4 size, C.A.D.S. has been a mainstay for serious mystery aficionados since it was launched in 1985 by Geoff Bradley. C.A.D.S. stands for Crime and Deteictive Stories. Like Old-Time Detection, it leans toward classic mystery and detective fiction, and because it's based in the UK, it also tends to have a predisposition toward British authors. While it's serious and scholarly, and many of its contributors are professional crime writers, it's very much a fan publication, being commercial free and focused on the love of the genre.
The lead article of the May 2011 issue is "Deposed Kings of the British Golden Age" by Curt Evans, in which he discusses Freeman Wills Crofts, R. Austin Freeman, G.D.H. Cole, and other male authors who have become eclipsed by Christie, Sayers, Allingham, and Marsh. Christine R. Simpson analyses the forensic methods of Lord Peter Wimsey in "Sleuthing with Sayers." The issue also contains part one of B.A. Pike's survey of the "Mr. Fortune" stories of H.C. Bailey and Lyn McConchie's look at Christie's use of real crime cases in her novels.
Rather than offering subscriptions, Geoff mails out each issue with a request form for the next issue and a request for payment for the current issue. I believe the cost per issue shipped to North America is $15, and is worth every penny. You can contact Geoff at
Geoff Bradley
9 Vicarage Hill
South Benfleet
Essex SS7 1PA
England
or you can email him at geoffcads@aol.com.
Next week: The Armchair Detective.
Meanwhile, your Friday columnist is on a cross country road trip starting today and will be on the road for the better part of a week. See you on the other side.