The DEAN of SOUL
by Leigh Lundin
David Dean has appeared in Criminal Brief and Ellery Queen numerous times, but this quarter he appears on EQ's covers twice in a row featuring his latest 'Tomorrow's Dead' and 'Praying Mantis'. David will tell you about 'Praying Mantis', but I'll take a moment to talk about 'Tomorrow's Dead'.
In many ways, 'Tomorrow's Dead' struck a chord with me. David and his stories embody modesty, strength, and gentleness. The dynamics of his action heroes are in the mind and heart, and he's one of the few people who knows the reason I especially admire these character qualities.
For the story 'Ibrahim's Eyes', David won the Ellery Queen Readers Choice Award in 2007 (the year after I did) and he's been nominated for Shamus, Barry, and Derringer Awards. David served as a paratrooper with the 82nd Airborne Division and besides being an award-winning author, he is currently a New Jersey Chief of Police.
Catch the July and August issues of Ellery Queen while you can. How can you resist reading about …
Father Gregory and Chief J
by David Dean
Leigh Lundin recently asked me if I would be interested in writing something about my story, 'Praying Mantis', in the current issue of Ellery Queen Mystery Magazine. At first, I modestly demurred, because I did not feel especially qualified to write about writing. I seriously doubted there was much I could say on the subject that the enlightened readers and contributors to Criminal Brief didn't already know. 
Yet, with artful logic and cunning flattery, Leigh was able to persuade me at last— actually with his second e-mail on the subject. Not, however, to write about that elusive and maddening subject of writing, oh no; but I did think it might be interesting to say something about the continuing characters of Chief Julian Hall and Father Gregory Savartha. 
I first met Father Gregory at Mass many years ago. Of course, his name was not Father 'Gregory', but he was a priest from India. In the beginning his accent made it very difficult to follow his homilies (his native tongue was Tamil), but as time went by he became easier and easier to understand. I even began to comprehend his jokes, which were often convoluted and told with only the slightest of smiles. Mild disappointment would crease his face when his parishioners failed to get the punch line, and this was often— Father Gregory's sense of humor and command of the English language were not entirely in synch. 
He was, however, extremely engaging, and I have met few men in my life with such a genuine and warm love for humanity and God. He simply demanded (not literally, of course) to be included in my writings.
America was a new experience for him— as was driving. In India he had had no need of a car, but the Diocese of Camden had other plans. His first call for help came shortly thereafter. In the beginning, it was a simple parking ticket in a loading zone. Later, things would progress. Eventually, I just gave him my cell phone number to facilitate his movements across southern New Jersey: 
"Hello… Chief Dean?"

"Father…?" I answered cautiously.

"I have caused an accident, it seems."

"Was anyone hurt?" 

 "No, thank God; all is well…but the police are coming here and I don't have my driver's license on my person!" I had never heard such panic in his voice.

I paused…it was wicked, I know, but too good to pass up. "What? No license on your person? Well, you'll probably be deported then."

There was a long silence. "Oh my Lord," he said at last. "What is to be done?"

My joke had gone over about as well as one of his…I felt like a heel. 

"No, no, Father, I was just joking. It will be alright. Just explain to the officers that you forgot it and they'll look it up on the computer. If there's a problem, ask them to give me a call and I'll vouch for you."

I could hear his sigh of relief. "Thank you, thank you, dear man."

It made me wonder what happens to unlicensed drivers in India.
If you've read any of the Father Gregory/Chief Hall stories their genesis must be disappointingly obvious by this point in my narrative. The truth is I barely made up my fictional priest and ditto for the chief. My secret is out— I don't have much imagination and was forced to rip the characters from today's headlines!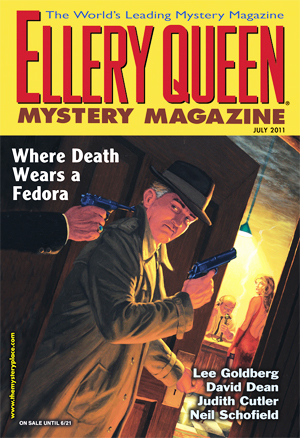 Okay, maybe not headlines exactly. But I am a chief of police and I did (do) enjoy a friendship with a man-of–the-cloth that is substantially similar to Father Gregory. I did make up the names, however; all by myself. Chief Julian Hall is named after my son whom I often refer to as Julian the Apostate, but that's another story.
Julian Hall (patrolman extraordinaire) was the focal character in my first published story, and his heroic bravery and insightful intelligence was drawn entirely from my own personality. So he was easy.
He reappeared four more times over the following years then went dormant for many more. Other subjects, themes, and characters clamored for attention— like Picasso, I went through several 'periods'. He didn't show up again until I promoted him to chief and paired him with Father Gregory for 'Erin's Journal' in EQMM Dec. 2009, and again in the rather cynical 'A Prayer Answered' the following year. 
From the beginning of their relationship, Chief J, as he is dubbed by his ecclesiastical friend, was doomed to second-fiddle status. Don't ask me why, but the little Indian priest would not take a back seat to the now-mature and wonderfully wise police executive. 
In fact, in 'Praying Mantis' (the current issue of EQMM) Chief Hall simply refuses to lend a hand in spite of Father G's appeal for aid. He appears to grow weary of the inquisitive prelate— sort of a "Will no one rid me of this troublesome priest?" moment.
In the story I'm currently working on, Chief J's role continues to diminish (perhaps as divine punishment for his earlier lack of faith). It remains to be seen whether this dynamic character can tolerate such indifference. Father Gregory, on the other hand, commands center stage while remaining solidly on his home turf— the entire story takes place in a confessional.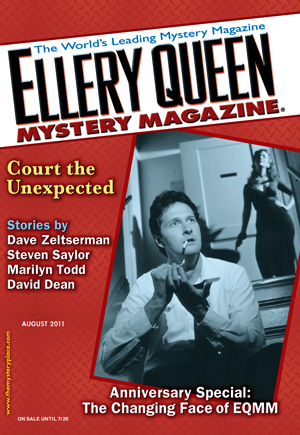 Of course all this begs the question: Why, if I am a policeman, do I focus more on the priest? Well, if you happen to be a practicing Catholic, for better or for worse, priests play a big part in your life. And the inspiration for Father Gregory played a 'for better' role in my own, and not just in terms of my writing efforts. 
Sadly, the 'real-life' Father Gregory was recently transferred to another parish. Priests are little bit like soldiers in that they must march when commanded to do so. We remain in touch (my number is still on his speed-dial) but I miss him greatly. The Christmas before he left, my wife and I gave him the six-part DVD of the PBS series 'The Story of India' which the reader will find him watching (or trying to) in 'Praying Mantis'. On the day the parish gave him his farewell party he laid his head on my shoulder and wept. I ask ya, who wouldn't put him in a story? 
 I have written many stories without priests, of course. Most of them feature ordinary people generally getting it all wrong, or losing their way somehow and regretting it. Father Gregory, however, remains a touchstone, being both fun to set in motion as well as entertaining. He has the additional charm (both he and the man that inspired him) of being the one character that always knows where he will arrive; even when I don't.
In closing, a confession: I have never told my friend that he inspired my curious and fictional priest and, to my knowledge, he has never read any of my stories. I would like to think that he might be flattered if he did, but I fear that he would find my homage a caricature. Certainly, in trying to encompass his remarkable personality, my skills remain sadly inadequate.