(GIVE ME THAT) ARMCHAIR DETECTION
by Steven Steinbock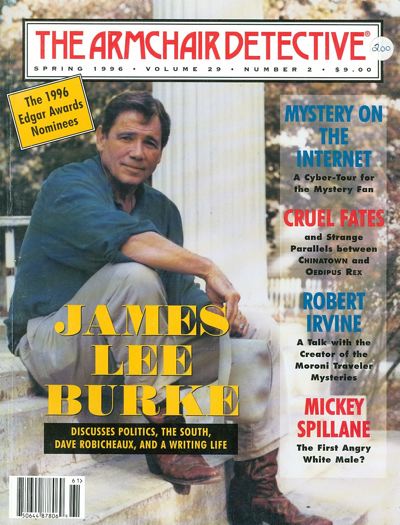 Last week I told you about two mystery fan publications, C.A.D.S. and Old-Time Detection. In order to avoid using the word fanzine, I dubbed them both portmanteaus. My suggestion was cheeky, and my dislike of the f-word overstated. But I've had time to think about it, and if I had to come up with a name for non-commercial fan journals, I'd be hard pressed to find a better term than portmanteau.
Who knows? The 2079 edition of the OED may include a reference to Criminal Brief in its entry on portmanteau.
The Armchair Detective
This week we go back to the mother of all mystery portmanteaus, The Armchair Detective. From 1967 until it ceased publication in 1997, TAD was the preeminent fan magazine for the mystery field. Although it occasionally featured short fiction, TAD was primarily filled with interviews, literary analysis, reviews, and retrospectives. And checklists. Lots of checklists.
In the mid-1960s, a young Minnesota biochemist named Allen Hubin had an analytic mind, a love of detective fiction, and a growing frustration that there was no serious forum for mystery enthusiasts to discuss or read about the literature they love. Hubin sent a letter to Anthony Boucher – at the time book critic for Ellery Queen's Mystery Magazine and The New York Times Book Review – lamenting the lack of a mystery fan magazine. Boucher was so supportive of the idea, and encouraged Hubin to pursue it.
Hubin says that he didn't want so much to write or edit such a magazine, rather just to be able to read it. But a correspondence with Len and June Moffat (about whom I've written here) led Hubin to send out a call for articles. Boucher, in turn, used his platform to get the word out. And The Armchair Detective was born in October, 1967.
What strikes me when I set the early issues of TAD side by side with issues of Arthur Vidro's Old-Time Detection is how similar they appear. The earliest issues of TAD were hand-typed and mimeographed on 8½ by 11 paper and stapled along the left edge. They ran from thirty to more than sixty pages without any ads.
By the mid-1970s TAD was being professionally published by Publisher's Inc. of Del Mar, California. Subscriptions were $10 for four issues. With the October 1978 issue, TAD took a great leap forward when Otto Penzler took over as publisher, marked by a really cool Jim Staranko cover.
In its later years, TAD ran a column by William L. DeAndrea called "J'Accuse!" in which DeAndrea wrote about whatever he felt like. He was clever, funny, and often unapologetically politically incorrect. Even if you disagreed with him, you had to love him for his elan. DeAndrea added a degree of excitement to the magazine. He also probably drew his share of cancelled subscriptions. But it wasn't enough to sink the magazine.
In fact it wasn't until after DeAndrea's untimely death that TAD closed shop. I'm sure it is no reflection on me, but two issues after I began writing reviews for The Armchair Detective, it ceased publication in 1997.