TRIPPING 90 (part one)
by Steven Steinbock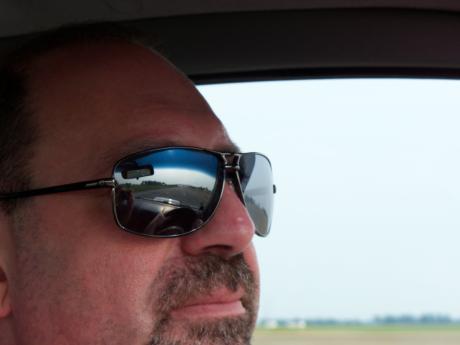 My last two columns had been written in haste a week before they were posted. At the time I was preparing for a cross-country road trip with my son.
Nate starts school at the University of Washington in Seattle this fall. Some kids have security blankets. Others have Teddy bears. My son has a Subaru Impreza Sport. He's happy to leave his parents and his younger brother behind, but the thought of being without his car was too much to bear. So two weeks ago we loaded his car, filled up the gas tank, and hit the road.
It might have been more poetic had we taken Route 66, or even better followed the route of John Steinbeck and his dog Charley. But Interstate 90, stretching from Boston to Seattle, was much more convenient and practical. We stuck to I-90 most of the way.
We took our time. The trip took us nine days. But if had I to do it again (which is something I look forward to), I'd give myself at least two weeks.
Friday, June 17, 2011
We left our home in Maine around 9am, and drove south to New Hampshire and into Massachusetts to catch I-90. The countryside in the Berkshires and in most of upstate New York is beautiful. We stopped in Rochester, New York, and checked in to the Holiday Inn Express in Greece, a suburb of Rochester. Nate and I then went to visit Patricia Hoch (wife of the short-fiction marvel Edward Hoch). We took Pat to dinner at Crescent Beach, a big family restaurant where she had taken Nate and me last winter when we'd visited her. Afterwards, back at her house, Pat let me peruse Ed's library, where I was able to find magazines containing two stories that have never been reprinted and which I've been trying to track down.
Saturday, June 18
Left Rochester and drove west on I-90, stopping in Buffalo to meet up with one of Nate's "Socket 939" buddies. (Socket 939 is a CPU format designed by AMD a number of years ago. When I was his age, I was into the Beatles and Farrah Fawcett. He's into Subarus and CPU sockets. Go figure).
After lunch, Nate and his friend spent some time playing Gran Turismo 5 (as if he hadn't been at the wheel enough already). Then we followed the southern shore of Lake Erie through a sliver of Pennsylvania, through Ohio, and into Indiana. We stopped in Angola, Indiana, to find a room for the night. Unfortunately, there was some kind of auto racing event going on and every redneck and his beer cooler had taken every hotel room within twenty miles. So we went twenty-one miles north to Coldwater, Michigan. There were still a lot of NASCAR fans, but at least we found a room. By the time we settled in, all the restaurants that were worth eating at had closed up for the night, so we sated our hunger by splitting a veggie foot-long from Subway.
Sunday, June 19
We got up and drove south, back across the Michigan-Indiana border to catch I-90 and drove west until we reached Chicago around lunchtime. We got off the Chicago Skyway and drove toward Lake Michigan. We didn't want to leave the car alone—full of our summer supplies and three computers—on the streets of Chicago, but I wanted Nate to see downtown Chicago.
We pulled into the Field Museum parking area and looked around. Nate got off a couple interesting snapshots. Then we drove north on Lakeshore Drive to the Navy Pier and then west to the Magnificent Mile and south on Michigan Ave. I pointed out the Chicago Art Institute. We wandered the streets a little more so Nate could take in the architecture, and then hopped back on the Skyway. This was the only part of I-90 where we hit a serious traffic snag.
From Chicago we drove North by Northwest to Madison. Having learned the lesson from the night before, we had already booked a hotel room in Deforest, Wisconsin, about fifteen miles north of Madison. It was a cute little town, and the name reminded me of DeForest Kelley (Dr. McCoy from Star Trek). We ate at the Deforest Family Restaurant.
Monday, June 20
After checking out, we walked across the street to Ehlenbach's Cheese Chalet, sort of a Hickory-Farms-style tourist stop filled with gourmet cheeses, meats, and gifts.
I-90 took us north for about eighty miles before turning west again, through Minnesota. We passed through a town called Blue Earth, but it didn't look very blue to us. The sign said that they had a 60 foot tall Jolly Green Giant.
Around dinner time we stopped in Sioux Falls, South Dakota, and stayed in an actual hotel (as opposed to a motel) in the town center of Sioux Falls. Cute town, but not especially memorable. We did, however, eat dinner at a place called Chedds, which is a gourmet grilled cheese joint. There were lots of choices of cheese and bread, as well as additional fillings of meat and vegetables.
Tuesday, June 21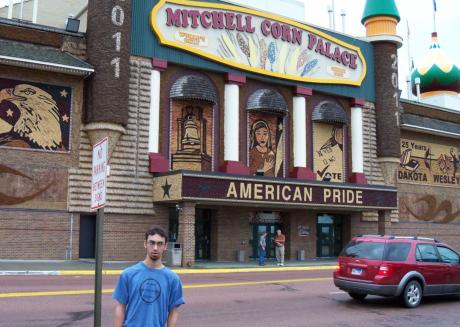 We fell in love with South Dakota. Not only is it pretty country, but it has some of the coolest and most unusual tourist stops. Mid-morning we stopped at the Corn Palace in Mitchell, South Dakota. This Moorish Revival style pavilion-auditorium is decorated completely with corn. The entire exterior is redesigned each year (artists compete to have their designs selected), and the façade covered in different colored varieties of corn to color complete the design. It was stunning in a really weird way.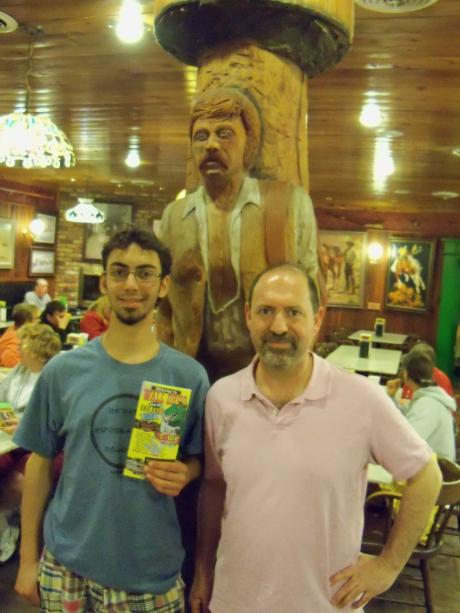 The weirdness continued at Wall Drug where we stopped for lunch. To call Wall Drug just another roadside attraction is like calling the Rocky Mountains just a hill. Once just a pharmacy in the middle of nowhere, in the early 1930s the owners decided to advertize Free Ice Water for travelers on their way to see Mount Rushmore. It quickly expanded into a restaurant, a gift shop, and then a bizarre cowboy-themed shopping mall with a large open courtyard. You can even find dinosaurs and a jackalope. Coffee is five cents a cup. Well worth the nickel.
Stay tuned next week as the adventure continues with Mount Rushmore, Crazy Horse, Devil's Tower, and Yellowstone.