CRIMINAL ELEMENT
by Leigh Lundin
When Terrie Moran introduced readers to Criminal Element some weeks back, I harbored the suspicion secret dark depths lay beneath the surface of this felonious theme park. Thus I asked our good friend Terrie to give CB readers a crime-ridden tour, treading the dark alleyways, sidestepping the blood and slime, and giving us a peek into this villainous world. Please take small children by the hand…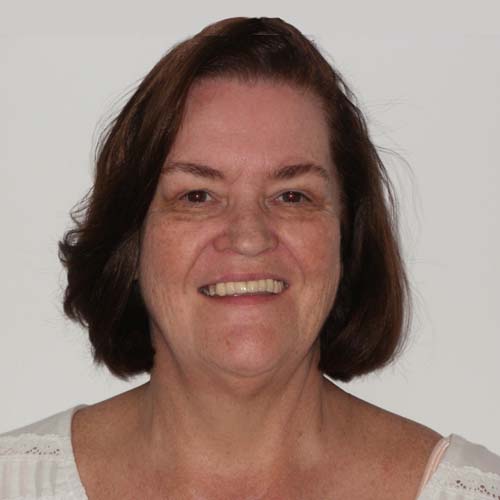 Criminal Element Grand Tour
Thank you, Leigh, for inviting me to talk about Criminal Element (http://www.criminalelement.com/), a publisher-neutral site with lots of great material written by crime/mystery fans especially for crime/mystery fans. So now we have a place for fans to gather, share news and information, banter with other fans or roam the links and investigate on their own. There is no limit to subgenre, era, or medium. Criminal Element covers dark noir to light, comedic cozies and everything in between. It's boiled to your taste.
In a recent email exchange, Leigh mentioned that although he spends time at Criminal Element, he feels that he may only be scratching the surface of what is available to site users. Naturally, I volunteered to do a guided tour and I invite you all to come along.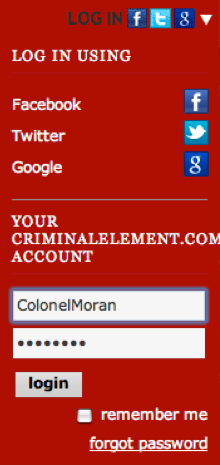 I must admit that at first glance, I, too, wondered how I'd ever find anything. After a very few visits, I became extremely comfortable flitting from page to page. I recommend that you register for a log in the first time you visit. (The LOGIN is on the extreme right of the yellow crime scene tape that spans the top of every page.) It makes life much simpler when you want to read exclusive excerpts or make a comment. Believe me, you will want to comment– it's the nature of the site. I've been registered since the end of April and I can attest there is no "borrowing" your email addy to hawk anyone's wares. Every week, I get a very short newsletter with the most recent highlights. If I haven't had a chance to scan the site recently, the newsletter keeps me "in the know."
Perp Walk
Of course, the extreme left of the crime scene tape will always take you HOME. Next to HOME is the STORIES menu, a wonderful lead-in to plenty of fresh, new crime writing. Here you'll find original shorts and nice, chunky excerpts from the latest in crime stories. When you click on the STORIES menu the newest entries are right up on top.
The FEATURES menu will open to the latest posts that are in any Featured collection, followed by a scroll of posts that fall in those specific categories. Clicking on the red sub-title of any feature area will get you to that feature's home page with all of its relative content. As a few examples, The BOND HOTLINE is your connection to all things James Bond, SHERLOCKIANA explains itself, and WRITING THE WORLD welcomes you to international locales for both authors and crime stories. MORNING COFFEE, usually funny and always brief, is a great way to start your day. (And yes, I do pour my coffee before I open the site.) 
The easiest way to search by subgenre is to pull down the CATEGORIES menu from the yellow crime tape. There are sections for Detective/Procedural, Traditional/Cozy, Thriller/Noir, Historical/Western, and True Crime/Nonfiction. We may be talking about the unexpected turn of events in recent episodes of a popular television show, or the relevance of a mystery novel turned to film seventy years ago, or perhaps the popularity of the Phryne Fisher mystery series set in 1920s Australia. Take a look at Bill Crider's post about Private Eyes and Westerns and you will see the crisp, clear connection between those subgenres.
Front Page News
The most exciting thing about Criminal Element is that the front page changes constantly, so anytime you need a break from the stress of your day, there is always something new to read.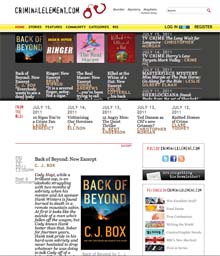 The next crime tape link, the COMMUNITY menu, will show you who's commenting and about which topics. Current conversations are listed by blog topic, blog author and last comment. The center-right side of every page has two columns Comments and Bloggers. Each column has 'show all' at the end of the list. You can click on any comment and it will bring you back to the original post with all comments, or you can click on a blogger's name and read all the posts that have been published on Criminal Element by that blogger. 
Finally on the crime tape, you have the trusty RSS feed to which you can subscribe to have all the new posts delivered to your RSS reader as they happen.
You can also connect with the site on social media: Criminal Element on Facebook or on Twitter under CrimeHQ. Besides sharing links to the site's new posts, some pretty terrific crime-community gadabouts you may already know– Laura K. Curtis, Jen Forbus, and Hilary Davidson– carry on conversations with crime fans and share lots more news from the mystery community at-large. Okay, so by now I'm sure you have thrown your hands in the air and screamed, "TMI, TMI. Make her stop."
Criminal Fiction
So we'll take a break from content while I tell the mystery writers among you that Criminal Element is a well-paying, open market actively seeking original short crime fiction in the 6,000 to 15,000 word range. Just scroll to the ABOUT section at the bottom of every page and click on SUBMISSIONS for full details. I understand that a huge pile of submissions arrived after launch, and so, new stories will soon be following behind the ones available by Steve Hamilton and Luis Alberto Urrea.
And if anyone is interested in blogging for cash on Criminal Element, you may wish to join the more than sixty bloggers, including readers, librarians, writers, historians, etc., all of whom gather ideas and data about everything the genre has to offer and package them into entertaining and informational posts with a point of view. Traditional reviews, author interviews, or "the writer's life" posts don't fit their needs, but Criminal Element is always looking for attention-grabbing content that can be critically substantial or trendy and sassy. If you think you would like to contribute blog posts, please email Clare Toohey (clare.toohey.contractor (at) macmillan.com). Clare is the Community Manager for Crime, and I'm sure she'd love to hear your ideas.
Before I go, I want to tell you that Criminal Element has had a couple of contests already, giving away books and audiobooks to lucky readers. Keep an eye peeled for the next giveaway. 
So, Leigh, I hope I have eased your confusion and made the site more familiar.
Finally, I'd like to say that Criminal Element lives up to its name and also to its subtitle: Murder Mystery Mayhem— boiled daily.