I'm giving up my Saturday slot today so we can include a guest column by my friend Fran Rizer, who joins Leigh and me in the current issue of the online magazine Pages of Stories. As you might already know, Fran is the South Carolina author of the delightful Callie Parrish mysteries, and (thank goodness) a frequent visitor to and commentor on Criminal Brief. Please join me in welcoming Fran!

—John Floyd
SPEAKING OF THREE
by Fran Rizer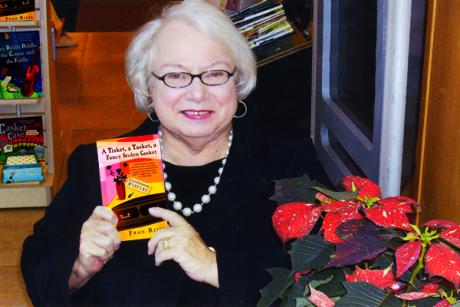 When I was a young girl, my daddy told me, "Ladies don't talk about three things—sex , politics and religion." I figured if ladies don't speak of such things, they don't write about them either. So far I've managed to avoid those subjects in four mysteries, though an interviewer told me, "Writing about Callie's underwear doesn't seem to bother you." My answer is the only thing that my daddy ever said to me about underwear was "You've gotta stop holding up your skirt to show off your ruffled panties." I did quit that habit before I started to kindergarten, but the family nickname Fancy Pants lasted through third grade.
Daddy was full of advice and, my being an only child, most of it was directed to me. He was an avid reader who wrote text books published by the University of Texas in Austin, but he was also the biggest movie fan I've ever known. One of his favorite stars was Mae West, who certainly did NOT live up to his criteria for a lady's conversation. Then again, with that accent, Mae wasn't a southerner. Mae West is quoted as saying, "I'm a woman of few words, but lots of action." With a fifth novel on the way (BTW, not a Callie), I like to think of myself as a woman of many words. As a Southern lady, I'll say no more.
When I began writing, my father said, "If you look hard enough, you'll find the right word." Sometimes I do a lot of looking for just the right word. Last week, the e-mail inviting me to guest blog sent me looking for a word meaning three. No, ménage à trois definitely didn't work! Triplets, triangle, tricycle, triad, tripod, and trio were just as far off. In Sunday's CB, Leigh used tricoteuses, which was new to me.
Wikipedia offered trinity as in Holy Trinity—the Christians' belief in God as three—the Father, the Son, and the Holy Spirit. That wouldn't do at all. I Googled trinity and came up with trinity of cuisine, which consists of chopped onion, bell pepper, and celery, usually in a ratio of 1:2:3. Good info, but I wasn't writing a cook book.
I abandoned the Dell and turned to my big fat red Merriam Webster's Collegiate Dictionary, a gift from David Smoak, proofreader extraordinaire for several major publishers. David swears this red book is THE FINAL WORD for writers. I tried trilogy. It wouldn't work because I planned to write about three individual literary works, and trilogies have to be three closely related with a single theme. I checked triptych, but that specified three parts or sections of a whole. Just as I decided to quit my search, I found my word—triumvirate. My first thought was this word related to politics, which, as I hope you recall, I neither talk, nor write, about, but the third meaning is "a group or association of three."
* * *
Now I can begin. Greetings, Saturday readers! Today's topic is a triumvirate that consists of my gracious host who donated his space to me today—John Floyd; Sunday blogger Leigh Lundin; and myself, Fran Rizer.
What's the relationship? Each of us is associated with Criminal Brief. Both John and Leigh are Criminal Brief weekly writers. I've been a previous guest blogger, winner of the Pages of Stories comment contest, and I remain a faithful reader.
Another connection is that the three of us are all southern writers. Elaine August described John's style as "easy as a Mississippi day filled with the murmur of magnolia trees and a lemonade pitcher at his writing table." Since retiring from IBM and his world-wide travels, John lives in Mississippi. His Saturday Criminal Brief essay is entitled "Mississippi Mud." As we all know, it's not possible to be more Southern than that!
When Leigh Lundin answers his telephone with "Good morning," "good afternoon," or "good evening," his genteel southern accent belies the fact that he wasn't born in the south. He's lived in Florida so long that he has the manners of a southern gentleman, and I fully expect to one day see him strolling through an azalea garden in a white linen suit and carrying a cane.
The only thing I know about John and Leigh that isn't southern is neither of them likes grits. That's okay because I love grits enough for all of us!
A native South Carolinian, I write about the South. Walter Edgar—Walter Edgar's Journal, SCETV Radio—kindly blurbed my last book with, "Fran Rizer's stories about Callie Parrish and St. Mary, SC, are as southern as fried chicken and iced tea—and just as delightful."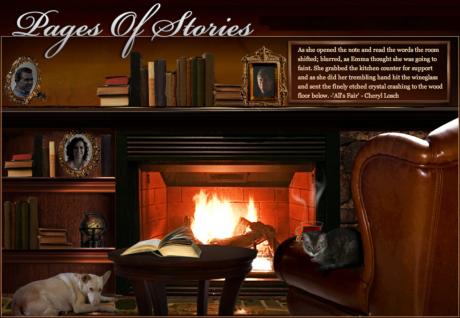 So here we are, three southern writers associated with Criminal Brief. What makes us a triumvirate? Each of us has a story in the July issue of Pages of Stories. It's a quarterly magazine published and edited by Darlene Poier in Alberta, Canada. I learned about Pages of Stories through the CB contest, and after reading an issue and discovering the variety and quality of the stories, I followed Leigh's suggestion to submit "Emily's Ghost Story."
Ms. Poier is once again generous enough to donate prizes for CB readers. Today's two most clever or interesting comments will receive complimentary spring issues of April's Special First Anniversary Edition of Pages of Stories. Neither John, Leigh, nor I are eligible to win or judge, so please don't send bribes—openly.
Now, a few words about the stories. A retired teacher, I tend to alphabetize everything by last name, so we'll start with John. He's had hundreds of short stories and fillers in publications like Strand Magazine, Grit, Woman's World, Alfred Hitchcock's Mystery Magazine and Ellery Queen's Mystery Magazine.
John's story in this issue of Pages of Stories is "Turtle Bay." It opens with the narrator visiting Madame Zelda, the Sarcastic Fortuneteller. His miseries include a wealthy wife who gives him an ultimatum: "Stop drinking and fooling around with other women or I'll divorce you." His career is not only falling apart, it's likely to soon be nonexistent. There are several solutions to his dilemma, but he must be careful not to make a choice that leaves him in a worse predicament.
Here's my comment on "Turtle Bay."
The reader is quickly pulled into the story by the cleverly painted characters such as Dim Wit Dimmit. As usual with John's stories, the narrative voice is clear and appealing. "Turtle Bay" is one of my favorite kinds of stories—a murder mystery that made me laugh. I hardly ever have a shortage of words, and I could praise this story indefinitely. What one thing can I say about it that will let you know how much I like it? This story is so good it makes me wish I'd written it!
Leigh Lundin's first published short story won the Ellery Queen's Mystery Magazine Readers Choice Award. As a matter of fact, he was in New York to accept that recognition when I met him. He's also had short stories published in both Alfred Hitchcock's Mystery Magazine and Ellery Queen's Mystery Magazine.
"Untenable" will be published as a three-part serial. Demetrius despises his wealthy brother, so he's surprised when his brother leaves everything to him, but there's a catch. Demetrius cannot sell or dispose of any properties because they revert to his brother's children when Demetrius dies. E-mail death threats and a "safe room" lead the reader into a fascinating mystery.
John's comment on Leigh's story:
I loved "Untenable!" An engaging mystery that starts off fast and builds steadily throughout. I'm one of those fans who think crime stories should, like all fiction, have memorable and believable characters, and this one does—but I also think crime stories should be loaded with action and suspense. "Untenable" fills the bill. What an outstanding tale!
My piece, "Emily's Ghost Story," begins as a love story in a country church yard in the South Carolina coastal low country. Problems arise when Emily's husband insists they move to Greenville, SC, to be close to the museum that houses the world's largest collection of the work of his idol—artist Andrew Wyeth. Leigh suggested that I send the story to Pages of Stories, and he wanted to comment on it.
He wrote:
"Emily's Ghost Story" is a classic of the literature, more subtle than de Maupassant and Lovecraft, rather in the style of Oliver Onions and Charlotte Perkins Gilman, a story destined to be handed down generation to generation. It's possibly my favorite of the genre and one I haven't succeeded in forgetting.
Pardon me while I blush!
The three stories share a few common factors. All are mysteries with murders. (Daddy never said ladies don't talk about killin's.) Each story packs some big surprises.
Officially, Criminal Brief is the Mystery Short Story Weblog Project. In closing, I confess that my previous guest blogs were under false pretenses. The many magazine publications I had before writing Callie Parrish were all non-fiction features. "Emily's Ghost Story" is my first published short story.
Forget the lemonade and iced tea. I'm having a glass of champagne, maybe even three of 'em. My daddy would be so proud to have me among the likes of John Floyd and Leigh Lundin!