RAMPO
by Steven Steinbock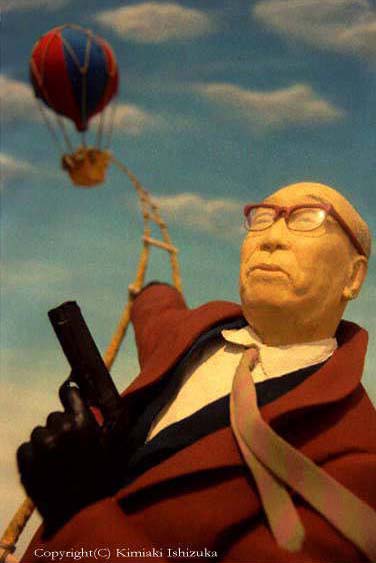 While I had three teenagers visiting me in Seattle, we had to make a couple trips to Uwajimaya, a massive supermarket and gift shop specializing in anything Asian. It's fun going through isles of produce, baked goods, prepackaged meals, candies, and bizarre sea creatures that we can't find in Maine.
One of the things the boys especially love is Ramune, a carbonated beverage in a unique marble-valved bottle. It's fun to open, it's fun to drink, and the marble rolling around in the neck of the bottle makes a jingling noise any time the bottle moves. My boys especially like the Melon and Pineapple flavors.
(I can't drink the stuff myself. Too sweet. I stick to coffee, water, and juice. But if I want something sweet, while in Uwajimaya I stock up on Aloe juice).
I was curious about the name "Ramune" (pronounced with an accent on the "e"). I looked it up. Turns out it's simply the Japanese pronunciation of "Lemonade." Japanese doesn't have a native "L" sound, so an "R" sound is usually substituted, as in hoteru ("hotel").
This reminded me, in a way that will become clear by the end of this column, of the godfather of Japanese crime fiction, Edogawa Rampo. Rampo was born in 1894 with the name Hirai Taro. In his lifetime, he wrote a series of novels featuring a Sherlock Holmes like hero named Kogoro Akechi, as well as a spinoff series involving the Boy Detective Gang (a sort of Baker Street Irregulars). His crowning achievements, though, were his short stories.
Heavily influenced by Western writers like Chesterton, Poe, and Conan Doyle, Rampo developed a dark, macabre style that erased the border between mystery and horror. And from very different parts of the world, for his narrative style and his sense of the bizarre, Rampo reminds me of his contemporaries Franz Kafka and Jorge Luis Borges. If you've ever seen a Japanese horror film, you've likely encountered Rampo's influence. Revenge, sexuality, inanimate objects taking on personalities and people metamorphosing into other forms, these are all Rampo's trademarks.
Like a Japanese cityscape where a decadent hotel, a Shinto shrine, and a run-down hovel might share the same block, Rampo's writing might show juvenile innocence in one story, sexual perversity in another, fair-play puzzles alongside macabre horrors.
One of his more famous stories, "The Human Chair," tells of a master of disguise who trains himself to become a chair in order to enjoy the closeness of the people who sit on him. "The Caterpillar," about a horribly disfigured and disabled war veteran, was censored by the Japanese government for not being supportive of military action.
I believe that Ellery Queen (Fred Dannay) was the first to introduce Rampo to an English speaking audience. But very little of Rampo's work is available in English.
In Japan, Rampo is considered so central to mystery and detective fiction that since 1955, the Mystery Writers of Japan has awarded the Edogawa Rampo Award for the year's best work in the field.
If you haven't already guessed, Hirai Taro adopted the name "Edogawa Rampo" in homage to Poe. The Japanese pronunciation of the American writer's name is Edoga Aran Po.