FLORIDA CRIME NEWS
by Leigh Lundin

Melbourne, Florida.  Thirty years ago this month, William Dillon of Brevard County, Florida was convicted of first-degree murder based upon eyewitness identification, testimony from the handler of a scent-tracking dog, claims of a jailhouse snitch, and testimony of a girlfriend. Everyone was wrong.
The 'eyewitness' had only one eye and despite having had sex with the apparent murderer, failed to accurately describe Dillon, which didn't overly bother investigators. Apparently the tracking dog was also handicapped where it counted, identifying the wrong scent with the wrong person. In fact the handler, John Preston, could be depended upon to tell police anything they wanted to hear, a man the Arizona Supreme Court had dubbed 'a charlatan', working a dog that couldn't pass the simplest of tests.
In exchange for pointing the finger at Dillon, rape charges were dropped against the jailhouse snitch who claimed Dillon broke down and confessed solely to him. Dillon's girlfriend not only was a little peeved at him to claim she saw him in a bloody T-shirt standing over the victim's body, it turns out she was banging the lead investigator in the case.

Melbourne, Florida.  Three months later another Brevard county man, Wilton Dedge, was convicted of raping a woman six ways from Sunday, based upon eyewitness identification, testimony from the handler of a scent-tracking dog, and claims of a jailhouse snitch. Everyone was wrong.
In fact, the dog and handler were the same as in the Dillon case. The victim told police the perpetrator was at least six feet tall, muscular, and solidly built. At 5'5 and 125 pounds, Dedge was short and skinny.
Nonetheless, with the help of the phony scent dog and the lies of the jailhouse snitch, Dedge was convicted of the rape.

Fifteen years later, William Dedge became one of Florida's first applicants to the Innocence Project. Through DNA testing, the Innocence Project conclusively proved Dedge could not have committed the rape. If the defense team thought they had a slam dunk, they were wrong.
As we've mentioned before, Newt Gingrich's AEDPA, the Antiterrorism and Effective Death Penalty Act, severely cuts off avenues of appeal, even when 'actual innocence' becomes established fact. Supporters of the AEDPA argue 'closure' is more important than evidence of actual guilt or innocence. Chief Justice Roberts expressed fears this new-fangled DNA testing risks "unnecessarily overthrowing the established system of criminal justice."
Prosecutors used the new AEDPA and an argument that because Dedge was DNA tested before Florida enacted a law governing testing, Dedge was not entitled to benefit from the new law or be allowed to present new evidence of innocence to a court. For three years, state attorneys fought against allowing Dedge his freedom, admitting to a judge that even knowing Dedge was innocent, they still opposed his release under any circumstances. Finally, a court ordered another round of DNA testing which again proved Dedge conclusively innocent.
Tallahassee, Florida.  Florida so often gets convictions wrong, in an effort to stave off lawsuits, the legislature passed a bill awarding the wrongfully convicted $50,000 per year spent in prison. Except now legislators choke at the thought of paying William Dillon more than $1.3 million dollars after the Innocence Project also freed him.
After diddling Mr. Dillon for three years, the State of Florida wants a 40% discount on Dillon's 'windfall'. They voted to pay him only $30,000 a year, as if he served only 16 years instead of 27.
Senate President Mike Haridopolos was heard to grumble that some of the sanctimonious legislators should spend a couple of terrifying years in prison before voting what they think another man's time is worth.
---
Bartow, Florida.  Polk County kinky detention deputy Robin Pagoria shared videos spanking handcuffed and naked juvenile girls with a leather paddle. She may suffer a little punishment herself when she is called to explain in court.
Winter Haven, Florida.  In Operation Curtain Call in April, Polk County Sheriff Judd arrested sixty people suspected of prostitution and gang activity. If your notion comes from Petty Woman that hookers are lookers, Miami's J. Camm's take might change your mind.
Anti-Bullying Campaign Not Working Out So Well
Sanford, Florida.  After school officials failed to stop bullying of her daughter, a calm and composed Laura Booker climbed on the first step of the school bus to face the driver, Roy Hooks, at his place of business… his bus. Within moments, the driver became combative, rude, and nasty to the mother, yelling at the mom her daughter was a liar. At one point the mother says "If you have such an attitude with me, how are you treating my daughter?" The driver had the mother arrested by police who pulled tasers and threw her to the ground. Make your own call why Seminole County has a bullying problem.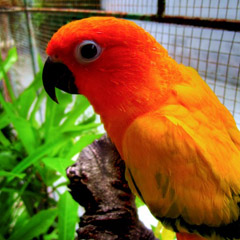 DeLeon Springs, Florida.  Police charged Mark Bausch, a Volusia County man, with a peck of trouble for rough handling a blind woman and her 81-year-old mother who squawked about him stealing back a small parrot he regretted trading them.
Cape Coral, Florida.  After a concerned motorist piped up, police arrested bong-smokin' Phillip Winters whilst driving five children ages one to six. We cannot confirm rumors he said "Children? Oh, wow, man. When did that happen?"