The POINT of PUNCTUATION
by Leigh Lundin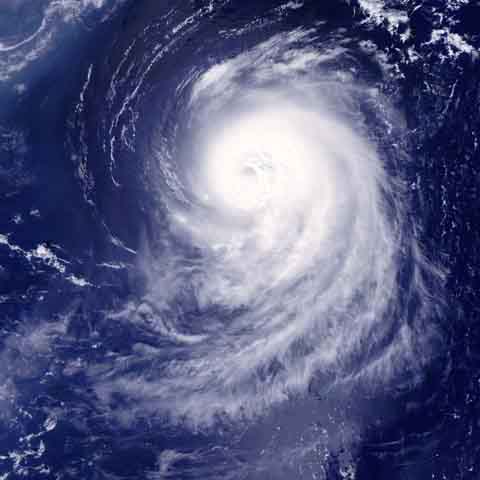 Goodnight Irene
Florida braced for Hurricane Irene just as I was finishing roofing a house partially destroyed in a previous hurricane. After Category 4 and 5 storms, Floridians yawn at a mere Category 1. Indeed, surfers were out riding the waves, although one was killed when he was rammed head-first into the sand.
Category 1 doesn't mean Irene shouldn't command respect, especially in regions without hurricane-resistant building codes. One hundred MPH projectiles are deadly, especially if the projectile is human. Irene is taking its time, hammering some locations up to twelve hours as it moseys along.
Even minor storms can cause New York City problems. Winds that might be sub-hurricane at lower storeys could reach 150mph at the 150th floor. Architects design skyscrapers to flex in high winds. It can be intimidating to ride an elevator that slaps the sides of the lift shaft.
While writing this article, I thought Irene might bracket my article with clever transitions, punctuating the experience with excitement as it dashed up the coast. Thus far it's done neither, for which we can be grateful.
Getting Good Marks
Punctuation as we know it didn't appear until the 15th century. Since then, English has accumulated fourteen symbols. Languages like Chinese don't require punctuation, although full-stops are now used in Japanese.
Not only can North American punctuation differ from British English (surprise!), but mavens within each don't always agree about usage. When it comes to dialogue, the British often use single quotation marks whereas North Americans usually use double quotes. Twentieth century English writers may omit the period from abbreviated titles, e.g, Mr, Mrs, and Dr.
Another matter of dispute is whether to fully punctuate lists with a comma before the 'and', such as the above list: Mr, Mrs and Dr, versus Mr, Mrs, and Dr, the latter which Oxford University calls a 'serial comma'. Stylists in US legalese circles dictate the final comma should be omitted.
Some punctuation can have overlapping functions. At least two style guides suggest writers can precede lists with either colons or dashes.
The semicolon, half comma / half colon, has an undeserved reputation as a half-assed punctuation sibling, "indicating a pause, typically between two main clauses, that is more pronounced than that indicated by a comma." Parenthetically, I've notice the few times I've used a semicolon, editors usually change them to commas, as in "Everyone knew; no one did anything."
Gotta Dash
You're familiar with the big brother of the hyphen, the dash. Like spaces, they come in two flavors, the standard en-dash and the extra long em-dash. (The prefixes suggest the typographical width of the space and dash; i.e, the width of a lower case n and m.)
I've come across two recent articles that debated the dash, particularly the m-dash. Kamilla Denman discusses Emily Dickinson's use of punctuation in an essay for Modern American Poetry. But writing for Slate, Noreen Malone gives us an object lesson about overuse of the m-dash.
In reading Noreen's article, my ADD warred. I found the article interesting but the continual interruptions from spurious punctuation urged me to give up and move on to fascinating studies of Etruscan census lists. But, she gives us a compact literary history in this paragraph:
| | | |
| --- | --- | --- |
| " | … "Dickinson's excessive use of dashes has been interpreted variously as the result of great stress and intense emotion, as the indication of a mental breakdown, and as a mere idiosyncratic, female habit." Can there really be— at the risk of sounding like a troglodyte— something feminine about the use of a dash, some sort of lighthearted gossamer quality? Compare Dickinson's stylistic flitting with the brutally short sentences of male writers—Hemingway, for instance— who, arguably, use their clipped style to evoke taciturn masculinity. Henry Fielding apparently rewrote his sister Sarah's work heavily to edit out some of her idiosyncrasies— chief among them, a devotion to the dash. In Gore Vidal's Burr, the title character complains— in a charming internal monologue— "Why am I using so many dashes? Like a schoolgirl. The dash is the sign of a poor style. Jefferson used to hurl them like javelins across the page." … | " |
Dashed if I Know Quiz
As mentioned above, English uses 14 punctuation marks. All have been used or mentioned in this article, perhaps in devious ways. Can you name all fourteen?