SHORT, SHORTER, SHORTEST
by Deborah Elliott-Upton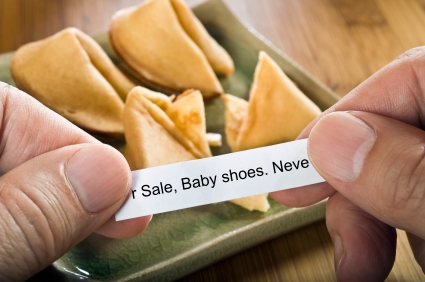 The shortest story I've heard was the famous Hemingway's six word story.
For sale. Baby shoes. Never worn.
There is speculation as to whether the account of the six word story is true or not. Supposedly, Hemingway bet a table of writers dining at the "famous round table" at the Algonquin that he could write an entire story in six words. No one believed his boast and each anted up $10 when Hemingway declared he'd match the pot if he couldn't do it and he'd take the entire pot if he did accomplish the task. Hemingway scribbled six words on a napkin and passed it around. Everyone agreed the six words told a beginning, middle and end of a story. Papa then scooped up the pot.
The story may or may not be true. Either way, what an impact that extremely short story leaves on the reader.
At Confession

by Harvey Stanbrough 1

"Bless me, Father, for I have sinned."
"How long since your last confession?"
"Two years."
"What's the trouble?"
"I have wished death on a man."
"You haven't acted on your wish?"
"Not yet."
"Who is the man?"
"He is cheating with my wife."
The priest paled. "I forgive you."
I shot him through the screen.
With the advent of flash fiction on the rise (a story of anywhere up to 1,000 words), writers have strived to write even tighter—making every word count double duty. When John Floyd and I (and five other writers) were working on the seven each 600-word shorts for Seven by Seven, I found the commission brought out a challenge I had yet to attempt. Can a mystery be told well in 600 words? Absolutely. Our book comprised 49, and I think each was worthy of the deadly sins they represented. Would I have liked to expand a bit on characterization and setting? Sure. But, as I've said, it was a challenge and I believe we all should be challenged in whatever our work and leisure activities happens to be. Life is too short to waste in boredom.
My fictional love has always been with the short story. Specifically, I enjoy the mystery short story best. Somewhere between flash fiction and the novella, the short story fills an important space in the fiction world. We are drawn into the mystery, allowed to delve into the character's lives and see what motives may be hiding beneath the surface. We're often drawn into a setting new to us whether it's fictional or a real location. We're fed a diet of clues, seasoned with red herring and sprinkled with a twist or two. All of this in a sparse amount of words.
The short story fits into our schedules of commutes, quick lunches at our desks or lazy weekend afternoons. They help us prepare for a good night's rest—usually with a smugness that we guessed correctly at who did it and why. If we didn't deduce the villain, we also smile; it's nice to be surprised by a clever writer.
The best short stories are like Hemingway's six word story: they won't let us go with a single reading. Our minds rehash the events and details. The words that weren't on the page, and yet conveyed by the writer to our subconscious make the story unforgettable.
Notes:
Harvey Stanbrough can be reached at Harvey Stanbrough and also his magic realism website, Cantina Tales, which is hosted by his friend, Juan-Carlos Salazár, storyteller and keeper of the cantina in the fictional village of Agua Rocosa, that place on the horizon where reality folds into imagination. Visitors who subscribe to either website get a free book.