MURDER AT SEA
by Steve Steinbock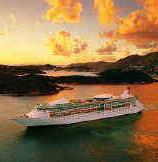 Aboard the Royal Caribbean ocean liner Rhapsody of the Sea, I understand how Agatha Christie got the inspiration for so many of her stories. With my sick mind, it's easy to see murder everywhere I look. Opportunities for poisonings, tossing people overboard, and fatal injuries by blunt trauma abound everywhere.
I boarded the Rhapsody last Friday with my family as we set sail from the Port of Seattle toward Juneau. That was the same day my last column appeared on Criminal Brief, when I wrote about setting. I had hoped to be able to stay in cyber-touch while aboard, but at a cost of fifty-five cents a minute, I'm literally lost at sea as far as the Internet goes. (It's Tuesday morning as I type this, and sometime Thursday I'll splurge and go online to post this column). By the time you are reading this, we will be returning to port at Seattle, so I should be able to get back online and participate in discussions here at Criminal Brief.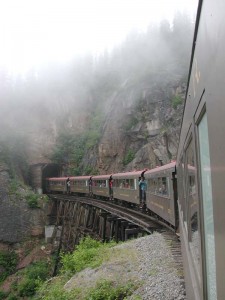 Yesterday we set ashore at Skagway and took a three hour railway ride up the White Pass and Yukon Route. We climbed 2,865 feet to the White Pass Summit. Once again, Christie came to mind as we entered the first of two tunnels that cast our train car into total darkness for a minute. I was sitting with my son, Sam, when the scene unfolded for me: there he is, sitting inches from his dear-old dad as we plunge into darkness. The rumble of the train rings in his ears. When the car emerges from the other end of the tunnel, his father is nowhere to be seen. The conductor has been standing at one entrance to the car. A family from Connecticut has been blocking the platform at the opposite entrance. The windows are all sealed shut. Where could Steve have been secreted away? I felt like Dame May Whitty in "The Lady Vanishes."
I brought several books along with me on the trip. Among them is a collection of short stories by Criminal Brief guest contributor Hal White. The stories feature Thaddeus Dean, a rotund and retired pastor living on an island in the Puget Sound. One of the stories, coincidentally, has Father Dean aboard a cruise liner in the Caribbean, where one of his companions is apparently tossed overboard and another apparently commits suicide from within her locked and sealed stateroom. The solution was a clever one, although I don't see how it would be possible aboard the Rhapsody of the Sea. (At most hours, the passenger hallways are too busy to accommodate the strategy used by the killer. I assume that Father Dean's smaller ship, with fewer passengers and crew members, made the murder feasible). Nevertheless, I've been thoroughly enjoying Hal's stories with a hero reminiscent of Father Brown and Rabbi Small, and their plotlines worthy of John Dickson Carr.
So far on this trip I haven't caught sight of any whales, except when I look in the mirror, of course. This is my first cruise, and I should have heeded the warnings I received about the prevalence of good food.
(Update: since typing the above paragraph, we did catch several glimpses of whales, flashing their flukes and clearing their blowholes. Now I don't feel so bad about the desserts I've been eating).