AGGIE
by Leigh Lundin
Whew! After a week of solid rain from Tropical Storm Fay, I glimpsed the sun! My house is a disaster, but I see sun. With UPS battery backup, I took advantage of the storm to write and edit, which was gratifying since I felt drained after last week's article. Unfortunately, T.S. Fay was harder on my new house guest.
Four weeks ago, I mentioned in the comments section that while writing my column, I discovered outside my door what I first thought was a deceased cat. (I can't write "dead, deceased, expired" without thinking of John Cleese and his demised parrot.) It turned out it wasn't a dead feline at all, but a very much living puppy. Heat exhausted, starved, but alive.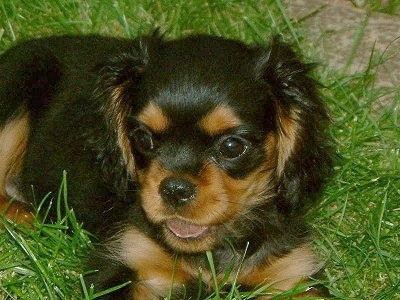 Not Aggie, but a similar 2007 model.
Sharon (by now you know Sharon is my friend Steve's inamorata) identified the fur bundle as a King Charles spaniel. Not caring for my nicknames of "pee'bot", "stinker", and "badlands", Sharon suggested Agatha, which became Aggie. Steve insists Aggie stands for "aggravating".
Still, "pee'bot" gets used a lot and the name has nothing to do with another mystery character, Amelia Peabody. If you guessed "peeing robot machine", you're on the right track.
She dribbles.
Dribbles constantly.
Especially when excited which is most of the time.
She has a bladder the size of a kidney bean. When she sees me, she yelps, runs, jumps, pees, and then rolls on her back right in it. (sigh) Experts assure me this will stop in a few weeks. Or months. Or a year. Or more.
She likes my bare feet, especially my left one. She licks my left foot, a sure way to win my heart. Then I discover my right foot is wet, the one she's sitting upon. (sigh)
Little pee'bot. At least she's glad to see me.
Valentine, not so much. My cockatoo does not like this little m-o-n-s-t-e-r at all. We have to spell "monster" around him because even the word frightens him. That's another story.
Aggie has strange habits. After peeing, her idea of personal hygiene is licking. I guess I thought girl dogs would be different.
I was raised with big, outdoor farm dogs that went huntin' and fishin' and campin', when they weren't used for herdin', all male. A boy and his dog roughhouse, play fetch, chase bicycles, and defend each other against peril. To a rural boy, a frou-frou dog is an oxymoron.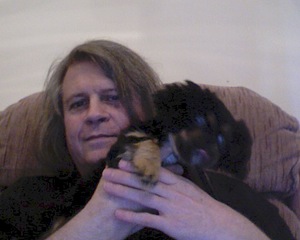 Aggie, genuine article
Not that Aggie is frou-frou. She almost broke my heart when I first put a leash on her. She cried pitifully. I had visions of casting off her collar as she galloped across the veldt as background music played Born Free. She isn't frou-frou, but she's tiny and dribbles like the oil pan of my Toyota Camry.
She'll eat fire ants if I'm not watching her. For those of you who haven't read Swamped, fire ants are a particularly nasty insect that came by ship from South America to Florida. Using acid, fire ants literally burn a hole through the skin. In large enough numbers, they are capable of killing animals– and humans. Aggie eats them.
She hates wet grass but she doesn't mind the rain. For a puppy that continuously dribbles, I would have considered wet grass an advantage, but I guess she doesn't know where it's been. But liking rain? Go figure.
Steve found her difficult to photograph with his lo-res cell phone, since Aggie is small and mostly black. For the same reason, I fear stepping on her in the dark. At night, she disappears in grass, wet or not.
She's not afraid of bigger dogs, be it Sharon's shelties or Thrush's Cosmo whose breed seems to be mainly Marmaduke. Jumping, Aggie reaches Cosmo's chest.

Cosmo is patient and gave her one of his rawhide chew bones. That's when Aggie succumbed to bad behavior. She settled into Cosmo's bed, gumming his rawhide chew. When Cosmo approached to see how she was doing, she snarled. When he got closer, she growled and leaped at him, snapping. This happened several times until Cosmo barked at her, "Enough! This is my house and you won't behave this way."
Neighbors keep a pit bull behind a chain link fence. Cain is red, the size of a Shetland pony, and has jaws that could crunch cars. With a surly look, he's intimidating as hell. After Aggie got over the shock of his bark, she wanted to visit, which was fine since she'd just had a bath.
Through the fence, she and Cain rubbed noses. I was pleased with how they were getting along, but I had no idea how well they liked each other until he turned and peed on her.
Steve says it means they're engaged. Aaaaargh! I'd given her a bath only hours before. Couldn't he have given her a ring?
I'm convinced my neighbors– they're all Hispanic and find me amusing– are in a conspiracy. When I first made the rounds asking if they knew who the puppy belonged to, they seemed to have an idea and promised they'd check.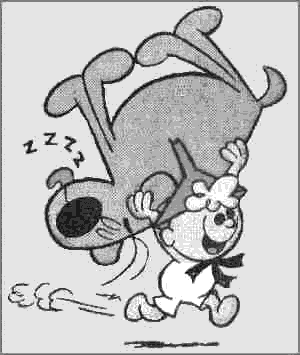 Tom Terrific and Mighty Manfred, the Wonder Dog
Within the hour, dog food and toys appeared at my door. When I asked a few days later if they'd found the owners, they patted my arm and said, "No, better you keep her." After two hundred dollars in vet bills, I again asked if my neighbors managed to identify the owners. One of my neighbor ladies said, "Aggie meant for you. She know what she doing."
She's cute. Like Mighty Manfred, she spends a lot of time on her back with her feet in the air.
With her ears spread, she reminds me of one of Spielberg's Gremlins, Gizmo, the cute one.
She puts up with me. I think I'm stuck. Or she's stuck. Or both. It's kind of like being engaged. Girls congratulate you and guys roll their eyes and say, "Uh-oh."
As I write this article, Tropical Storm Fay is raining again, hard. The sun was short-lived. Aggie's asleep with her head in my shoe. My left one. For once, she's not dribbling.
Shhhhhh.