The POWER of PREPOSITIONS
by Leigh Lundin
Aladdin was getting along in years and found that he was unable to pitch a tent as he had done in his youth. Smart as well as lucky, Aladdin still had his genie in a lamp and, frugal with his wishes, he had one wish left.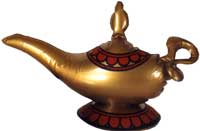 He rubbed his lamp and the genie appeared. "My camel can no longer thread the needle. Can you cure my erectile impotence?" Aladdin begged the genie.
Genie said, "I can whisk away your problem." With that, he rubbed his hands, evoking a puff of billowing blue smoke. Genie said, "I've dealt you a powerful spell, but at your age, you'll be able to invoke it only once a year."
"How do I use it?" asked Aladdin.
"All you have to do is say 'one two three' and it shall rise for as long as you wish, but only once a year."
Aladdin asked, "What happens when I'm exhausted and I no longer want to continue?"
Genie replied, "All you or your woman has to say is 'one two three four', and it will go down. But be warned: the spell will not work again for another year!"
Aladdin galloped home, eager to try out his new powers of the flesh. That evening, Aladdin bathed and scented himself with oil of exotic myrrh. He climbed into bed where his wife lay on her side away from him.
Aladdin took a deep breath and said, "One two three." Instantly, he became more aroused than he ever had in youth, a magnificent happenstance of tree-trunk proportions.
His wife, hearing Aladdin's words, rolled back toward him and said, "What did you say 'one two three' for?"
And that, dear readers, is why you should not end a sentence with a preposition.
---