Regular readers of Criminal Brief may recall a recent column by Melodie describing in tragicomic detail her recent visit to the hospital. Well, Melodie has had to return briefly, since there were some complications from her fall, but we're expecting her back at full vigor soon. In the meantime, she asked me if I could find someone to cover her column this week, and after much cogitation on the issue, I decided to cover it with Melodie's own words as well as some words said about her first novel. So he-e-e-e-e-re's Melodie! —JLW
BIOGRAPHY
by Melodie Johnson Howe
I was born in Los Angeles and grew up under the relentless sun and the dusty palm trees dreaming of becoming a great writer. Then Hollywood discovered me. At twenty-one I did a screen test for Universal Studios. Never having acted professionally, I somehow managed to get a seven-year contract. In that same month I married Bones Howe, record producer and bachelor father of three small children. At twenty-one you can do anything.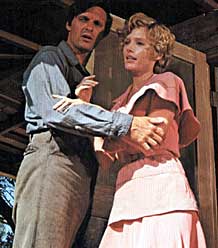 In my first acting job I was shot dead in the titles of a TV movie. They covered me with a sheet and carted me off to an ambulance. Only my hair showed. But in my next role I starred in a TV movie called "Kicks" where I shot Mickey Rooney dead. Over the next few years I acted in such movies as: "The Ride To Hangman's Tree," co-starring with James Farentino; "Coogan's Bluff" with Clint Eastwood; "Gaily, Gaily," directed by Norman Jewison; "Rabbit Run" with James Caan; and "The Moonshine War," co-starring with Alan Alda.
My most favorite line I said in a movie came from "The Moonshine War." Sitting by the side of a river and kissing Alan Alda, I murmured, "I have a stone bruise on my ass."

The movie was taken from the Elmore Leonard novel of the same title. I met him on the set and he autographed a copy of his book for me. I wished I could tell him that I wanted to be a writer, but I was too shy. Years later he and I would be in the same anthology for The Best American Mystery Stories in 1997. My life had come full circle.
I was acting and raising my new family. At night I attended the UCLA Extension where I studied creative writing. I still wanted to be a writer.
In 1980 I wrote a play titled "The Lady of the House," which was produced by the Los Angeles Theatre Center, and starred Salome Gens, Nan Martin, and Carol Lockatell. But this first success as a writer didn't stop me from acting. I was now doing it all; even TV commercials. I sold everything: cars, shampoo, deodorant, Kool Aid, and beer.
One day I went on an interview for a dog food commercial. I entered a room filled with middle-aged blondes. We sized one another up as we studied our dog food script. It was then I wondered what I was doing with my creative life. I put the script down and walked out of the room to the surprised looks of the other blondes, and never returned to acting.
A few years later I wrote my first mystery novel, The Mother Shadow, featuring Claire Conrad and Maggie Hill. It was rejected by seven publishers and then accepted by Viking.
This gem of a mystery introduces the improbable sleuthing duo of Maggie Hill and Claire Conrad, reminiscent of Nero Wolfe/Archie Goodwin. Thanks to Howe's stylish writing in the hard-boiled tradition, it is both gripping and entertaining, with wonderfully vivid characters and a deft plot abounding with twists and turns. Acting as secretary to wealthy Ellis Kenilworth, 35-year-old, divorced ex-writer Maggie Hill witnesses the drafting of a codicil to Ellis's will bequeathing his rare coin collection to someone outside the family, Claire Conrad. Ellis asks Maggie to keep the sole copy of the codicil while he lunches; he then kills himself, leaving Maggie, with the codicil in her purse, to discover the body and a suicide note. Later, when both note and codicil disappear, Maggie visits Claire Conrad and learns that the elegant eccentric, who dresses alternately in black or white and sports a walking stick, is a renowned detective. Together, the women, aided by Claire's debonair butler/bodyguard, Boulton, penetrate the miasma enveloping the Kenilworth clan, where they encounter duplicity, heinous secrets and murder. In a class by themselves, Maggie and Claire promise a smashing series. Literary Guild alternate.

—Publishers Weekly, Copyright 1989 Reed Business Information, Inc.
The Mother Shadow was nominated for an Edgar, Anthony, and Agatha.
Shortly after the publication of my second Claire Conrad / Maggie Hill novel, Beauty Dies, I ran into one of my ex-Hollywood agents who asked me what I was doing. I told him I was a published author. And he said, "Why do women facing menopause always write books?"
Hooray for Hollywood.
I'm still married to Bones Howe — and they said it wouldn't last. The three children who are now adults still call me mother. And their children call me grandmama. And I'm still writing: short stories about murder and Hollywood, and a new novel about a middle-aged actress.
Hooray for Hollywood!