WOLPERTINGER: or, The Modern Epimetheus
by James Lincoln Warren
I lifted the heavy bronze knocker and let it fall. A moment later, the massive door creaked opened.
"Oh, hi," said the short misshapen figure beyond it. "I'm Ivor, Dr. Wolpertinger's Personal Assistant."
"I thought it was 'Igor'," I replied.
"One lousy little typo and you're a Russki for life. It's I-V-O-R, Ivor, capisce? Anyway, Dr. W's expecting you down in the lab. Come on in."
Ivor pulled a torch on the wall — a disguised lever — and a bookcase filled with ancient tomes bound in decrepit leather swung out from the wall, revealing a descending stone stairway behind it.
"Been with Dr. Wolpertinger long?" I said, trying to make small talk.
"About five years."
"Is it hard working for a mad scientist?"
"Piece of cake, after working for movie stars. I've been P.A. to a number of celebrities and believe me, I could tell you stories. The women are the worst, think they're goddamn princesses."
By that time we had reached the equipment-strewn laboratory, and I saw the man I had been summoned to attend, Jakob Linnaeus Wolpertinger. He bent over a shrouded figure on a large table that dominated the cluttered room. The thought of the unholy experiment in which he was engaged silently sent a chill coursing down my spine.
Revivifying dead prose.
I shuddered in spite of myself. There are some things Man was not meant to know. But on the other hand, just about every hack with a byline offers an online course on How to Write a Bestseller.
Wolpertinger's white lab coat flared as he spun on one buttoned booted-foot to face me. His eyes shone with a deranged gleam.
"You have come," he said. "Excellent. I knew we were spiritual brothers after I read your essay on the Secret Laboratory." He chuckled malevolently. "Your 'Password' puzzle was very pretty. Fiendish, even."
"Why have you brought me here?" I demanded.
"I was particularly fascinated by your theory that writing was a syncretic activity," he said, all humor draining from his face. "They said I was mad, but I'll show them! I'll show them all!"
"There was also something in there about avoiding clichés," I muttered.
Either he didn't hear me or he wasn't listening. He kept speaking with all the inertia of a wrecking ball. "It was your revolutionary theory that caught my attention. That storytelling is a matter of combining various elements of folklore, imagination, and experience aligned in a formal structure. But your words are pearls before schwein, my friend."
"I only write about writing because I thought that readers were interested in how I work," I said, slowly inching back toward the stairs. "Also, because an uninformed opinion is worthless —"
"Ah, yes. The famous Fourth Law."
"— it seemed to me that if a reader knew what he was looking at, he'd enjoy it more."
"Knew what he was looking at? Are you CRAZY?" Spittle speckled his lips. "The Hand of the Creator should be invisible. If the reader is aware of the presence of artifice, the story is a failure."
"Well, sometimes — the only thing I'm really sure about is that different rules apply to different situations — sometimes the conscious presence of the author adds to the experience, like in Fielding's Tom Jones."
"Exactly! It may add to the experience! And what of our subconscious monsters? Are they not the same things as your precious concatenations of various words calculated to evoke images and emotions? Are they not syncretic as well? Doesn't the very word 'chimera' describe a nightmarish marriage of fell creatures represented by a lone corporeal manifestation??"
"Just ask Mary Shelley."
"Bah." He turned away and closed a massive knife switch, unleashing a fountain of sparks and a searing stink of ozone.
"Sint mihi dei Acherontis propitii!" he cried,1 and burst into a cascade of maniacal laughter. (For a short dissertation on this singular phenomenon so closely associated with diabolical masterminds, I refer the Gentle Reader to Rob Lopresti's discussion of same.)
The room buzzed and crackled with electrical discharges, and the thing under the sheet began to stir.
The scientist pulled the sheet off his dreadful creation and shrieked in voice distorted by his unclean passion: "Behold! Wolpertinger's Monster!"
We stared, unbelieving.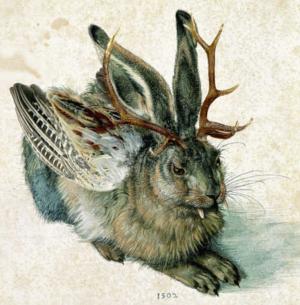 I discreetly cleared my throat. "Uh … it's a bunny rabbit."
"It has deadly fangs."
"Actually, it's kind of cute. Sort of a jackalope with wings."
The Monster wiggled its nose.
"All right," I said jovially. "How very cool. That's really something, doc. Thanks so much for thinking of me. Oh, gosh, look at the time! Got to run."
On our way out, I said to Ivor, "I hope your job comes with medical insurance."
"You bet. Dental and optical, too," he said. "Not to mention fifteen days of paid vacation, and a liberal gas allowance to boot. Dr. W is a good employer. Why do you ask?"
"You realize, of course, that your master is criminally insane."
He shrugged. "This is the twenty-first century, bud. Who isn't? Anyway, you should talk. I've read your stuff."
Notes:
These are the same words first uttered by Doctor Faustus in summoning the demon Mephistophilis, according to Christopher Marlowe: "May the gods of Acheron grant favor!" Acheron is the name of a river in northwestern Greece. In Greek mythology, the river flows through Hades and is the site where Odysseus conferred with the shades of the soothsayer Tiresias and other dead folks. — JLW