DIGGING UP OLD CASES
by Rob Lopresti
Imagine for one moment that Alexander McCall Smith's detective Mma Ramotswe were to announce that she had reviewed the Baskerville case and Sherlock Holmes got the whole thing wrong. Or perhaps Robert B. Parker's Spencer discovered that Sam Spade screwed up on the murder of Miles Archer.
Welcome to the world of the archaeologist.
An anthropologist, according to a friend of mine in that field, can only be sure of two things. One: she will die. Two: everything she wrote will be proven wrong. A career is considered successful if those events happen in that order.
And archaeology, of course, is a subfield of anthropology.
Getting down and dirty
This is by way of explaining that I just spent two weeks volunteering at a dig in Israel. Ramat Rachel is a kibbutz between Jerusalem and Bethlehem, and back in the forties the kibbutzniks decided to build a water tower on a hill. As happens on occasion in that part of the world, the diggers found some very old ruins, ranging from the Iron Age (ca. 700 BC) to Early Muslim (ca. 1000 AD).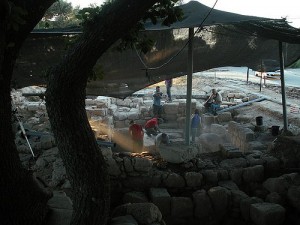 The first archaeologist brought in to investigate was Yohanan Aharoni, who spent several years on it and uncovered a palace with a citadel (small fortress) in front of it. Aharoni concluded that this palace belonged to King Hezekiah of Judah. Years later the area was made available to the public as an archaeological park and they set up some very striking monuments that mark the corners of the king's building.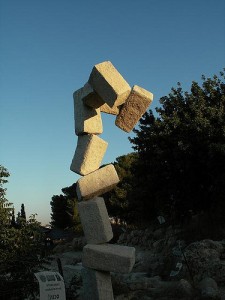 The past keeps changing
For the past four years a new dig has been going on at Ramat Rachel, led by Oded Lipschits of the University of Tel Aviv, and, as you have no doubt guessed, a lot of what Aharoni wrote has been overtaken by events. Those lovely monuments are no longer considered to be at the corners of the building. And as for the purpose of the building… why would a king build a palace three miles from his main abode? Lipschits' theory is that this was the headquarters of the occupying force of the various empires that ruled Judea, starting with the Assyrians around 700 BC. Significantly, the place was destroyed by fire around the time of the Maccabean rebellion (i.e. Chanukah).
But Aharoni isn't the only one who got overtaken by very old events. At the beginning of the dig the bosses told us volunteers that this, the fourth year, was the first time they were confident they understood the site.
A week later they had changed their minds about at one of the sections. In this picture Oded Lipschits is standing in a huge trench that no one expected to find. Apparently this was a foundation trench for an outside wall, but why was there a wall in that spot at all? Hmm…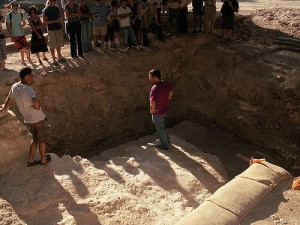 "What's going on"
This is what makes field archaeology so exciting, of course. You swing a pickaxe and you get nothing for your trouble but dirt. Swing it again and perhaps out pops a complete cooking pot, or an ancient coin or, just maybe, something that overturns everything you thought you knew about the place. There is no way to know what the next swing will bring.
All the archaeologists at the site used a phrase I found amusing. "We have to dig down here," they would say, "and find out what's going on with this spot." And I would think "nothing's going on. There's just dirt, rocks, and pottery."
But I understand what they mean, because when you are down in the hole turning over the dirt, it does feel as if amazing things are occurring, one bucketful at a time.
Here is a live blog done by a volunteer with much more energy than I had. Next week. I'll talk about some of our discoveries.