TEACHER'S PET
by Deborah Elliott-Upton
As much as I hate saying goodbye to summer, I always welcomed going back to school, meeting new friends and reacquainting with the old ones. Notebooks ready to be filled and a sense of a fresh start inspired me. It still does.
I thought about taking a class this semester just for fun, something in the creative writing area would have been nice, but I ended up enrolling in a class of one without a teacher and with guidelines only as a guide. A change of pace and locale is always good to shake up the soul. It's usually good for any student (maybe especially writers) to get out of their comfortable little cubbyholes once in a while. It's easy for teachers to get into a rut, too. Maybe especially writing teachers.
The premise of the movie, "Teacher's Pet," is that a hardboiled city editor is forced by his managing editor to help a college professor with her journalism class. Not realizing he is the writer she disses in her classroom, Erica Stone (played by Doris Day) assumes James Gannon (played by Clark Gable) is another student. Despite Gannon's disregard for anyone who hasn't worked his way up into the publishing world by working it as you learn, he finds himself attracted to the teacher he wants to hate. While he is out to prove a writer doesn't have to be taught to be a writer, she is working just as hard to prove the value of a good education makes a better writer.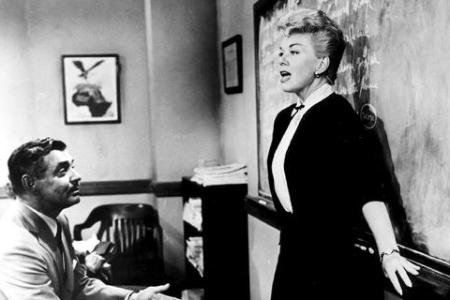 "So he's got more degrees than a thermometer, so he speaks seven languages, so he's read every book. So what? The important thing is he's had no experience. He didn't start at the bottom and work up. That's the only way you can learn." —James Gannon referring to Dr. Pine, Professor Stone's boyfriend in "Teacher's Pet"
Though it debuted on movie screens half a century ago, the film stands up fairly well today. Interestingly, Fay and Michael Kanin originally wrote the script as a drama. After being repeatedly rejected by studios, they rewrote it as a comedy and sold the script to Paramount. Which goes to prove, even great writers don't always get it right the first time.
"As my father used to say, a reporter has to do a lot of sweating before he earns the right to perspire." —Erica Stone in "Teacher's Pet"
Every writing teacher should be aware that not all students are "new" to writing. In my online classes, I have "taught" writers who had been multi-published and award-winners prior to my classtime with them. I have learned much from such students and hope they took away something they could use from me. Of course, I'm also claiming those that won awards or sold work after taking my class probably were helped by me somewhat.

"Newspapers can't compete in reporting what happened any more, but they can and should tell the public why it happened." — Erica Stone in "Teacher's Pet"
Methods of reporting the news has changed just as storytelling has evolved from vast amounts of narrative to crisper wording that delivers a visual image without flowery phrasing. With changes in the way we speak, written dialogue has also changed. Unless today's writer is creating a historical fictional account, the styles that worked in yesterday's market are not going to sell in today's.
What hasn't changed in news reporting is we still want to know the who, what, where, when and how of the story and it better be in the opening paragraphs. In fiction, we strive for more dialogue and less narrative to keep the reader interested. The world's fast pace has left us with shorter attention spans and book readers demand we move quickly and not dawdle or as one editor referred to it as "meandering." Reading is no longer a leisurely pastime for the wealthy. Today's readers most likely are hard-working people who requires page turners for their ever-shrinking time allotted to reading.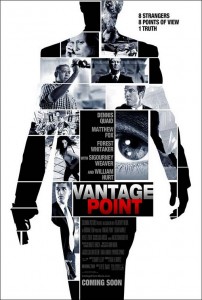 In the movie, "Vantage Point," it is all about the action. From the moment the story unfolds on the screen, the movie-goer is riveted to his seat. Sorry, there's no good time for a bathroom break or to step out for popcorn at this showing. There is no real ebb and tide to the story where the audience is allowed a moment to rest unless you count the mere seconds—and I'm talking of perhaps two between scene changes. No comic relief or anything that does not move the story forward is represented. I loved that the story concerned the facts of the American president being shot and not of a let's-stop-a-moment for a romantic interlude that really has nothing to do with the plot. (Not that I'm against romance, but it would have served no purpose in this film.) Instead, this film is devoted to technology and how it reveals answers quickly that would have taken painstakingly long hours of investigation and time is something this case cannot waste.
Do I believe "Vantage Point" will stand the test of time? Absolutely. The technology advances allowing instant rewind and replay of critical vantage points of a crime are as critical to relaying news to the public as newspapers and journalism classes were in "Teacher's Pet" and yet, both are viable for writers to learn from today.
On the spot reporters relaying news as it's happening is key to the way we live today, but reading an account of what happened through a newspaper reporter's eye is just as important. The writer who has taken time to choose the perfect words to make the impact on the reader should be as valued as an anchor reading words from a teleprompter hastily written to scoop other news agencies.
The Old School method of storytelling is like the on-the-scene TV reporter; they are there simply to relay a message to their audience. A fiction writer may tell the same story, but has taken the time to find the best use of language to make the story more visual and memorable.
I think we need to incorporate both the old and new styles of writing and storytelling. It's the best of both worlds and one way to become this teacher's pet.