THE MAGNUS EFFECT1
by James Lincoln Warren
And then, just to show them, I'll sail to Ka-Troo
And Bring Back an It-Kutch, a Preep and a Proo,
a Nerkle, a Nerd, and a Seersucker, too!

—Dr. Seuss, If I Ran the Zoo

Why did you suffer Iachimo, slight thing of Italy,
To taint his Nobler hart and braine, with needless ielousy,
And to become the geeke and scorne o' th' others vilany?

—Wm. Shakespeare, The Tragedy of Cymbaline, V. vi.
My Bible, the Oxford English Dictionary, informs us that a "nerd" is "an insignificant or contemptible person, one who is conventional, affected, or studious; a 'square', a 'swot'." By the 1980s, this post-war term had come to mean more exclusively a certain sub-species of adolescent male more interested in science than in sports. (I will never understand why it is considered cool to own an iPhone but uncool to design one.) Anti- intellectualism has been a feature of American culture for over two hundred years. Occasionally it slumbers, but it is never deeply in the arms of oblivion.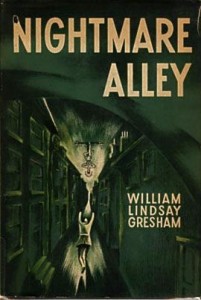 Far worse than being termed a mere nerd is the completely unredeemable tag of "geek" used to describe pimply bespectacled technophiles. An actual geek, as anybody who has read William Lindsay Gresham's novel Nightmare Alley or seen the classic 1947 film noir based on it knows, is a sideshow freak who decapitates live chickens with his teeth. It's a term of derision even among carnies, a class of persons commonly considered only slightly superior to sewer scum in terms social virtue. It is a word that degrades its user as much as it degrades its target.
Tarzan, as envisaged by Edgar Rice Burroughs in 1912, was an intellectual as well as a physical paragon, fluent in French, English, Bantu, Swahili, Mangani, and other languages, in spite of holding human civilization in low regard for its hypocrisy and tendency to decadence. His popular manifestation in the movies, however, especially as portrayed by Johnny Weissmuller, was more in line with Yankee anti-egghead sentiment. True, it was probably a little more in line with what one would expect of an actual feral child, insofar as the screen Tarzan seemed not more intelligent than a domesticated cactus, but that's not the point.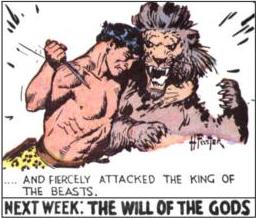 True Americans couldn't trust an Ape-Man with brains, and so he was dumbed down. In those days, every Flash Gordon had to have a Dr. Zarkov (note the foreign name) around for anything requiring intellectual heft. But Burroughs' smart Tarzan actually flourished in that quintessentially nerdy medium, the comics.
Tarzan's first regular artist was Hal Foster (best remembered for Prince
Valiant) in 1929. Like Howard Pyle, Foster elevated illustration from mere decoration to visual narrative, and left a lasting legacy in American arts. In 1937, Lord Greystoke's exploits began to be chronicled by Burne Hogarth, whose depiction of the Lord of the Jungle's sinewy body was itself an expression of drama through action, and whose luxuriant African forests were evocative of austere Japanese gardens. Many other fine artists followed. As the earliest action adventure comic strip, and because of its association with such luminaries as Foster and Hogarth, Tarzan imbued its artists with a certain prestige. Only the best were considered worthy.
And that brings us to Russ Manning.
Manning drew Tarzan for Gold Key Comics in the 1960s and for the newspaper Sunday strip in the 1970s. He had a very clean style, one regularly admired by comics connoisseurs, and his entertaining Tarzan oeuvre has recently been republished. But Manning's true gift to civilization was Magnus Robot Fighter (1963).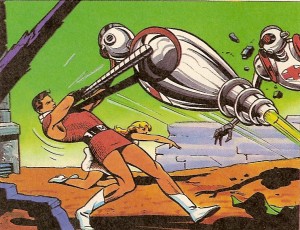 In the year 4000 A.D., mankind has been enslaved by robots. One robot, named 1A, has trained a human being, Magnus, to resist and fight robot dominion. This Magnus usually does with his fists. If you're concerned that Magnus' combat gear seems to consist of a very short and revealing red dress, not to mention the flattering white go-go boots and the designer belt with a stylish "M" embossed on the buckle, you should know that the blonde in the background is Magnus' really hot girlfriend, Leeja. Not that it makes any difference.
Robot 1A is a well known figure to anybody familiar with Greek myths: he's a mechanical avatar of Chiron, the centaur who mentored and trained most of the Greek heroes during their respective boyhoods. Magnus, therefore, is a culture hero, tapping into archetype as liberally as ever did Tarzan. But Magnus is much more than a mere culture hero. Magnus is prophetic. You see,
MAGNUS ROBOT FIGHTER WAS CONCEIVED BEFORE THE PERSONAL COMPUTER WAS INVENTED!
Every time I fight with my computer, I think of Magnus. And boy, do I fight with my computer betimes.
Let me just say that I am not being anti-intellectual myself when I say I fight computers. I'm not even saying, as many have claimed, that computers have enslaved us, although this may be true, especially since the advent of the BlackBerry, which is a type of computer that seems to keep its human on a leash. But generally speaking, I like computers. I have a certificate from UCLA Extension in Computer Science. I played all five of the Myst games with relish.
No, what I so strongly object to, what fills me to the brim with berserker fury, is the utter arrogance of computers. Computers who somehow think they're smarter than I am. Especially word processors. (Although I've crossed swords with web design programs more than once, too.)
Hit a carriage return and the computer indents the next paragraph. What if I don't want to indent the next paragraph? Type "(a)" and the computer starts a bulletized list, automatically adding and indenting "(b)". What if I'm not beginning a bulletized list? Type "(c)" and the computer inserts the copyright symbol. What if I don't want the copyright symbol? And then there are the automatic capitalization feature, the AutoFormat function, the AutoText function, the idiot grammar checker that wouldn't know a complex sentence structure if it bit the computer on the computer's metaphorical hiney, the incredibly obnoxious animated Office Assistant, and more.
Death to them all, says I! No quarter! No prisoners!
Every time I get a new computer, which is a lot more frequent than I would like, I have to spend hours lobotomizing software to make the damn machine tractable. And then it fights back. Oh yes it does, don't tell me it's inanimate, it knows, I tell you, and it still thinks it's smarter than I am.
You think crashes happen by accident? Don't be naïve, my friend. You think that some ignorant mistake of yours made the machine lock up? That's what the computer wants you to think. Do you honestly believe that the computer is unaware of the consequences when it destroys all your files at exactly the most critical moment? Don't make me laugh.
Computers can be snobs. They think of us as so many boogers on a fingernail, to be casually flicked away and ignored. And that's why they're cruisin' for a bruisin'.
Understand now why I admire Magnus so much? He's my hero. At least when my computer gives me attitude, anyway.
So don't call me a nerd, buddy. And don't even think geek, pal. Not after you have seen my loins girded for battle against the Machine. I've kicked Microsoft Word's ass and I can kick yours, too.2
Notes:
Actually, the Magnus Effect is that phenomenon in aerodynamics that influences the trajectory of a spinning sphere like a baseball or golf ball, so you might say I'm putting my own spin on this week's topic.