While I was off scribbling yesterday's column about Doris Lessing unbeknownst to Melodie, Melodie was collecting her own thoughts concerning the most recent winner of the Nobel Prize for Literature unbeknownst to me. Luckily, we never agree on anything, so here's her piece. –JLW
LONGEVITY IN NOT PLEASING
by Melodie Johnson Howe
In a society that places all its energies and values on being young, I find, as a writer, that it is the older women who fascinate me the most. They're compelling as characters because they come with a past. They've had their children and mourned for those they've lost or never had. They've won and lost lovers, and have tried or failed to make their marriages work. They cannot recreate themselves the way older men do. A man can marry a younger woman the age of his daughter and have a whole new set of children. Older females cannot pretend to be younger. Society won't let them. And when they do … well, we've all seen the painful images of girlish, aging women still struggling to compete in areas that time has closed off to them. Most women wear their years, as a badge of courage. Many of them wear it alone. To drop a murder into their lives is like dropping a pebble into the ocean. Of course they could solve it, they could even commit it.
That was the beginning of the column I was working on until I read that Doris Lessing won the Nobel Peace Prize for Literature. So I apologize there will be no mystery theme to the rest of this column. First of all, I was delighted that a writer I had actually heard of and read had won the prize. A writer who thrilled me. And she was eighty-six years old so she fits into at least a part of this theme of mine.
There's a wonderful picture of her sitting on the stoop of her English flat, an old woman in Birkenstocks, long plain skirt, gray haired pulled back from her rugged face. In front of her is a phalanx of cameras. She could've cared less. There is something triumphant about this photo. She is a woman who never wavered from what she wanted to write.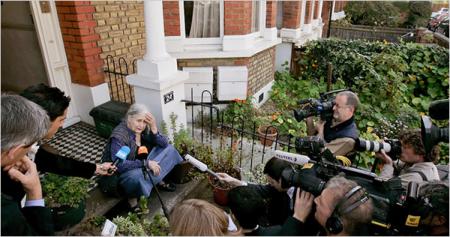 1
I have a first of edition of The Golden Notebook, a seminal novel for its time. I have the first edition because it was a book that made me want to write. Never has a nervous breakdown been captured so painfully, so relentlessly as she did in that novel.
Lessing changed over the years. She left the destructive society of men and women, to create her own world through science fiction. Alas, I couldn't travel with her. She left me behind. But I don't begrudge her those female dominated worlds she imagined. If I couldn't relate to them then so be it. I had her earlier novels. The critics were furious with her. I think they were appalled by the genre she had chosen. Writers are not servants. They don't have to please us. In our genre there are too many who have lost the quality and sense of their work in their need to satisfy.
Doris Lessing wrote a short story called "The Fifth Child." The academic world thought it was about the Palestinian problem. Or was it about feminism? Anti-Semitism? Genetic research? One French interviewer told her it was really about AIDS. And Doris Lessing's response? "It's just a story."
Her overall work is not up to par with William Faulkner's. But it is definitely better than most writers who have received the award recently. For the majority of her eighty-six years she has been writing, prodding, and pushing the boundaries. She's taken the Feminists to task for "rubbishing" men. And the Communists for creating what is now called political correctness. Just when the reader feels comfortable with her, Doris Lessing moves on to other foreign territories. After all they are, as she says, just stories.
Notes: