THE GAME OF DAN GREENBURG
by Rob Lopresti
Back in the 1970s, which could laughingly be called my formative years, New York Magazine used to have a weekly competition. Each week Mary Ann Madden would set a contest and thousands of readers would try to get published. I vividly remember some of my favorite entries in such contests as conversation-openers ("That cobra isn't getting enough air!"), unusual greeting cards ("Saw your smoke! Now you're pope!") and meaningless proverbs ("Little things come in small packages").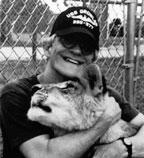 But today we're going to talk about the Game of Dan Greenburg. Greenburg is, of course, a novelist and humorist, but he was also a frequent entrant to the weekly competition, and this game was his idea.
Here are the rules.
Think of a person's name. It could be a real person, a fictional character, or even a famous animal or — why not? — plant. (Bob the Angry Flower is the only one I can think of.)
Now that you have the name, think of a second name, in some way related to the first. Then a third related to the second, and so on… until you reach the twenty-fifth name, which has to be the one you started with. Got it?
The more widely varied the association between the names, the more you will be admired by the adoring fans.
By the way, in preparing this column I discovered that the Washington Post Style Invitational, which has carried the banner of the New York Competition on, did this game last year, but they called it the Chain Gang. You can see the results by going halfway down this page.
Twenty-five times three
Here are three sets of the game. I have tried to put in as many mystery authors and characters as possible. If you can't see the connections, think harder. Or you can ask me.

Rex Stout, Nero Wolfe, Julius Caesar, Hamlet, Porky Pig, Mickey Mouse, Mickey Spillane, Mike Hammer, Sam Spade, Lou Diamond Phillips, John Philip Sousa, Frederick March, William Jennings Bryan, Clarence Darrow, Perry Mason, Sharon Stone, Sharon McCone, Stefanie Plum, Jack Lemmon, Walter Matthau, Walter Mosley, Socrates Fortlow, Sophocles, Oedipus Rex, Rex Stout.

Raymond Chandler, David Handler, Stewart Hoag, Hoagie Carmichiael, Dagwood Bumstead, Blondie, Deborah Harry, Harry Bosch, Michael Connelly, Michael Clayton, George Clooney, Rosemary Clooney, Rose Marie, Dick Van Dyke, Mary Poppins, Walt Disney, Donald Duck, Donald E. Westlake, Richard Stark, Parker, Robert B. Parker, Spenser, Shakespeare, Marlowe, Raymond Chandler.

Agatha Christie, Dorothy Sayers, Lord Peter Wimsey, Peter Lovesey, Sergeant Cribb, Baby Face Nelson, Pretty Boy Floyd, Robert Redford, Paul Newman, Ronald MacDonald, John D. MacDonald, John D. Rockefeller, Eddie Money, Johnny Cash, June Carter Cash, Jimmy Carter, Jimmy the Greek, Mack the Knife, David Bowie, Johnny Rotten, Johnny Depp, Sweeny Todd, Angela Lansbury, Miss Marple, Agatha Christie.
The virus spreads
If you read all the way through those I have some bad news for you. The next time you have trouble sleeping you are going to remember this column and soon you will be staring at the ceiling and thinking: twenty-one, twenty-two … how can I get back to Dashiell Hammett in three?
And then you can thank Dan Greenburg, and me.