SPECIALTY ITEMS
by John M. Floyd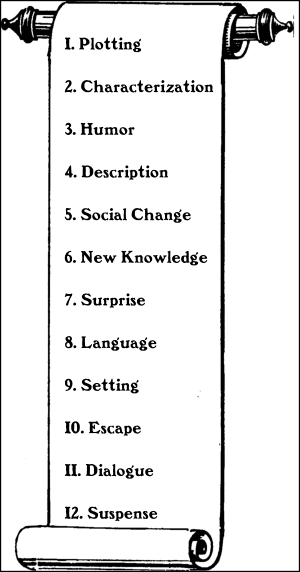 In recent weeks several of us at Criminal Brief have discussed some of the ingredients of fiction that make reading especially enjoyable and worthwhile, the things readers look for in a story, We all know that the best authors of novels and short stories are competent at almost all the elements of fiction — but I got to thinking about something else, lately: the fact that (as in all life's endeavors) some people are just better at some things than others.
So I made a list. The fact that I did that will be of no surprise to our gentle readers, because by now you probably know I'm fond of lists. Maybe it's my engineering background, but I doubt it. It's probably due more to the fact that I'm becoming more and more forgetful, and making a list (whether it's for the grocery store or for a weekly column) seems to be a way to ensure that I don't venture too far from what I'm trying to accomplish.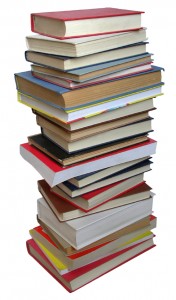 Having said that, here are a dozen of what I consider to be important things we as readers seek out, in a short story or novel, along with the names of a few authors that I feel are particularly effective in those areas.
(NOTE: I tried not to mention one author more than once, though I realize that many belong in more than one category, and I've also included some lesser-known writers side-by-side with superstars. And by the way, feel free to disagree. When I read this again in a week or two, I'll probably disagree with it myself.)
Plotting: Harlan Coben, John Sandford, Greg Iles, Ken Follett, Lawrence Block, Nelson DeMille, Stephen King, Robert Ludlum

Characterization: Raymond Chandler, Flannery O'Connor, Charles Dickens, James Joyce, Larry McMurtry, James Alan McPherson, F. Scott Fitzgerald

Humor: Carl Hiaasen, Mark Twain, Janet Evanovich, Christopher Buckley, Dan Jenkins, Woody Allen, Kinky Friedman, Laurence Shames

Description: James Lee Burke, Val McDermid, Charles Frazier, John Fowles, Peter Straub, Thomas Cook, John Le Carré, Tom Wolfe, Richard Russo

Social Change: Richard Wright, John Steinbeck, Barbara Kingsolver, David Guterson, Toni Morrison, William Styron, Alex Haley, Emile Zola

New Knowledge: James Michener, Michael Crichton, Dan Simmons, Arthur Hailey, Colleen McCullough, Edward Rutherfurd

Surprise: Jeffery Deaver, O. Henry, Agatha Christie, Philip K. Dick, Roald Dahl, Jack Ritchie, Jeffrey Archer, Fredrick Brown

Language: Pat Conroy, Annie Proulx, William Faulkner, John Cheever, Anton Chekhov, John Irving, Cormac McCarthy

Setting: Tony Hillerman, Nevada Barr, Peter Benchley, Martin Cruz Smith, Louis L'Amour, Steve Hamilton, Dana Stabenow

Escape: Ian Fleming, J.K. Rowling, Clive Cussler, Richard Matheson, James Rollins, Jack Finney, Matthew Reilly, Wilbur Smith, Alistair MacLean

Dialogue: George V. Higgins, Dick Francis, Eudora Welty, Joe R. Lansdale, Richard Price, Elmore Leonard, Ernest Hemingway, Robert B. Parker

Suspense: Marcus Sakey, Robert Crais, Tess Gerritsen, John Godey, Dean Koontz, Laura Lippman, Douglas Preston, William Goldman, Thomas Harris
I decided to stop there. If you're so inclined, please chime in with your picks for various specialties. You can even add more categories if you like, since I left some out. For that matter, I left out a lot of great authors, too.
But it sure was fun making my list …