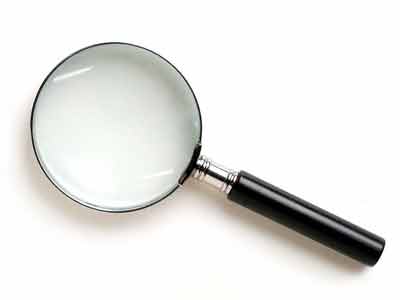 OBSERVATION and DESCRIPTION, Part II
by Leigh Lundin
Sherlock Holmes, mentor to all of us, lectured Watson about the necessity of observation. The power of observation shouldn't be limited to characters; my favorite writers routinely examine their surroundings in unusual ways.
As I'm using it, observe has two meanings:
to examine with insight and
articulate that insight for others.
Last week, I offered a few of my favorite phrases in mystery writing. In the hands of a master, observation tells us as much or more about the observer (and the writer), than what he's telling us about. You know what I'm talking about– a curious quirk you've seen in some people never elevated to the level of articulation, or, more interesting, one that the writer views with an unusual slant.
We can learn if the observer is cynical or kind, harsh or forgiving, racy or racist, sexy or sexist. We might sense their political or religious overtones. At the least, we can deduce their level of education and their position within society.
As observers, Holmes was detached, Brother Cadfael gentle and forgiving, Harry Callahan jaundiced, Falco ironic, Fletch bent, and Nudger concurrently resigned but hopeful. Looking through their eyes, we not only learn about their world, we learn about them.
Observations can tell us how characters change over time. Ellery Queen and Nero Wolfe grew over the years. After World War II, their characters, attidudes, observations, and stories radically altered. When Melodie's Diana Poole comments on the seamier side of Hollywood, she gives us examples within her stories of how Poole views movieland before and after her career peaked. It's no accident that many of mystery's best characters have been kicked in the teeth but persist in fighting back.
Listening
Two descriptions I remember came from girl-watching, one from my Dad:
"No, I didn't notice her tight pants at all." He paused. "I thought it was spray paint."
The painting shows pretty much what the girl was wearing that day.
Anyone who's been to Minnesota knows the Scandinavian-designed women are, well, built. A friend, Frank LaValley, and I were at a crosswalk when a Loni Anderson type in the thinnest possible top approached the opposite corner.
The signal changed. Time and traffic stopped. Cars with the green light stopped. Vangelis' Chariots played in the background as the world went into slow-motion as she began to stride toward us. Frank froze in near-religious awe.
I don't quite remember the exact phrasing because only half of my brain was listening, but Frank gasped out something on the order of:
"It's like pink-nosed puppies galloping toward us."
Dying of laughter in the middle of a crosswalk as a fully-loaded blonde strutted toward us is not the best position to find oneself. Only the fact that it took drivers a good two or three minutes to get moving again saved us.
I haven't found an excuse to use his observation in a story, but I might. Because great quotes stick in my head, I'm never quite certain when writing if a great line is my own or if I'm channeling someone else.
Quotes
Last week, I started off with John Lutz (who sent a gracious note after the article appeared), and I'll do the same this week. Dick Stodghill wrote that John is a true gentleman and an outstanding writer. Here's two more wonderful Lutz descriptions:
A man in threadbare clothes walked past close to the window, glanced inside, and locked gazes with her, then moved faster as if ashamed of his misfortune. … They were separated by much more than a pane of glass, yet his world waited for the weak the way a lion waited and watched the herd for potential victims.

Within moments, he slipped from one end of the food chain to the other.
I think Nelson DeMille met my friend, Frank LaValley:
… the body underneath was a symphony of curves, a melody of flesh looking to break free. In fact, she looked like she was smuggling balloons.

She was an absolute knockout… built like she came out of a Jell-O mold.
John Grisham gives us these:
Keyes took a quick survey (around the golf clubhouse lounge) and concluded that he was the only person in the whole joint without an alligator on his shirt. Even the bartender had one.

The majority of whites expected to be outside the church building at five past noon on Sunday, and seated for lunch by twelve-thirty. Blacks really didn't  care what time the service broke up, or what time it began for that matter. Several simply went all day, with a short break for lunch in the fellowship hall, then back to the sanctuary for another round. Such zealotry would have killed a white Christian.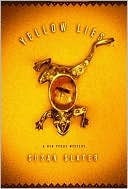 Mystery writer Susan Slater in one sentence gives us both a sense of people and place:
… the (screen) door between them distorting slighty what he knew was peachy skin, clear and smooth, despite the dot-matrix grayness caused by the screen.
Kate Wilhelm gives us a different way to look at a phenomenon we've all witnessed in subways, malls, and airports:
She stopped walking and turned to face him… People eddied around them as if they were rocks in the river.
Here's Sue Grafton again. We're not supposed to stop the story to look about, but when she writes like this, she can break any rule she wants. This example leaves me awed.
As a child, I was raised with the same kind of white bread, which had the following amazing properties: If you mashed it, it instantly reverted to its unbaked state. A loaf of this bread, inadvertently squished at the bottom of a grocery bag, was permanently injured and made very strange-shaped sandwiches. On the plus side, you could roll it into little pellets and flick them across the table at your aunt when she wasn't looking. If one of these bread boogers landed in her hair, she would slap it, irritated, thinking it was a fly. I can still remember the first time I ate a piece of the neighbor's home-made white bread, which seemed as coarse and dry as a cellulose sponge. It smelled like empty beer bottles, and if you gripped it, you couldn't even see the dents your fingers made in the crust.

The air in the kitchen was scented with browning bologna, which was curling up around the edges to form a little bowl with butter puddled in the center. I could feel myself getting dizzy from the sensory overload. I said, "I'll pay you four hundred dollars if you fix me one of those."
Michael Marshall Smith does hair. His first description makes me think of ZZ Top.
They sported beards, the kind of beards which made you look like you've glued a raccoon to your face.

Howie ran his hand ruefully through his hair, which was spiking considerably more than usual. He looked like he had a blond hedgehog sitting on his head.
Erika Jahneke recently came to my attention. She's an editor and storyteller specializing in fiction for the disabled community. I saw an early draft of a novel that has the edgiest hard-boiled noir feel to it.
Lotta gimps, lotta problems. Nobody I see all day has a leg to stand on.

Flirtatiousness is not usually considered an independent-living goal.

As a human being, his best ratings would come if God graded on the curve.
To remind us of where we stand, I'll end with a wonderful statement by a German acquaintance who is not a professional writer, Urte Trieskey:
I cannot flatten myself out on a piece of paper.