ED MCBAIN'S NOVELLA SERIES
by Angela Zeman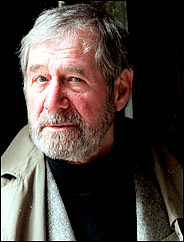 1 Evan Hunter, aka Ed McBain, was a bestselling MWA Grandmaster and author of a massive body of work that included the famous 87th Precinct series and the striking, somewhat autobiographical novel, Blackboard Jungle. A few years ago Evan put together a collection of new novellas by ten authors he considered "modern masters" and published them in a hardcover titled Transgressions. A year later (2006) those novellas re-appeared divided into four paperbacks under the same title. I spent yesterday nose-deep in the volume that contained novellas by Jeffery Deaver and Lawrence Block. Fabulous.
In his introduction to this "novella" series, Evan explains that in the 50s, when he first began writing for the pulps, novellas were called novelettes. He also mentions the pay scale—half a cent per word (rates haven't advanced much in fifty years)—although he adds that the $500 he usually got for the average length novelette (10,000 words) was a good pay check in that era for a struggling young writer. He goes on to discuss various lengths of stories and how their labels have changed over time. That subject should be covered by another writer, since I'm one of those who believe the story determines its own length. I suspect Evan felt the same, because he put no restrictions on any of the writers who agreed to contribute. For instance, of the 339 total pages of the paperback I read, Jeffery Deaver used 224 of them—brilliantly. Larry Block used his fewer words equally brilliantly.
Evan—a master of many forms, including TV and feature film screenplays—mentions the difficulty of the novella. He called it a combination of the immediacy of a short story and the depth of a novel. As a short story writer who tends to write "long," (and therefore to whom novella length comes naturally) I can vouch for the accuracy of his description. Since so few markets exist for novellas, not many writers attempt them deliberately. Most find themselves, at the end of a story, with a novella to sell and nowhere to sell it and therefore must ruthlessly chop, or send it out with crossed fingers. (Thank heaven for AHMM, with their elastic word count parameters.) Yes, most short stories profit from cutting and the resulting tightness, but here I'm speaking of the true novella, which is already tight.
During the latter part of his career, although limited by health, Evan Hunter never stopped writing. He wrote around ten hours a day, every day, until a heart attack forced him to cut back, but he never stopped writing. Despite the all too genuine gore and brutal action of the gritty 87th Precinct novels, Evan considered himself an "emotional" writer rather than "hard-boiled." The humanity of his fiction cops drove his plots and exposed the sentimentality and idealism that many real-life cops agree led them to their profession.
The publication date of the hardcover Transgressions was 2005, the same year Ed McBain/Evan Hunter died of cancer of the larynx. The novella series discussed here was published around the time of his death, and a collection of his short stories were published posthumously. He's greatly missed, both for his work and for himself.
Evan's list of selected writers for the novella series included the two mentioned above, plus John Farris, Stephen King, Ed McBain, Sharyn McCrumb, Walter Mosley, Joyce Carol Oates, Anne Perry, and Donald Westlake. I will certainly be looking for them.
Notes: