GETTING SPOOKED
by Rob Lopresti
Happy Halloween. I hope you get visited by lots of charmingly costumed kids who eat the candy so you don't have to.
The haunted connection
The fact that my column was falling on this holiday made me think about the link between ghost stories and mysteries. I mean, I don't think anyone automatically links mysteries and, say, vampire stories, but ghost stories show up in collections of mysteries as if they belong there. Why is that, I wonder?
My first thought was that they were both nurtured by Edgar Allan Poe. But that isn't true, is it? I can't think of any stories by Poe that I would qualify as a ghost story. Horror tales, of course. Mysteries and crime stories, sure. But if a ghost story involves the spirit of a deceased person (or animal) then Poe seems a little wanting in that department.
You can make a case for "The Telltale Heart," but does anyone think that that wasn't an imaginary ghost? And I would stretch a point to include "The Masque of the Red Death."
But generally Poe's character's, once they meet their horrible demise, seem to stay demised.
Where's the Hitch?
My brother blogger Steven Steinbock has written about the wonderful children's anthologies that were published under Alfred Hitchcock's name (as editor); Ghostly Gallery and the like, but I don't think Hitch ever directed a ghost story. Well, there's the phony spook of Vertigo and the semi-haunting of Rebecca. But were there any real ghosts in his movies? Or his his TV show?
They do appear in Alfred Hitchcock's Mystery Magazine from time to time. A decade ago I was a judge on the committee that awarded the Edgar for best short story of the year. Our duties including deciding on the Robert L. Fish Award for best first detective story as well. We gave it to James Sarafin for "The Word For Breaking August Sky," which appeared in AHMM. It was a story of a man who saw prophetic visions: specifically if he was near someone who would die within a few days, he was how it would happen.
I'd call that a ghost story, and it was an excellent one. But I wouldn't have given it an award for best first DETECTIVE story, except that the visionary was a sheriff and, of course, his odd power effected his job.
The point I'm struggling to make here is that horror stories (vampires, giant rats, etc.) don't seem to make it so easily into the mystery world, and yet somehow the spooks do. Why are they the exception?
An Idler at Work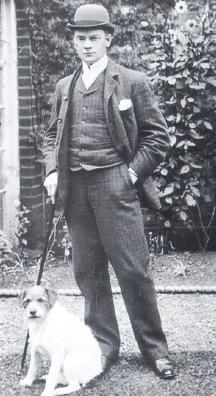 I can't drop the subject without steering you toward one of my favorite writers, Jerome K. Jerome. He was a Victorian humorist and playwright, the founder of The Idler magazine. You have probably heard his most famous line (which is usually misquoted and not attributed to him): "I like work: it fascinates me. I can sit and look at it for hours."
I first encountered Jerome in Peter Lovesey's excellent mystery Swing, Swing Together, which centers on the frenzied fad of boating-up-the-Thames that followed the publication of Jerome's masterpiece, Three Men In A Boat.
But I want to point out Jerome's novelette Told After Supper, (long out of copyright, and easy to find on the Web), which is a parody of different styles of ghost stories and story tellers.
The whole little book is worth reading but I will give you one of my favorite lines. Jerome relates the tale of a man who is too poor to marry the girl he loves, so he nobly goes off to Australia to make his fortune.
"But Australia was not then what it became later on. Travelers through the bush were few and far between in those early days; and even when one was caught, the portable property found upon the body was often of hardly sufficient negotiable value to pay the simple funeral expenses rendered necessary."
I wish you better luck with your Halloween hunting.