TOYS OF THE TRADE
I'm gearing up for Bouchercon. In the process, I have acquired a few new toys I intend to take with me to Baltimore.
First Toy: A Digital Recorder with a USB connection

I'm the webmaster for the Southern California Chapter of Mystery Writers of America. A couple of years ago, our inimitable President, Les Klinger, asked me if I could set up a "Members Only" area of the website to make certain membership benefits available over the internet. I needed a little help in setting it up from the previous webmaster, the brilliant Nathan Walpow,1 who is a much more experienced HTML programmer than I am. (As it turned out, I didn't have to do any programming at all, since the web hosting service offered secure web directories as a feature.) When it went live, Les ran out and bought a digital recorder to record SoCalMWA programs to feature on the site.
Since Criminal Brief has an audio section and is capable of podcasting, I ran out and bought a little Sony digital recorder for the purpose of recording our panel at Bouchercon. Now, I can't guarantee that I will be able to record and subsequently post our panel, but that's the idea. In any case, I promise I will record something worth posting here.
Second Toy: iPod Shuffle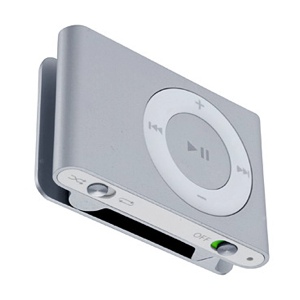 Wow. Here's this thing the size of a postage stamp that is capable of holding hours and hours of music on it. I put the entire 11 CD set of the distinguished Dutch conductor Bernard Haitink's performances of the complete symphonies of Shostakovich on this puppy and it's less than half full.
So I imagine that Jeff Baker is saying "Kewl!" while everybody else scratches their heads. I mean, what has this to do with Bouchercon? The answer is that I'm flying from Los Angeles to Baltimore, folks. That's all the way across the continent. You don't really think I'm going to rely on the piped-in entertainment on the plane to keep from going completely buggy, do you?
All right, I admit you can do better than Shostakovich, but the only way I'm going to listen to all eleven CDs is by flying across the continent, where it becomes the least of available evils. (Done Mahler, Bruckner, Sibelius, and Nielsen, so Dmitri deserves his chance, although I have to admit I did contemplate the Sir George Solti recording of Wagner's Ring cycle, which I have listened to multiple times.)
Plus, here's a news flash: you can listen to audiobooks on an iPod.
Third Toy: Noise Suppression Headphones
You caught the part about listening to music on a transcontinental airplane, right?
Fourth Toy: Netbook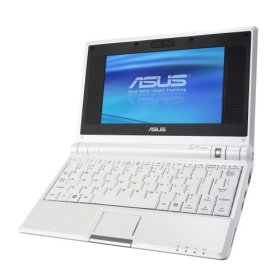 Yep, I bought one of those tiny little notebook PCs with built-in wireless internet capability so I can edit Criminal Brief during the week I'll be in Baltimore. (My last notebook computer died a decade ago, when you still needed a phone modem to connect to the net. Since then, I haven't bothered taking computers with me when I travel. I did mess around with a BlackBerry for a couple of months, but it wasn't me.)
This way, I can still administer CB without any down time during the week I'll be away from my computer in Los Angeles. And I can work on a story or two in my hotel if inspiration strikes.
Yep. I'm loaded for bear.
Now, if only all these gadgets would make it easier to actually write something.
Notes: