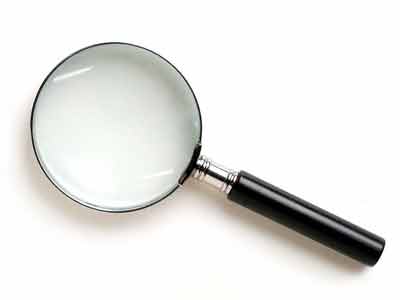 OBSERVATION and DESCRIPTION, Part III
by Leigh Lundin
Psych and The Mentalist
Two recent television shows are Psych and The Mentalist. The main characters pretend to be clairvoyant, but use powers of observation to make the gullible believe they're psychic. If not an original premise, it's damn clever for television.
Mystery novels have used phony psychics with gifts of observation, most famously Lumley and Blanche from Victor Canning's The Rainbird Pattern. The novel became the basis for Hitchcock's Family Plot.
Observation is the essence of mystery and detective fiction. As discussed in a previous column, I rely upon two shades of meanings of observe:
to examine with insight and
articulate that insight.
To that I add the clever use of words. In this third and final article, I offer observations from authors that I find interesting, inspiring, and witty.
Quotes
First, from Dick Stodghill, who brought one to my attention from his friend, Ross H. Spencer:
She said, 'What's your name again?"
I said, "Purdue." I said, "Like the Big Ten."
She said, "Young man, I think you're exaggerating."
We don't think of Dean Koontz being a sensitive writer, which is a mask for his effectiveness:
… though not stirred by a breeze, leaves spoke with leaves, moss trembled at this conversation …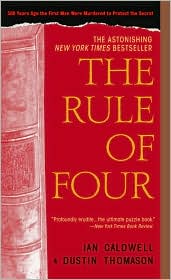 I loved Ian Caldwell & Dustin Thomason's The Rule of Four. Here are snippets from it:
It was death by papercut.

Each night I tallied my hours like a miser counting coins.

Like brothers who disapprove of each other's wives, we can't even manage small talk without tripping over our differences.

A jangling skeleton of a man, he aimed at being a professional librarian until larger ambitions got in his way … all the fixations that come from wanting to serve books, then gradually wanting books to serve you. Every time I see him, he looks like an escaped ghost, a purse of bones drawn up too tight, with the pale eyes and strange curled-red hair of a half Jew, half Irishman. He smells of library mold, of the books everyone else has fogotten, and after talking with him, I sometimes have nightmares that the U of C will be inhabited by armies of Bill Steins, grad students who bring to their work a robotic drive I've never had, whose nickle-colored eyes see right through me.
Kathy Reichs, who inspired the television drama, Bones, describes her man this way:
Marc Bergeron was, by any standard, peculiar looking. In his late fifties or early sixties, his long, boney frame was slightly stooped, bent forward at midchest as if perpetually ready to absorb a blow to the stomach. His hair started midway back on his scalp and exploded in a corona of white frizz. It brought him to well over six foot three. His wide-rimmed glasses were always greasy and speckled with dust, and he often squinted, as though reading the fine print on a rebate coupon. He looked more like a Tim Burton creation than a forensic dentist. … He looked like a tall, confused dandelion, with his long, thin stem and puff of white hair.

To say he was agitated would be like saying Ghandi looked hungry.
When it comes to plot-driven stories versus character driven, we know where Janet Evanovich stands. I feel like I know Stephanie Plum's grandmother, the niece who thinks she a horse, the hooker with the heart of humor:
I'm freaked. I got the sweats. I'm hyperventilating is what I'm doing. I need a burger. No, wait a minute, I need something else. I need… I need… I need to go shopping. I need shoes. … I'm getting out of here. I need mall air. I could breathe better if I had mall air.

"You sure it was Jeanne Ellen?"
"Positive. All the hair stood up on my arm, and I got an ice-cream headache."
"Yep. That would be Jeanne Ellen."
John Farris has a quirkiness I like:
Rhondo patted his beard as if it were the family cat.

He looked at the chair as if he were thinking of dusting the seat, but sat anyway. … His was an all-American kind of homeliness, the lines of his forehead cut as deeply as endearments on the trunk of a lover's lane oak. Pointillist's array of freckles. Large brackets around a mouth with only a think slice of upper lip. He chewed gum ruminatively, and had the habitual smile of a man making love in his dreams.

The day's lingering heat felt as thick and sticky as orange Jell-O.

She had blonde hair, a do that puffed out from the back of her head like exploded rope.

"Tell me the truth now. I'm feeling a little insecure. Do I suck in bed?"
"Yes, you do. Fortunately that the part I like the most."
Elizabeth Peters is another writer who comes down on the side of character-driven novels. A couple of times, I found myself muttering to the author, "You'd better not mess with Ramses. You'd better not screw him up," and she never lets me down. Here are two of her lines:
… as I gazed, the forms of the other dancers seemed to fade away, leaving the two alone, like figures captured and held forever in a globe of clear glass.

The candles had only a limited beam. (We) walked in a small bubble of light enclosed by blackness.
Sparkle Hayter lives up to her given name:
I always say it takes seven major muscle groups just to hold my tongue, so you can imagine the strain on me of having a good attitude under these conditions.

Aunt Mo is a force of nature. Think Mussolini in a corset and wig, and you won't be too far off the mark. … Blood is thicker– and stickier– than water.

Aunt Mo had said to me, "Don't you want to go to heaven?" I paused, thought about it, and asked, suspiciously, "Are you going to be there?" Frankly, the idea of spending eternity with Aunt Mo, Pat Robertson, Jerry Falwell, Oliver North, and Phyllis Schlafly is, well, hell.

She had worked for a sleazy Japanese TV program called Amazing True Stories. They did features like "The True Living Gold Snake". Tamayo's job, as she summed it up, weas "to paint the snake gold".
John Farrow (Trevor Ferguson) gives us these examples:
"It's for you." She held the receiver as she might a dead rat, waiting for him to take it off her hands.

The detective squeezed the phone in his hand, as if information might squirt free.

I got busted down to the rank of pencil…
Here's Susan Dunlop:
From the main door downstairs two wide staircases lead upward, hugging both pale beige walls. A WPA Tara.

He was a little guy, not quite my height, and his face had an aerodynamic look: light-brown hair blown back, narrow face, sharp cheekbones, long nose, slash of eyes yellow as a cat's– a sports car of a man.

What was it with all those car model letters– RX-7, XL, DX? Did the Y chromosome lust after these X's?
This gem is from Martin Cruz Smith, talking about a couple dancing:
Dr. Vainu clung to Olimpiada like a man rolling a boulder.
Although James Patterson mixes metaphors, it's the tunnel simile I like:
(He) hurried like a truly horrifying city rat through the low dark tunnels that wind like intestines beneath New York's Bellevue Hospital.
Noah Hawley is executive story editor of Bones, mentioned above. When it comes to his novels, you can't read him without enjoying the trip. He has so many examples, it's hard to pick and choose:
The salad was an exercise in lettuce.

Roy pokes at his food as if to ensure it's not just pretending to be dead.

Being without electronics for more than a few hours is like being kidnapped by a cult deprogrammer in a cheap brown suit and taken to a fluorescent motel somewhere in New Jersey.

"I miss my wife," Linus slurred. He was a man who could no longer sleep alone without landscaping the pillows beside him to simulate a human form.

She'd had a heart attack. Her heart was just this small little engine trying to run a monster truck.

The two kids are sniggering under their father's arm. They have been whispering the word fart for the last half hour.
I've commented before that I admire Lindsey Davis. This first example reminds me of emotion in a Russian novel:
I had come home a hunched, miserable bastard who needed to be comforted but would not allow it.

Her sense of humour was basic; basically, she didn't have one.
This is from F. Paul Wilson:
Throughout her carefully reasoned plea for information… her words beaded up and rolled off him without marring his impenetrable surface.
Last week, I mentioned Michael Marshall Smith. Here's another example:
You couldn't have gotten anyone else into the club… and I suspect that when I pushed my way into the club someone must have been popped out a window the other side.
I'll wrap up with my own examples:
The patient was so thin, she didn't need an X-ray. They simply held her up to the light.

He spoke in a bass voice so low that surrounding windows rattled. Whales and submarines popped to the surface.

She was from Ontario, the first clue being a face built of permafrost. She walked a small brown dog that looked like a bread loaf on wheels.

"I swear, that woman will eat her young."
Finally, an example from real life. I'm convinced government bureaucrats honestly believe 'official language' should be pompous, as if we pay extra for words that should be special. The effect often leaves the rest of us bewildered. In describing a concrete floor that had tilted and cracked after being jack-hammered, an Orange County Code Enforcement Board inspector worded it this way:
Abated 'cause the floor declensions suffered severe crackage due to duplication hammeration…