Melodie's taking a travel day and invited novelist and newspaper columnist Jane Heller to sub for her. As some of you probably know, I'm a typical American sports fan, and my first love was baseball, a sport that figures prominently, by the way, in short mysteries—among which I may single out the works of Ellery Queen Mystery Magazine's resident critic and occasional Criminal Brief commentator, Jon Breen. But Jane has a completely different sort of sports mystery in mind. With the Fall Classic just around the corner, it's a reminder of how inspiration can be drawn from whatever we find around us. Read and enjoy. —JLW
A WHOLE NEW BALLGAME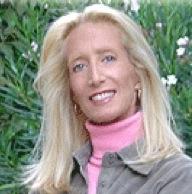 by Jane Heller
I've loved baseball for many reasons, one of which is that it's always taken my mind off writing. I know, I know. Writing is supposed to be a joyous experience and I should be down-on-my-knees-grateful that I've managed to make a living from it. But the truth is, it's hard labor. Torture. Agony. It demands an escape. When I go to a ball game or watch one on TV, the last – and I mean last – thing on my brain is what to do about the novel that's been giving me fits.

Born and raised in New York, I'm a diehard fan of the 26-time world champion Yankees. A Yankeeholic, my husband calls me. (He's a Yankee fan too, but I catch him leafing through his sailing magazines during games.) Once the baseball season starts in April I'm hooked. The Yankees players – A-Rod, Jeter, Mussina, Damon, and the others – are like the heroes in a long-running series, and the contests themselves are as unpredictable as the most suspenseful whodunits. When I'm watching my Yanks, I forget all about deadlines and dangling participles. And when my boys celebrate on the field after a victory, it's as if their brilliance somehow rubs off on me and I feel inspired to trudge to the computer the next morning and wrestle with it yet again.
But last year my life took an odd twist: Baseball went from being my escape to being my job.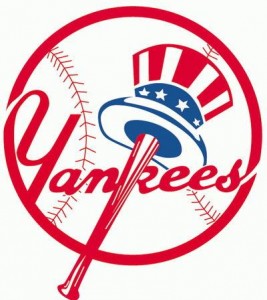 The Yankees got off to a slow start in 2007, playing poorly and sustaining injuries and landing in last place during the first half of the season. Without realizing it, I'd become so dependent on their successes that I became equally despondent over their failures. Instead of providing me with my required daily dose of distraction, they were turning me into an emotional wreck.
As their losses mounted, I began grinding my teeth. I developed intermittent hives. I stopped returning phone calls and emails. And, worst of all, I couldn't concentrate on my writing.
One night, after a particularly galling loss (I think it was to the hated Red Sox), I announced to my husband that I was divorcing the Yankees.
"The grounds will be mental cruelty," I said. "I've loved them with all my heart but they've betrayed me."
"Divorcing the Yankees, huh?" he mumbled, his head buried in the latest issue of Wooden Boat.
I stormed into my office, turned on the computer and did what writers do: I wrote. No, not the novel I was supposed to be writing. Instead, I ranted about my bitterness toward the 25 men on my favorite team – comparing my feelings about baseball to those of a romantic relationship. When I was done, I sank back in my chair and laughed. I had to admit it: The piece was funny. And then I glanced across my desk, at the New York Times sports section that was sitting there. My eyes lit on a column I'd read earlier in the day – with the columnist's email address at the end.

On a whim I sent him my divorce essay. I wasn't pitching him. I was venting to him, a perfect stranger, yes, but someone I hoped would understand my frustration, not to mention chuckle at my jokes.
Two days later I got an email from the editor of the Times' sports section saying the columnist had passed along my diatribe. He thought it was hilarious and planned to publish it in Sunday's paper, complete with an illustration of a woman sawing herself free from a ball and chain.
The article ran as scheduled, and caused a sensation. I received an avalanche of mail – from people telling me they shared my pain to those who branded me a traitor for deserting my team. Suddenly, my agent, who couldn't care less about baseball, cared about it. Suddenly, she clucked that I had achieved that most exalted goal of authors everywhere: a "platform." Suddenly, she wanted a proposal for a nonfiction book about my Yankee fandom, and she wanted it right away.
The next thing I knew she was negotiating the book deal and I was hopping on planes, following the Yankees to every game in every city. I stayed at the hotels where the Yankees stayed and interviewed members of the media carnival that accompanies them around the country and learned life lessons about what it really means to be a fan (as well as which ballparks have the best hotdogs).
And then I came home and was instructed by my editor to deliver a manuscript in three months. Three months! Talk about a deadline. Talk about stress. Talk about needing an escape. I had gained a book project but lost my diversion!
Or had I? As it turned out, writing this book was very different from writing my novels. It didn't involve pulling material out of thin air. I didn't have to make anything up. I was my own protagonist and the Yankees were my secondary characters, and the twists and turns of the plot actually happened. Yes, I had to craft a story with a beginning, a middle and an end, but spending hours hunched over the computer wasn't torturous in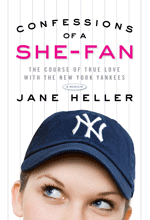 the least. Thanks to all the editing and re-editing that goes with the territory, I got to re-live the trip over and over again, and the process was the sort of magical adventure I'd always wished writing could be.
Which is just another way of saying that the old maxim, "Write what you know," doesn't necessarily tell the whole story. Maybe what we should be advising aspiring writers is, "Write what you love."