KINKY MUSINGS
by Steve Steinbock
As regular visitors to Criminal Brief probably already know, I'm the only regular CB columnist who hasn't published short mystery fiction. That's a personal detail that may change at some point in the future, and regular visitors to Criminal Brief will be amongst the first I'll tell if it does change.
But the other day, while pondering my various and sordid past, I realized that there was a short story of sorts, and it did find publication – of a sort.
Back in the days when the Internet was a new thing for most of us, when CompuServe and Prodigy were still vying for subscribers, I was a member of America Online. This was mid-1990s. I made a few friends online (and one of them helped jog my memory of this story – thanks, Neal!) and participated in a few forums. One of them was an AOL mystery group established by Mary Frost-Pierson. Mary was the proprietor of brick-and-mortar bookshop Mysteries from the Yard in Yellow Springs, Ohio (the home town of Buffalo Springfield guitarist Richie Furay).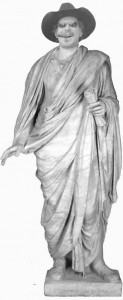 One day Mary posted a contest to see who could write the best Kinky Friedman pastiche. At the time, I was reading a lot of Kinky's mysteries. I had also recently discovered the historical mysteries of Lindsey Davis featuring Marcus Didius Falco. On an absurd whim, I decided to combine the styles, characters, and settings of the two authors into a 1,700 word-long joke.
I won the contest.
Not only that, Mary showed the story to Kinky, and out of the blue I received a phone call from the Kinkster himself, congratulating me on my fine style. I'm not sure about the style. I was clearly and intentionally ripping-off his. But he appreciated the story, and I hope you get a kick out of it yourself. Enjoy.