Melodie's taking yet ANOTHER week off, but this time it's because we've got this wonderful piece by Dale Andrews, who won 2nd place in the Ellery Queen Readers' Choice Awards this year. —JLW
THE PASTICHE
by Dale C. Andrews
I attended my first Bouchercon this year, and had the pleasure (and privilege) of tagging along on several of the extra-curricular activities planned in advance by James and attended by the contributing authors at Criminal Brief. At the first of these, a great dinner at a small Baltimore restaurant that James had uncovered during an email exchange with Laura Lippman, James caught my eye and informed me that it was high time for me to get busy and contribute something of my own.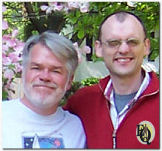 Most excuses for not writing boil down to one word: procrastination. But having said this, it is still a little presumptuous for me to jump in here. I have published exactly one short story: "The Book Case," written with the help of Kurt Sercu (on the right) who is webmaster of "Ellery Queen – a Website of Deduction." As an aside, if you haven't checked out Kurt's website, I urge you to do so. One can be lost for hours wandering through the incredible information Kurt has assembled about Ellery Queen, and about Manfred Lee and Frederic Dannay, hiding behind the mask.
"The Book Case," as some of you may know, is a pastiche. It brings back Ellery Queen as a 102 year-old detective, called upon to solve one last mystery – the strange murder of a Manhattan psychiatrist who died surrounded by first editions of every Ellery Queen mystery. I have a second story that will appear in the next few months in Ellery Queen Mystery Magazine. That story, "The Mad Hatter's Riddle," is yet another pastiche, this time involving Ellery as a consultant to the 1975 NBC series "Ellery Queen."
Since we are always warned as writers that we should "write what we know," the obvious theme for me to explore here is the theme that runs through my meager (so far) bibliography: the pastiche.
If you Google "pastiche" looking for a definition, the first one you will find is this: "a work of art that intentionally imitates other works, often to ridicule or satire." As seems true of a lot of internet research, I would say that definition is "close, but no cigar." You might guess, if you have been following this, that the definition I will offer up instead is one penned originally by Frederic Dannay, writing as Ellery Queen. Dannay wrote that "a pastiche is a serious and sincere imitation in the exact manner of the original author." The readily apparent difference between the two definitions is that the former includes the parody – since it invites "ridicule or satire." The latter, I would argue, correctly excludes both.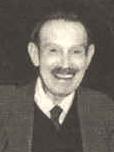 Now, this is not to say that parodies are worthless, just that they are not pastiches. The "Celery Green" stories by Arthur Porges – "The English Village Mystery" (EQMM, December 1964) and "The Indian Diamond Mystery" (EQMM, June 1965) – are entertaining but, in my view, are parodies, not pastiches. The central character, Celery, parodies EQ, and the themes satirize the EQ whodunit format. By contrast, Mike Nevins classic story "Open Letter to Survivors" (Ellery Queen's Book of First Appearances, 1982) quintessentially meets the Dannay definition of a pastiche – Ellery (though never mentioned by name) is clearly both identifiable and rings true. The mystery is classic Queen.
My own rule for writing pastiches is also the basic cardinal principle for the practice of medicine: "first, do no harm." From a "keep it simple, stupid" perspective, to me this means that the protagonist who enters at the beginning of the story, and one who emerges at the end, should be the protagonist that you, the reader, expected. The writing style, the characters, and the plotting should, to the extent possible, emulate the original. As such, a strict pastiche is an homage and is also a somewhat brittle art form that calls for a constrained approach. Writing a pastiche is more like acting – getting inside a character defined by others – than it is like improv.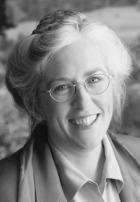 Do all fictional works involving the use of characters invented by others fit this mold? Obviously, the answer is "no." Laurie King, for example, takes an approach to Holmes in her Russell and Holmes novels that I would argue is neither pastiche nor parody. I attended all of the panels that Ms. King participated in at Bouchercon, and at one she observed (I believe quoting someone else) that her stories involve "the greatest detective in the world and her husband." The stories, of course, stand on their own worth, but, respectfully, I don't believe that that portrait of Holmes captures, as would a classic pastiche, the character that Conan Doyle had in mind. By this I do not mean to disparage. Rather, King's approach seems to me more of a "stand alone," that envisions Holmes as a completely different character than the one originally created. I find it hard, as an example, to imagine that the Holmes of Doyle would cede center stage to anyone, and that includes Mary Russell.
My two attempts at capturing Ellery Queen are also the first works of fiction I have ever submitted for publication. (My usual writing format, the legal brief, hardly calls for wider circulation!) The fact that both of these first attempts have been accepted for publication thrills me, but at the same time I remind myself that the stories reflect my own lifetime of reading Queen and are pastiches: the response from Ellery Queen Mystery Magazine, and from readers who may have enjoyed the first story, and who hopefully will enjoy the second, is an homage to a fictional character much loved and much missed. All I did, after all, was to do my level best to bring him back.