TIMING IS EVERYTHING
by Deborah Elliott-Upton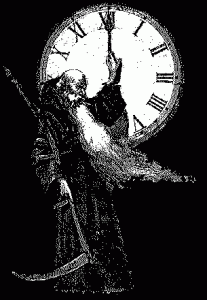 This past week mystery writers have suffered through a bad time. We've lost two of our best: Elaine Flinn and Tony Hillerman. Elaine was the creator of the Molly Doyle series and Tony of the Navaho tribal police team of Joe Leaphorn and Jim Chee. Although I never knew Elaine Flinn, I had certainly admired her from afar. I did meet Tony Hillerman and was privileged to hear him speak at several workshops over the years, most of them in Albuquerque during Southwest Writer's conferences. Thank God for the talents of Elaine and Tony and the many hours we are able to spend enjoying their tales. Thanks, Elaine and Tony. We miss you already and are blessed by the legacy of stories you have left for us. You will not be forgotten and your words will be treasured forever.
To every thing there is a season, and a time to every purpose under the heaven. —Ecclesiastes 3:1
It's been said, "Timing is everything." I don't know about you, but I enjoy time traveling with some of my favorite detectives.
James Lincoln Warren's Alan Treviscoe stories occur in the 1771 era.
Peter Lovesey writes of Bertie, Prince of Wales in Victorian England
Susan Wittig Albert writes mysteries featuring author Beatrix Potter. With her husband, Bill, Susan also co-authors the Robin Paige Victorian Mysteries set in the late Victorian era.
Rhys Bowen's creation is Molly Murphey in 1890s New York City
Jacqueline Winspear is creator of Maisie Dobbs, private investigator in 1920s Great Britain
Bill Pronzini's 1890s stories about John Quincannon take place in America.
Of course, the original Ian Fleming stories were set decades ago, but who can resist globe-trotting with James Bond?
I like to step back in time, stand side-by-side with Dr. Watson and attempt discerning the clues faster than Sherlock Holmes – only that never happens for me or Watson it seems.
I enjoy spy thrillers set during wars that keep me turning pages long into the night like Eye of the Needle by Ken Follett.
Although I probably wouldn't want to live with or be married to either of them, I enjoy an occasional romp with Agatha Christie's Hercule Poirot and Miss Marple.
Contemporary fiction is great, but sometimes I like to be swept up into another time and place and just be a visitor in another writer's fantasy world. What about you? Where do you like to go on your reading adventures and with whom?