TECHNOLOGY BUZZ
by Leigh Lundin
Publishing is undergoing a fundamental shift.

The shift is ePublishing, the progenitor of eBooks.
If this shift is to become paradigm, Amazon wants to be a player.
Professional writers associations are trying to grapple with the phenomenon, which has become a divisive issue. Proponents contend that eBooks are cheaper, easier to publish, and self-publishing can cut out the middlemen. Opponents argue that the middle(wo)man is all important, representing quality control, the layers of editors and print professionals who first select 'publishable' books, clean them up, and then see them through to the final product.
Both are right in their own way. We've all heard tales of publishers who've thrown out the wheat with the chaff, but publishers can't afford to make too many mistakes or, to mix metaphors, choose ponies who won't run. Like medical testing, it's better to err on the conservative side.
I know of established authors who use eBooks and PoD (print on demand) to keep their books in circulation after they go out of print by their original publisher. This is an unassailably good use of the technology.
Other uses may be questionable. Frustrated new authors turn to eBooks (and PoD) as a vehicle to get their works into print. The problem is readers don't know if they're getting bargains or bad apples.
Virtually all printing these days is digital and print shops can accept Adobe InDesign or Quark Xpress file output, but more and more, service bureaus demand PDF form, the same format the computer you're now using is capable of displaying.
While writers and readers debate the uses and validity of electronic formats, publishers aren't sitting still. Most of the large houses are in the process of establishing electronic divisions in one form or another. Three of the primary genres of these new technologies are business training, inspirational works, and women's erotica. At present, more than 100,000 eBooks are available for downloading, and thousands are free.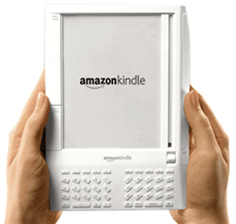 Readers
How much more than 100,000 I can't say. I simply evaluated the offerings of a few sites without conducting an exhaustive study. Amazon's new Christmas toy, the Kindle, claims 80,000 available titles alone.
Several brands of 'readers' (electronic reading devices) are available, all claiming to be comparable in dimensions and weight to paperbacks.
'Readers' are… well, like specialized Palm Pilots, iPhones, Blackberries, Newtons… not unlike the ubiquitous PADDs (Personal Access Display Devices) seen on Star Trek.
The newest of these is Amazon's $400 Kindle, a 300 gram (10-1/3 oz) gadget that will allow you to read a wide variety of eBooks. Kindle offers a number of features, many found in other readers, such as bookmarks and being able to choose the size of fonts.
Unlike many, it has a QWERTY keyboard, which may seem strange for a reading device in this iPhone age, but it allows you to key in search parameters. I can't say if that's better or worse than, say, an iPod, merely different.
Also unlike others, it's screen is not backlit. Kindle uses what it calls 'digital paper', a confusing choice of terms. Computer technologists use the term to refer to flexible LCD screens which can theoretically be wrapped or rolled, or even wadded into a ball. Amazon uses the term to describe a screen that reflects 'ink' without backlighting, something like a hi-tech Etch-a-Sketch.
If you imagined you'd be able to read your Kindle in bed without a light on, you'll need to investigate one of the other readers or use a laptop. It's not clear if the Kindle uses anti-aliasing, the built-in type face smoothing found on Apple computers, iPhones, and conceivably available with MS Vista, but it doesn't appear to.
Like an iPod, downloaded eBooks arrive in a proprietary format. That means you cannot trade them, exchange them, or read them on other manufacturers' readers. The Kindle has another restriction; it won't read PDF manuscripts, which several other readers can handle.
Kindle supporters argue that no one should want to read a PDF book and that other readers such as Sony's e-Reader cannot horizontally scroll PDF files. That's a specious argument and one intended to divert customers from access to free books, like saying you have the best music player in the world but it won't play MP3 files. Another consideration for business professionals who might wish to read reports on the run, PDF and raw text files are the only digital formats approved under the Sarbanes-Oxley (Sarb-Ox or SOX) Act and by the U.S. Government Printing Office.
Why?
I am hardly a Luddite: I've used more computers than most people have telephones. I've been an early adopter of (b)leading edge technology, some never commercially available. My software was internationally known and distributed. Therein lie my technocrat credentials. But, I also believe in using the most appropriate technology for a given application. For example, when I read hardware references or programming manuals, I prefer paper.
I simply like books. I like imprinted pulverized vegetable pulp in rectangular form. I admire the craft of type face design. I enjoy carefully thumbing antique pages sepia-toned by age as much as turning down page corners of a salt-sprayed paperback while lounging in a sailboat.
Even with modern manufacturing, each book has an individuality. An Ellis Peters novel looks and feels different from an Elizabeth Peters book. Without glancing, I can grab a Lindsey Davis book from a stack and know it's hers. And a signed copy is far more meaningful than a library book.
That's not to say if an electronic reader met my list of features and was priced in the neighborhood of a toaster, I might try it. However, at $400, about the introductory price for a complete laptop, the Kindle is at least a factor of fifteen more than I'd consider paying. On top of that, a random sampling of titles show eBooks averaging $10 each. And the gadget still can't read a PDF file.
Huh-uh. Checking my stack of recently read paperbacks including Jeffry Deaver, Sandra Brown, Fran Rizer, and Jonathan King, show cover prices of $6.99, and a couple of those are 450 pages. I also have an assigned reading (don't ask) of Vicki Lewis Thompson's Nerds Gone Wild with a retail of $3.99. Finally, I'm picking through a B&N hardback edition of Eisenman and Wise's The Dead Sea Scrolls Uncovered, priced at $9.99. Between paper and digital, I don't see any meaningful comparison. If Amazon wants to send me an evaluation Kindle, I'll be glad to reconsider.
That said, eBooks have one unique advantage, if the reader manufacturer bothers to include it. Unlike printed media, electronic files have the ability to be searched. Ideally, you could search for a phrase in a single book or in all books on your reader. Your hardback book might have an index or a concordance, but with a real book, your eyes are the only search engine.
Finally, I also recognize that the first VCRs were priced in five figures, as were the earliest high-resolution television screens. Prices are still dropping, so it's likely in the not-so-distant future we'll see readers priced at $10 or $20. Even then, I wouldn't want to risk dropping it in my bath water.
Wii?
Another gadget that's in demand for Christmas is the Nintendo game controller, Wii (pronounced 'we'). A fair amount of speculation has surfaced concerning the origin of its name, along with infantile jokes.
The Japanese company's official line is that the two lower-case 'i' characters signify two people playing side by side: "Wii sounds like 'we', which emphasizes that the console is for everyone. Wii can easily be remembered by people around the world, no matter what language they speak."
Uh huh. In this age of xenophobia, I have another hypothesis. When playing war games, Wii looks a lot like WWii, and I have this evil image of players blasting away, shouting, "Take that, damn Yankees!"
Okay, maybe I've been reading Frederick Forsyth again. But then the original name was supposed to be Revolution!
If you made it this far and you're under 21, live in a red state, or avoid Naked Authors on principle, you might want to call it a day and turn to our friends Bill Crider or Women of Mystery.
Disclaimer: Like the Kindle and Wii, I have not seen a demonstration of the following product. However, as always, I'm available to personally supervising product testing, in the name of science and public service, of course.
As you know, the ubiquitous iPod has spawned hundreds, if not thousands, of attachments. A couple of add-ons, for example, are like those 1960s light shows, which flash and warble lights in cadence with your iPod.
In a similar vein, if not spirit, is the oMiBod. You pick a favorite song, perhaps the Beach Boys' Good Vibrations or Bach's obscure Joy of Woman's Desiring, then lie back and listen. Well, sort of.
Warning: The Surgeon General has determined that extensive use of the ohMiBod product might cause users to miss Monday's column. And Tuesday's. And possibly Wednesday's.