A PAIR OF HANUKKAH LIGHTS
by Steve Steinbock
Hanukkah Candles are kind of like short stories. There's not a lot of wax, but they shed a nice, warming glow. They only burn for 30-40 minutes. And you usually find them in a group.
Greenwood Press is, of all things, putting together an encyclopedia of Jewish Popular Culture. I learned about it when the editor/project coordinator contacted me to write one of the entries. "Jewish popular culture?" I thought. "Well, okay."
When I asked for clarification on the topic, "Your title is Novelists of Detective Fiction," I was told, "like the Kellermans or the novelist who wrote the Rabbi Slept Late and other turn pagers." And other page turners? Oy! But once I set out to write the entry on "Novelists of Detective Fiction," I started having fun with it. And even though my assignment was to write about "novelists," I was able to slip in a tad about short fiction.
After a paragraph about Ellery Queen (who was, in reality, two young Jewish men from Brooklyn), I was able to highlight two of Queen's discoveries. And that's what I'm about to share with you here: James Yaffe and Harry Kemelman.
What stands out about both authors is their talents for writing "Armchair Detective" stories. The "armchair detective" is a motif first used by Poe in his "Mystery of Marie Roget" (1842). Poe's story, the second to feature C. Auguste Dupin, was based on the real-life unsolved murder of a young woman whose body was found a year earlier floating in the Hudson. Poe changed the woman's name from Mary Rogers to Marie Roget, and changed the Hudson to the Seine. (Read more about the story in Daniel Stashower's excellent The Beautiful Cigar Girl.) In the story, rather than hitting the streets to look for clues and interview witnesses, the detective solves the murder by reading newspaper accounts; in essence, without ever leaving his armchair.
Poe's story is a good one. But Kemelman and Yaffe took the concept in two different directions and in my opinion, did old Edgar proud.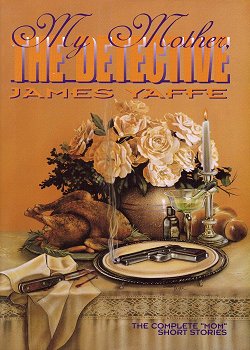 The July 1943 issue of Ellery Queen's Mystery Magazine included a story written by fifteen year-old boy from Chicago, James Yaffe. It was a clever story, the first of six featuring super-sleuth Paul Dawn of NYPD's Department of Impossible Crimes. But Yaffe's truly brilliant move happened almost a decade later when he sent "Mom Knows Best" (1952), the first of his stories to feature the ultimate armchair detective, a Jewish mother whose homicide detective son and Wellesley- educated daughter-in-law come for Sabbath dinner each Friday. During the course of dinner, between tossing malapropisms and jabs at her daughter-in-law, "Mom" manages to solve whatever crime her son happens to be involved in using Old-World wisdom and Jewish family analogies. Beginning in the late 1980s, Yaffe launched a series of novels featuring "Mom," relocating her and her son (now widowed) to Mesa Grande, Colorado. Doug Greene collected all eight of the "Mom" stories in the 1997 Crippen & Landru anthology, My Mother, the Detective. A highly recommended read that should be on everybody's Hanukkah (or Christmas) list.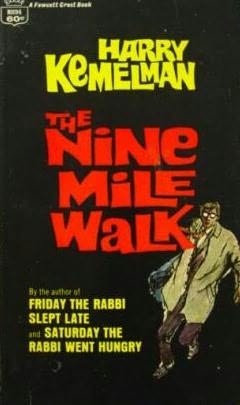 Fred Dannay (the editorial half of Ellery Queen) discovered Harry Kemelman (1908-1996) seventeen years before any of the "Rabbi David Small" novels were published. The story that Kemelman sent to Queen, and which appeared in the April 1947 issue, was "The Nine Mile Walk," the first of several stories featuring college professor and amateur sleuth, Nicky Welt. "The Nine Mile Walk" is not only one of the cleverest examples of an "Armchair Detective" story, it is also one of the most brilliant mystery short stories ever written. When Professor Nicky Welt extols the virtues of Logic, his friend (and the narrator) challenges him to explain the meaning of the arbitrarily overheard sentence: "A nine mile walk is no joke, especially in the rain." From this sentence and very little else, Welt is able to not only deduce facts about who first uttered it, but is able to solve a murder. Although it's out of print and somewhat scarce, The Nine Mile Walk: The Nicky Welt Stories is a wonderful collection, and copies can be found.
In recalling that early story, Kemelman wrote (in the introduction to the collection): "I was approached by several publishers who were interested in seeing a full-length manuscript about Nicky Welt. Naturally I was flattered, but at the same time I felt I had to refuse. I felt that the classic tale of detection was essentially a short story."
Good call, Professor Kemelman. You may be gone, but your light's still shining. Happy Hanukkah.