CRIME AND THE LITTLE MAN
by Rob Lopresti
My friend Marian recently sent me an article by Paul Johnson that appeared in the English magazine The Spectator. Near the end of the piece there is a wonderful story about the French painter Matisse. Apparently he was once asked who was his favorite American artist.
"Monsieur Too-bay," he replied. No one had ever heard of such an artist so the master kindly spelled it for them.
James Thurber.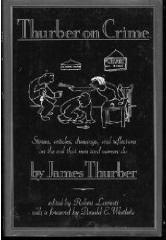 I am very fond of Monsieur Too-bay myself, not just for his brilliant writings and stream-of-subconciousness drawings. The first time I ever saw my name on the cover of a book was as the editor of Thurber on Crime.
The adventure began when I was reading "The Catbird Seat" for perhaps the twentieth time, and thought this is the best "perfect crime" story I have ever read. Then I wondered: whether any other Thurber pieces could be considered crime literature.
It wasn't hard to find some. "Hell Only Breaks Loose Once" is his parody of James M. Cain. "The Whip-poor-will" took Thurber's favorite theme of marital un-bliss into the depths of a shocking murder. "Mr. Preble Gets Rid Of His Wife" is a standard story of an unhappy husband who decides to kill his wife and bury her in the cellar. Only this being Thurber, the characters are so locked in their roles they can't react, well, sanely.
"I'm not going to bed," said Mr. Preble. "I'm going to bury you in the cellar. I've got my mind made up to it. I don't know how I could make it any plainer."

"Listen," said Mrs. Preble, throwing her book down, "will you be satisfied and shut up if I go down in the cellar? Will you let me alone then?"

"Yes," said Mr. Preble, "but you spoil it by taking that attitude."
I was surprised by the non-fiction that fell into the true crime genre. "A Sort of a Genius" tells of a suspect in the notorious, never-solved Hall-Mills murders. And Thurber wrote admiring pieces about trail-sniffing bloodhounds and canine police officers.
And of course, there were his amazing cartoons. A number of them featured people attacking each other (hilariously), while even more featured people who were obviously contemplating just that.
When I saw that there might be enough material for a book I went looking for a publisher. Mysterious Press (still owned by Otto Penzler in those days) was interested. Rosemary Thurber approved the new collection of her grandfather's material, and provided some drawings that had never seen the light of day.
Finding the rarities
Then I went hunting through old New Yorkers for rare material. I found four uncollected short stories, plus. "Izzy and Moe" tells the true tale of New York's most famous prohibition agents. I can understand why Thurber chose not to collect most of them; you can argue that they are juvenilia or too outdated.
But I do think Thurber was way ahead of his time with his prediction of how our celebrity culture was headed when he wrote "Gang War, 1940" in 1929. Here is his Police Commissioner McNamara reporting on the progress of a murder investigation:
"We now have some eighty or ninety suspects," said McNamara, "and that is almost enough to do us through the summer. This is by far the largest number of suspects and witnesses we have ever gathered together for a gangster murder. They have told some very interesting, though conflicting stories, and almost every suspect photographs well. I believe I may say that the photogravure editors are well satisfied with the progress we have made."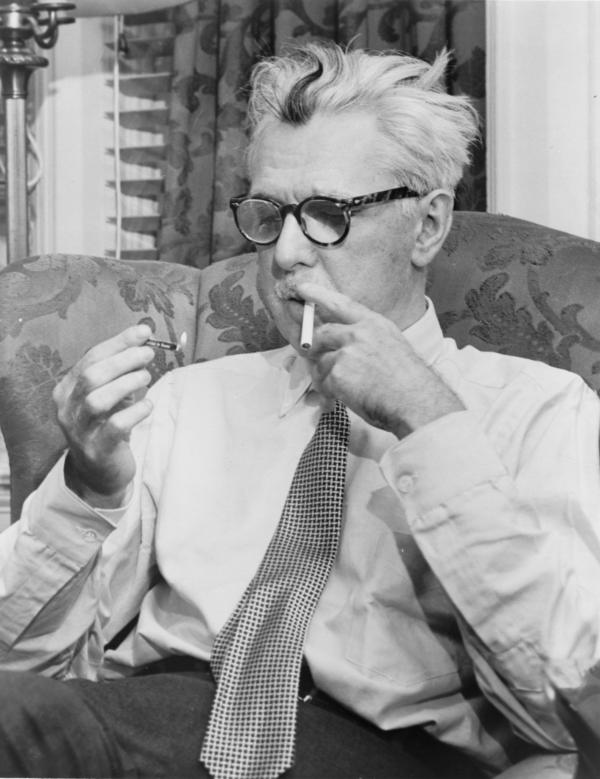 But the thing I am proudest of in Thurber on Crime is another uncollected story
"The Man Who Knew Too Little" is a tiny masterpiece, featuring the Thurberian little man caught up in a spy ring. (And by the way, it has nothing to do with the Bill Murray movie of the same name.)
It is also Thurber's first use of a classic motif he went back to more than once: a tale told to the narrator in a bar.
"I want to put a problem to you," the man said, after he got his coffee. "I have selected you to put this problem to because I have no friends in Paris. I have seen you several times and I have igured you as a man who would not belong to a secret organization."

"Why wouldn't he?" asked my wife.

The man did not smile as he said, "Your husband, Madam, is bewildered, perhaps, but not apprehensive. I have gathered that his considerable problems grow out of a magnification of the inconsiderable, and sometimes of the unreal."

My wife nodded, as if she followed all this. "That's right," she said.
I love that "That's right."
So, thank you, Paul Johnson and Marian.
And a special merci to Monsieur Too-bay.