BURNING QUESTION
by Rob Lopresti
Lately I seem to be drawing most of my column inspirations from Melodie. (More on that in a week or two.) As my father used to say, great minds run in the same gutter.
Her terrific piece about the horrors of being next to a wildfire reminded me of a much milder fire I once encountered. This story includes a crime and there are certainly books involved, so I guess it fits well enough into this space.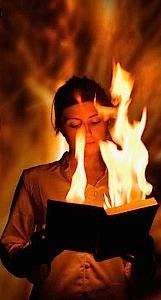 I went to a very small college in Pennsylvania, a state where every small town seemed to build a church, a college, and a grocery store in that order. One Saturday night when I was a freshman there was a small fire in the dorm next to mine. Everyone got out and no serious damage was done, but it was obvious that it was a case of arson. Cops came and investigated but nothing came of it.
A few weeks later I was on the top floor of Founders Hall, waiting for an appointment with my advisor, when things got exciting. You see, Founders Hall, the first edifice built on campus, was four stories of wood. Nearly hundred-year-old, very dry wood, if you want to get technical. Tinder might be the word I'm groping for.
The top floor had been student bedrooms 100 years ago and now they were tiny, cramped, faculty offices. I was sitting on the floor in the hall outside my advisor's office when I heard fire sirens outside. The little windows at the end of the hall didn't provide much of a view so I couldn't tell where the fire engines were going.
Then someone came running up the stairs. It was Dan, who lived in the room across from mine in the dorm. "Hey, Dan," I said. "Where's the fire?"
Dan looked at me, wild-eyed, and said something I will never forget. It was, approximately, "Hwaaugghhhh!" Then he grabbed the fire extinguisher and ran down the stairs with it.
Hmm, I thought, shrewdly. This might be a problem.
I knocked on my advisor's door. Dr. Bruce was a nice guy and a helpful counselor. He left higher ed not long after this and became successful in a different field. It is very likely that at least one of my co-bloggers has met him, and practically certain that most of you have read articles in which he was quoted. So I'm going to leave his identity vague here.
When I opened the door he said, irritably "I'm with a student!"
"Dr. Bruce," I said. "I think the building's on fire."
"Oh. You better knock on all the doors."
So I did. Quickly. First I went across the hall to Professor Berry and gave her the word. As I proceeded down the hall professors and students formed a tide behind me, heading toward the wooden stairs.
When I got back to Bruce's end I saw Professor Berry standing in his doorway, frowning. "What are you doing?" she asked.
Bruce was standing in front of his book shelves, a hand on his chin, looking thoughtful. "I'm trying to decide which books to take."
We convinced him to, what the heck, grab any handful and run. He did.
It turned out to be a small fire in a storeroom, and all of us survived to tell the tale. They arrested the arsonist who was a student and (is anyone surprised?) a volunteer fireman.
But I will always remember Dr. Bruce at that moment of truth, trying to decide which books were the ones he needed most.