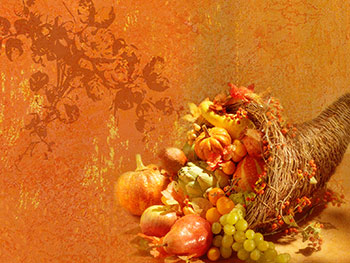 UNIQUELY AMERICAN
by Deborah Elliott-Upton
In the immortal words of Dolly Parton, "Here we go again." Has it already been a year since we celebrated Thanksgiving via cyberspace?
I'm usually one for carrying on traditions, but not this Thanksgiving. For the first time in years, I will not be basting a turkey, making chutney or baking pies. Instead my man and I are spending some quality time alone. We aren't snuggling in a mountain cabin or sharing a seaside cabana. Heck, we aren't even in a fleabag motel. Nope. When both our kids (actually grown adults) said they had other plans for this holiday, we decided to change our traditions, too. This choice isn't glamourous and won't be repeated next year. Instead of stuffing our guts with too much of everything and falling asleep on whatever chair hasn't been claimed by the time the football game starts, we'll be painting the living room, hall and maybe the kitchen.
Our home has always been the one everyone counts on for a holiday feast. I'm not sure the rest of the family understands why we aren't hosting the celebration at our home as usual, but they have all been told and have made other arrangements. We are thankful we have this uninterrupted time to work on this project we've been neglecting. While you're choosing which dessert is more appealing, we should be slinging enamel over woodwork, if not each other.
A while back, I shared we were remodeling our hall bathroom. That turned out so well, we noticed the rest of the house needed sprucing up, too. (Again, I blame it all on Bob Vila!) Thanksgiving seemed a blessing in disguise. The timing was perfect. My novel was finished and in the mail. The office would be closed until Monday. The kids weren't coming anyway and fortunately, my husband and I work well together. (Except for the first time we wallpapered together and I thought surely if we didn't divorce, one of us would be arrested for murder – but that all worked out okay – and yes, that wallpaper is finally coming down today. It's lived a long life and should be put out of its misery.)
We aren't usually so lucky in choosing our working partners. When I was an office manager for a national company, I worked mainly with men. We had the usual shared jokes and pranks, office politics going on and occasionally, some heart-to-heart talks. You could say we were a close version of The Office. (I'll leave it up to your imagination to guess which employee counterparts belong to my husband and me.)
From those experiences, I honestly believe you don't really know a person until you've worked overtime on an important project. This is when you see who is worth his paycheck and who is just good around the water cooler. When it's getting late and the books aren't balancing, the sales quotas aren't reaching expectations and spouses are calling to see when you'll be home, those good ol' boy (and girl) personalities aren't always as nice as they are during a regular workday.
I admit I enjoy seeing people react to abnormal circumstances. It's character studies in action. What makes a person have what we call in our family "a popcorn moment"? You know the time – when a person explodes, usually two inches from the face of someone who isn't even causing the problem. Emotions flowing like lava from volcano means too things: drama and you'd better get out of the way.
These episodes are common at functions when we squeeze too many people too close for too long. Sure, you can take Uncle Larry's political stance that is 180 degrees from yours, but not if he's been at it since he walked in the door hours ago. So what if Aunt Jean is a bit gossipy? But after she's cornered you for the tenth time in an hour to make sure I knew what someone had said about my sister's new career choice, it's easy to want to retreat to a place where no one knows your name. By the time Cousin Mike's one-upsmanship is ready to be toppled off that ladder by more than one person, we can see how people really live their lives. Better than dinner and a movie!
Why is domestic violence so prevalent during the holidays? After a graveyard shift as a police dispatcher, my friend shared what she calls the REAL new math for cops: 2+2+2= The Holidays from Hell. The equation relates to a mix of too much alcohol, too close quarters and too many relatives at one gathering."
What makes a perfectly normal guy (or girl) go ballistic? Why do adult siblings suddenly become children when they are reunited together with their parents? What would make a relative even consider robbing another at a family gathering, conduct an elicit affair with a family member's significant other or pull a weapon on someone they'd been raised with or by? It happens in real life, and reported by journalists and spun into believable tales to share with readers like you and me.
Sugar plums? Hmm, more like murderous plots dance in my head during the holidays. But, not all are filled with deceit, danger or death. Some are composed of very ordinary people doing very extraordinary things. That's what I usually think about. But not this holiday. This one I'm spending working with my guy. We'll talk about his next gun shoot competition, our next steps together in our businesses, our plans for the future – oh, and I may work in a mention or two about my next writing project idea and see what he thinks. It's nice to have other viewpoints to consider.
All in all, it's kind of romantic. I hadn't thought of writing a romance, but I am certainly prepared to do the research.