LAST RITUALS
by Leigh Lundin
Tomorrow is Independence Day in the Republic of Iceland. The entire nation of Iceland (or Ísland) has a population 1/60 that of New York City, and they like it fine that way, thank you very much.
It's the westernmost of European countries, on the Arctic Circle between Greenland and the European mainland. They have the world's oldest legislature, the Althing.
Iceland produces the softest wool you've ever felt and wonderful seafood. When I visited, an ice cream bowl of caviar was cheaper than hamburger.
The landscape of Iceland is starkly beautiful. A land of fire and ice, the country is the home of the Geyser, waterfalls, and a beautiful little pool I've never forgotten, shaped like a figure 8 with water too hot to touch.
Iceland has a rich tradition of literature, the Sagas and the Eddas. I know this because my father chided me that I hadn't read any the first time I visited Iceland. (Sagas are available in free eBooks.)
Iceland also has well-known mystery writers.
One of them is Yrsa Sigurdardóttir.
Yrsa Sigurdardóttir
Although she has several children's books and four mysteries, Yrsa is only a part-time author. The rest of the time she's one of Iceland's top civil engineers. I met Yrsa at Bouchercon along with a husband so charming, a number of ladies wanted his autograph.
It was there I bought Yrsa's book, Last Rituals, which was published in 2005 but has only recently made it to the US. Although I've touted books and stories, I haven't done reviews. I'm going to make an exception, because this novel deserves it and, unlike most reviews, I even paid for my own copy.
The book opens with the finding of the corpse of a university student. His body is mutilated and his eyes cut out. The victim is a German student from a wealthy family who sends their representative to look into the case.
By now, you've figured out Last Rituals is not a cosy. Some Europeans seem mystified about American's love of lawyers in literature, but Yrsa gets it. Her protagonist is an attorney named Thóra Gudmundsdóttir, hired by the victim's family to work with their representative, Matthew Reich.
A long time ago I read some 'rules' for mystery writers, among them that your protagonist must, if not immediately likable, grow on the reader. Contrarily, it's wise to let the reader discover the victim, if not exactly deserving, had a darkly unpleasant side.
Yrsa breaks these 'rules'. The victim is initially shown as a proponent of witchcraft and the leader of a sullen cadre of fellow students. As the book progresses, we not only discover the victim had his better moments, his cold, unloving childhood left its mark on him.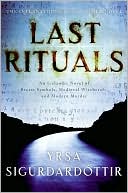 Thóra Gudmundsdóttir
Our heroine, however, while working for the forces of goodness and light has her darker moments. Thóra's unfocused anger against her ex-husband is enough to send any sensible guy running and at times she almost seems to admit she's unreasonable. When it comes to her colleague, Matthew, she has a sense of mischief that's a little too spiteful to be cute.
That said, Thóra is a vibrant character. She's honest and painstaking, determined to get her man as she and Matthew trek across the landscape of Iceland. She also manages to tumble into bed with Matthew in one of the more understated relationships I've encountered. Unlike so many novels where the main characters appear to detest each other but telegraph to the reader that they're really hot for one another, Yrsa's restraint left me genuinely wondering if they were going to get together.
In this post-Da Vinci Code era, some might contrast her book with, say, The Rule of Four, with its investigation into historical literature. The overall ambience reminded me of a very different author, John/Ross Macdonald (Kenneth Millar), author of the Lew Archer series. Why the novel makes me think of Macdonald's stories is difficult to pinpoint since on the surface they could hardly be more dissimilar, but I think it's because of the dysfunctional family background that Thóra exposes.
I have one quibble with the book. Early on, one of the students seeks a missing object in one of the university rooms. We don't learn until the end of the book that the missing object is a spoon, and as soon as it was mentioned, my mind leaped ahead unraveling the horror of its significance. In my little world, I'd liked to have known the spoon was missing sooner so I could have pondered its raison d'être, but that's just me. The spoon may prove to be one of the more unforgettable elements in mystery fiction.
Thóra Gudmundsdóttir, now a series character, returns in subsequent novels, My Soul to Take, Ashes to Dust, and released this month in Iceland, Veins of Ice.