The CHRISTMAS BOX
by Leigh Lundin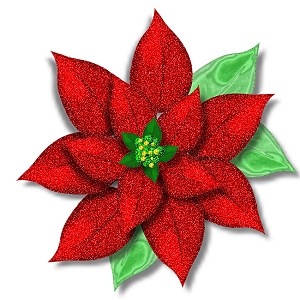 Every Christmas, my father gave my mother a box, the same box, a 10 inch (25 cm) cube with printed poinsettias. From their first Christmas together, my sentimental father saved the carton and each year he gave her a gift in that same box. That was one of several family traditions.
Christmas was ecumenical for us. My family surrounding consisted of Protestants, Catholics, Jews, a closet Buddhist, and of course the batty spinster aunt who went on about "astral planes". Unlike nations, our various religions didn't divide us; they brought us together. As in the spring, when we celebrated Passover, Easter, and Purim together, in the winter, we embraced Chanukah and Christmas.
Alongside holly and juniper boughs, my mother set out a menorah. My Aunt Esther's star atop the tree looked suspiciously like a Star of David (much more tasteful than the example at right). We were delighted when we discovered the 25th is the FIRST day of Christmas, so by tradition we could leave the tree up through the 6th of January, the Feast of the Epiphany.
1st day
25 Dec
5th day
29 Dec
9th day
02 Jan
2nd day
26 Dec
6th day
30 Dec
10th day
03 Jan
3rd day
27 Dec
7th day
31 Dec
11th day
04 Jan
4th day
28 Dec
8th day
01 Jan
12th day
05 Jan
6 January : Feast of the Epiphany or 'Little Christmas'
We experienced Christmas as inclusive, not exclusive. We had no Muslims or Shintoists in the family, but they'd have been told, "Pull up a chair, don't sit on the cat, and help yourself to date pudding."
We attended the usual rounds of Christmas pageants, religious services, candle lighting, and chorales. We endured pleasant bickering, my mother's seasonal hyper-sensitivity, and a droning background lecture about the feminist meaning of an astral Christmas or the astral meaning of a feminist Christmas.
My aunt Charlotte hand-made Christmas stockings, decorated with miniature wreaths, holly, and candy canes. Christmas Day was reserved for stockings, so Christmas Eve we sat around the tree and opened our 'major' presents. Before bedtime, when the air was pungent with the latest cologne and airplane glue, we hung stockings on the mantle. Next morning, we emptied our stockings to find tangerines, English walnuts, Matchbox cars, toys and tchotchkes (Yiddish for 'trinkets'), whereupon my youngest brother stuck small parts up his nose.
(In fact, he was a strange little brother. In church, my mother noticed he'd begin chewing. She'd open his mouth and find peas from the previous night's dinner. This was after he'd (a) brushed his teeth, (b) slept through the night, (c) eaten breakfast, and (d) brushed his teeth again. Somewhere, he had a squirrel-like pouch in his cheek where he stored food.)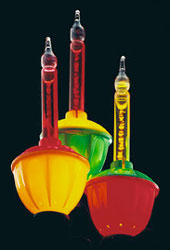 I loved NOMA bubble lights from my first Christmas, the year after they were introduced. I believed bubble lights had disappeared from the scene, but several years ago I discovered bubble lights are still manufactured. In fact, Florida has Bubble Room Restaurants which feature more than a few bubble lights as well as loads of nostalgic kitsch.
The lighting of our tree was as big an event as Rockefeller Center or the White House. One uncle grumbled that he wanted to get lit as my aunt prattled on about pagan lesbian symbolism on the astral plane. I think my uncle muttered something about 'astrals', although his spelling had a double ss.
(Disney's tree in the Magic Kingdom is our major local event. The 'magic' is that Disney buys two trees to make one Christmas tree. On a back lot, they dismember one and wire its branches into the other tree making the result appear denser and fuller. Once satisfied, they spray it with a transparent green lacquer and fire retardant. From a warehouse, they pull lights, 'popcorn' strands, and oversized decorations that utilize forced perspective. On the last night of November, a crane sets the tree into place in the Magic Kingdom.)
A couple of years ago, a teacher was threatened with dismissal after she told her students Santa wasn't real. Parents wailed and wrung their hands that little Dick and Jane would be traumatized to learn that Santa and his 8 (or 9) reindeer were made up.
My batty aunt used to say, "Santa doesn't exist, you know."
"Well, duh! You believe in astral projections, but not Santa?"
We always knew Santa didn't exist. That didn't stop us from enjoying the fantasy. We loved the wonderful events comprising Christmas and we appreciated some adults wouldn't condescend or lie to their kids.
My father died before my parents achieved their 50th anniversary. Never again would my mother open their sentimental Christmas box my father saved nearly a half century earlier and annually re-given her. Although it was in remarkable shape, it had yellowed with age. Its use was past, yet a memory like that doesn't belong in the trash.
That winter without him, my mother closed the lid on the box and built a 'yule log' bonfire. In the flames, she placed the Christmas box, the one she'd received each holiday for all those many years.
---
Here's a little Christmas gift passed along by writer/editor/friend, Sharon: