REVISITING WOLPERTINGER
by James Lincoln Warren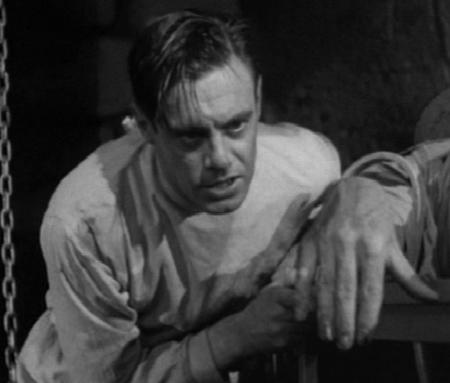 It's been a while since I dropped by to say hello to Mad Scientist Jakob Linnaeus Wolpertinger and his assistant Ivor. The last time we met, if you recall, he was trying to create a monster by revivifying dead prose and had come up with a species of jackalope.
I was surprised to see that all of the huge and unwieldy equipment he used to have in his laboratory had been removed. In its place he had a spanking new HDTV, a Blu-Ray Player with a stack of special effects films on BD sitting next to it, and a laptop computer.
"I sent all that crap back to the Rent-A-Center," he explained. "I was getting weary of all the circuit breakers popping whenever I turned any if it on, especially when I was warming up supper in the microwave. Anyway, I've come up with a new project."
Ivor snorted where he sat in the corner and went back to reading a battered old copy of the Norton Critical Edition of Anton Chekhov's Short Stories.
Wolpertinger got that particular insane gleam in his eyes that is his trademark and massaged his hands together. "Have you ever heard of … a ROTATING BLOG?"
"As a matter of fact—"
"Well, I have invented … the ROTATING BALROG!" Whereupon he threw back his head and laughed maniacally.
"I really don't think—"
"I've invited my criminally insane genius fiends—I mean, friends—to participate. Each one of us will contribute a part of the corpse—I mean, corpus—on a separate day of the week. I will write on Mondays as The Bibbler. My friend Harmonie St.-John Whye will write her column on Tuesdays. We're going to call it Rubber Stiletto."
"This sounds very fam—"
"Wednesday will be the turn of Bert Ilpresto," he continued, turning away from me and putting his hands behind his back as he paced. "He wants to call it Pitch It, Else Expire! but I'm not so sure. It doesn't make any sense to me."
"Doesn't he play the autoharp? They are notorious for falling out of pitch, you know, and require a key to tune them. I think it m—"
"On Thursdays I've lined up Boadicea Iota-Downs. We're calling her bit Wicked Woman," he said, giggling. "That's a laugh because she's the nicest person you'll ever meet and everybody loves her. But she's got a reputation as an evil scientist to maintain, after all."
"I think I see a pattern here—"
"The Friday slot will be filled by Lewis Bockstein, under the title of Grand Dispatches."
"Don't tell me. On Saturday, I'll bet you're featuring—"
"Floyd M. John, of course. We're very excited to have him and his column, Southern Sludge."
"I hate to break it to you, Jakob, but I've alread—"
"And finally, on Sunday, our pièce de résistance, an absolutely diseased column by the certifiably insane master mind Lundi Leen, The A.B.C. Invective." Wolpertinger winked and whispered, "He's the one who knows all about computers and stuff."
I gave up. "That's great, Jakob. What are you going to call the website?"
He pursed his lips. "I dunno. I was thinking of maybe Felonious Shorts."
Ivor snorted again and mumbled something barely audible.
"What's that, Ivor," Wolpertinger demanded in a sudden rage. "Why don't you share what you have to say with the whole class?"
"What I said was, you should call it Certifiable Cases," Ivor snapped.
"Hey, I like that," Wolpertinger said, smiling unpleasantly. "It has a certain je ne sais quoi. Yeah, it works: Certifiable Cases: The Little Mad Scientist Monstery Balrog Project."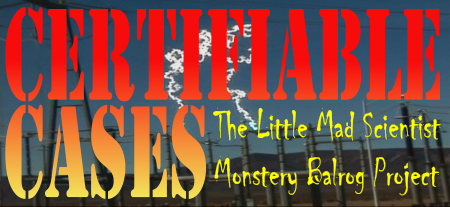 He turned to me.
"Whaddya think?"
"I was wondering what happened to your German accent, actually."
"Oh, that," he said, shrugging modestly. "I have a special gift for voices. I hear them all the time, you know."