I HATE NEW YEAR RESOLUTIONS — SO HERE ARE MINE
by Melodie Johnson Howe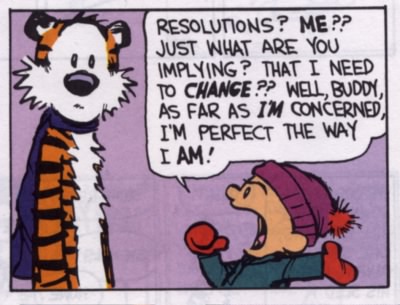 I will try to write twenty pages a day. Okay, ten pages. Five is really doable. Actually one good page is better than five rambling ones. In fact a good paragraph is … yet one perfect sentence … even a single word can….
I will try to write about short stories on Criminal Brief. No I won't. But since I view my life as one long anthology of collected short stories I'll just continue to do what I do.
I will not clean my office. But I will try to remember to clean my glasses and the monitor screen. Sometimes I feel like the writer version of Doris Day who was shot through a smear of Vaseline in order to look younger. I will not do this either because that analogy makes no sense.
I will try not to buy as many shoes. Especially since they all look alike. But there are those black and white spectators…
I will try not to get wrapped up in politics to the extent that I let those pandering, blabbering, yapping group of people sap my creative energy. I think I may be able to keep this one. Except I know there's going to be some of those relentless dinner party political arguments in 2008. But I don't have to join in. Get a grip, Melodie. Okay, I won't keep this resolution either.
I will come to terms with not being a "famous" writer. Well, maybe not. But I will try not to sneer at the so-called famous writers.
I will try to go to more mystery conventions. Is there one in Paris this year?
I think that the Criminal Briefers should get together in 2008. See each other in person. I know it's scary, kinda like a big group first date. But it be would fun.
I would like to thank my co-bloggers for their knowledge, stirring thoughts, humor, and dedication to Criminal Brief in 2007. And JLW gets a big smoochy kiss from me for making it all happen.
And I would also like to thank our readers, lurkers, and those who have responded with their funny and thoughtful replies in 2007.
HAPPY NEW YEAR to All!