EVERY DAY'S A NEW DAY
by Deborah Elliott—Upton
Another online blogger states sales of books and magazines are up almost 18% from last year.
It seems reading is being rediscovered as a valid form of less expensive entertainment. In a so-sagging-it's-slouched-already economy, the world needs something to make everything else go away. In the past, some tried to do that with drugs. Reading is easier on the body, not illegal and actually quite inexpensive, especially if we share with our friends or use our library cards, so let's find our own Marian the Librarian and sign up.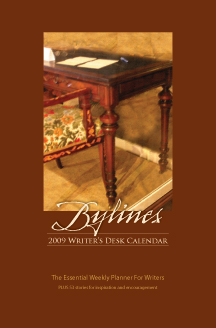 I have some of my own good news to share, too. I have been included in the 2009 Bylines Calendar. (This year's issue also welcomed one of our frequent commentators on Criminal Brief, Travis Erwin.)
Of course, this is the only way I can claim to be a Calendar "girl" (and I guess Travis is now a bona fide Calendar "boy"), so I'm taking it.
Several tidbits I may have mentioned in Criminal Brief from time to time, about National Author's Day (November 1st), Alfred Hitchcock's birthday (August 13, 1899) or I Love To write Day (November 15th this year), I found in the 2008 Bylines Calendar.
It's not just a calendar either. Sure, there are pages dedicated to a Sunday through Saturday rundown and space to make notations concerning meetings and "Do not forget" appointments or lists of important dates like birthdays, anniversaries or the ever—critical deadlines for a short story contest. I also use it to keep track of expenditures for office supplies, conferences and speaking engagement costs and earnings for the Internal Revenue Service just in case they ask. This calendar isn't just for writers, but for anyone who needs a calendar — which is pretty much everyone. I think the IRS is apt to ask any of us for details about expenses at any time and it's nice to have it written down all in one place.
This year's Bylines includes writers from 29 states and 5 foreign countries including China, Tasmania, Ireland, Great Britain, Canada and the United States of America. Each writer has submitted a short essay which is a quick read along with trivia about authors and writing related events. Each essay is accompanied by the author's photo. The photo of me on Criminal Brief was taken especially for the 2009 Bylines Calendar. I haven't seen Travis' photo yet, but he promises it doesn't include a fish, which I think may be rare for him.
The "celebrity desk" on this year's cover belonged to Mark Twain. "He used this desk for much of his writing," said editor Sylvia Forbes. "The desk is on display at the Mark Twain Museum in Hannibal, Missouri. Mark Twain was also one of the first authors, perhaps even the first (as he claims), to use a typewriter in his writing. A photos of one of his typewriters can also be found inside Bylines. We have decided to call this the "Mark Twain" edition, and all the photos inside (other than those of all the writers), relate to him in some way," Forbes said.
If you'd like to purchase an autographed copy, e-mail either me or Travis . If you don't care about the autographs, order directly from Bylines Calendar. The calendar is also available at Barnes and Noble Booksellers.
We have a whole new year of possibilities to explore. All you have to do is take advantage of the opportunities. We've got 365 days coming to us in 2009 (one short from 2008). I've got dibs on a few already. Which ones will you claim?