THROUGH THE LOOKING GLASS
by Steve Steinbock
The mome raths have been falling in toves lately. If you're unfamiliar with mome raths, or are wondering why I said toves rather than droves, then you clearly need to gimble and gyre over to this website or read the first chapter of Lewis Carroll's Through the Looking Glass.
I've been encountering a larger than usual number of Lewis Carroll references in the most unusual places. The other day I learned that John Ringo, author of military science fiction thrillers, has written a bunch of books which he calls the Into the Looking Glass series, all but the first featuring names from Carroll's poem, "Jabberwocky." Pretty cool, huh?
I'd like to read these books, but at the moment my stack of to-be-read books is already getting kind of shaky.
My World and Welcome To It
Last month, my Criminal Brief colleague Rob wrote a column about "little men" in crime, and specifically the sort of characters created by James Thurber. That prompted me to pull out Rob's anthology Thurber on Crime, which in turn prompted me to dig my copy of A Thurber Carnival. While perusing that book, I came across a column by Thurber called, "What do you mean it was Brillig?"
Another Lewis Carroll reference!
In the column, Thurber was amusingly discussing the failures in communication between him and his housekeeper. Speaking with this woman was, for Thurber, like falling through the looking glass and conversing in Jabberwocky terms.
I got to thinking: the Internet is much like that Looking Glass world. How many times have I read something – or said something – on a forum or a blog or a listserv that has been taken the wrong way? I'm sure it's happened here at Criminal Brief. And I've had more than one moment of awkwardness when someone has been offended by something I'd written.
And snicker-snack goes the vorpal blade!
My Talk with Goober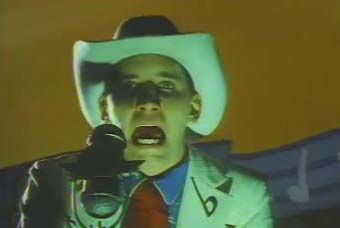 This past week I interviewed one of the more fun and interesting subjects. Dan John Miller is the guitarist and lead vocalist (along with his wife Tracee) of the Goth-Country band Blanche. Before that he was Goober of the alt-Country-garage band Goober and the Peas. He's appeared in a number of films, including "Leatherheads," "Timequest" (in which he played a young Dan Rather), and "Walk the Line" (in which he played Johnny Cash's guitarist Luther Perkins). When I spoke with him he was in Los Angeles for the screening of the upcoming film "My One and Only" with Renee Zellweger.
Dan John was a blast to speak with. He's narrated a dozen audiobooks in the past year, and that was the context in which I was interviewing him. He is as conservatively even-toned when narrating books as he is frenetic and outlandish on the music stage.
How Do You Mark Your Place?
Because I'm currently in the midst of reading about nine different books, I've been thinking about bookmarks a lot lately. I swear by my three-by-five index cards. I never go anywhere without them. They are as low tech as it gets, but are wonderfully multi-functional. I usually use standard ruled index cards, but have been known to use blank whites, and I currently have a bundle of multi-colored cards in my briefcase.
When I was a kid, my dad once brought home a handful of thin plastic bookmarks, white plastic with blue printing that said something like "The Joy of Reading" with a picture of a kid with a kite. Those were great. I probably still have one or two hidden in the recesses of some book or another. I also once had an elaborate method of folding a piece of facial tissue (what I used to call Kleenex) to form a perfect bookmark.
What do you use to mark your place in a book? (If you dog-ear pages, I don't want to hear about it!)
How do you bookmark a scroll? A typical Torah scroll can be well over a hundred feet in length. Scrolls don't have page numbers or tables of contents. Torah scrolls don't even have chapter or verse numbers. So how does one keep one's place? No easy answer. In the past I've used paper clips and Post-it notes, but the last time my rabbi caught me marking my place in a Torah scroll, I thought she was going to rip me a new one. The bottom line with a scroll is either to keep it short or memorize the whole thing.