THE PRETTY GOOD SHEPHERD
by Rob Lopresti
I was a kid, see … Christmas Eve, 1964. In a house in suburban New Jersey ten-year-old me, too excited to sleep, lay in my bed, trying to find something interesting on my AM radio. Suddenly, I hit the jackpot.
A wonderful voice I have never heard before is in the middle of reading a story. It is about a boy who wants a BB gun for Christmas. but everyone he tells about it — his mother, his teacher — responds the same. As the department store Santa puts it:
"HO HO HO! YOU'LL SHOOT YOUR EYE OUT, KID! HO HO HO! MERRY CHRISTMAS!"
It was hilarious. It was like nothing I had ever heard before.
The next night, Christmas, I went frantically down the dial trying to find the voice again. Nothing. Just Howard Cosell Speaking of Sports, and Cousin Brucie playing the Beatles. Where was the magic storyteller?
Shep found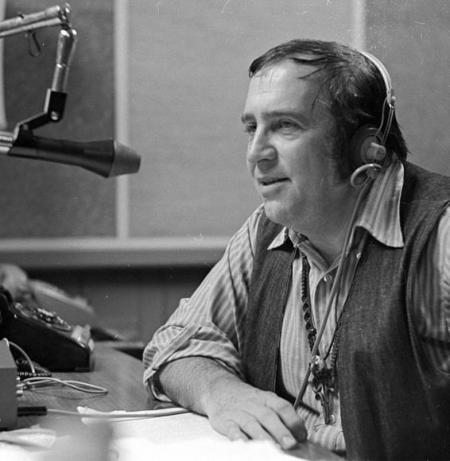 I found him a few days later. His name was Jean Shepherd (and I just saw it misspelled again in today's paper, years after his death …) and in those days he was on WOR-AM from 10:15 to 11 PM, five nights a week, talking.
Let me emphasize that: talking. This is not what we mean by talk radio today. He didn't have guests. He didn't take phone calls. And he didn't play music, except as background for what he was saying. The man simple talked for forty-five minutes five nights a week. Sometimes on Saturday he added a live show from a club in Greenwich Village. This went on for decades.
The first show I heard was unusual, because he was reading a printed text — his story "Duel In The Snow, Or Red Ryder Nails The Cleveland Street Kid," which had recently been published in Playboy. Typically he did his show with a few written notes or nothing at all.
He talked about anything and everything but what people loved best were his stories about growing up in Hohman, Indiana (based on Hammond, Indiana and East Chicago, Illinois), and attempting to get an education at Warren G. Harding School. Many people are astonished to discover that Shep really did attend a school named after that bottom-of-the-barrel president. And by the way, the opening sentence of my column is the way his stories often began. He also told bizarre stories about his days in the Army Signal Corps during World War II. (Or Korea … the time period for his stories shifted over the years … he lied about his age as he did about so much else.)
The movie, and beyond
I'm sure most of you out there never heard Shep on the radio, but some are saying "that story sounds like the movie A Christmas Story." It should. That film — which came out twenty-five years ago this fall — was based on his work. The studio had so little faith in it that it wasn't in theaters at Christmas, but the thing is a certified classic today. And because of it, Shepherd died a rich man. Radio, the medium which gave him his best canvas, was not so kind to him, financially.
If you dig around on the web you can find recordings of Shepherd, and clips from his TV work — PBS movies, a series called Jean Shepherd's America, etc. — but since this blog is mostly about writing, let's talk a little about the words he put down on paper.
They sparkled. Here are a few examples:
It seems like one minute we're all playing around back of the garage, kicking tin cans, and yelling at girls, and the next instant you find yourself doomed to exist as an office boy in the Mail Room of Life, while another ex-mewling, puking babe sends down Dicta, says "No comment" to the Press, and lives a real genuine Life on the screen of the world. —"The Endless Streetcar Ride Into The Night, And The Tinfoil Noose."
It was the Depression, and the natives had been idle so long that they no longer even considered themselves out of work. Work had ceased to exist, so how could you be out of it? —"Duel In The Snow …"
(After the Prom we) arrived at the Red Rooster, already crowded with other candidates for adulthood. A giant neon rooster with a blue neon tail that flicked up and down in the rain set the tone for this glamorous establishment. An aura of undefined sin was always connected with the name Red Rooster. Sly winks, nudgings and adolescent cacklings about what purportedly went on at the Rooster made it the "in" spot for such a momentous revel. Its waiters were rumored really to be secret henchmen of the Mafia. But the only thing we knew for sure about the Rooster was that anybody on the far side of seven years old could procure any known drink without question. —"Wanda Hickey's Night Of Golden Memories."
My own golden memory
Just as MAD Magazine was for many people of my age, Shep was the voice of sanity that got me through early adolescence. The whisper that said: You're right! The adults ARE crazy! I owe him a lot for that.
But I owe him a hell of a lot more. One day when I was in high school a friend told me that his sister and one of her friends wanted to go see Shep perform live in Red Bank, and since the girls didn't have licenses yet, they were asking him to drive. Would I like to go along?
Sure, I said. And it was such a good show that I married my friend's sister. Celebrated our 32nd anniversary on Monday, in fact.
Call that a belated Christmas present. Thanks, Shep.