LOST in TRANSLATION
by John M. Floyd
I realize I'm probably strange. Most fiction writers are. But I don't think I act particularly strange, at least most of the time. Now and then, though . . .
Now and then I do something that reminds me of a sitcom, when almost every action is either funny, stupid, or misunderstood. On one occasion, I unfortunately managed all three — and I didn't even know about it until the deed was done. Even more unfortunately, the following story is true.
I should start by giving you a little background. Some time ago, one of my published short stories attracted the attention of a movie producer who had spent 25 years in the L.A. film industry and then moved back to north Mississippi, about 200 miles from here. He and I became friends, and co-wrote the screenplay for my story, which is scheduled to shoot later this year as a short film. We also worked together for several months on a script for a feature-film-length murder mystery based on one of his own ideas.
During the writing and brainstorming process for the longer script, he called me one summer afternoon to discuss some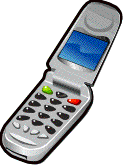 problems we were having with the plot. I was in our back yard at the time, which is surrounded by a six-foot-tall cypress fence, and took the call on my cell phone.
One more thing: According to my wife, I always speak too loudly on the telephone. And since it was a mild day and the windows were all raised, my wife heard every word on my end of the phone conversation that afternoon. When I was done with the call and had disconnected and come back inside, she said to me, "Do you realize what you were saying out there?"
I didn't bother to answer because I didn't remember what I was saying, and besides, I knew she was about to tell me. But what she told me was a little unsettling.
I had apparently said, in my full-blast telephone voice, "No, I don't think we should kill her there. It'd be too hard to hide the body." And, after a pause: "We should do it down by the railroad tracks, and bury her there."
Now, if that weren't bad enough, my wife had noticed that our neighbor on the other side of our tall wooden fence was roaming around in his back yard while I was on the phone — she'd glimpsed the top of his head several times — and to our knowledge he had no hearing disabilities. I say "to our knowledge" because we didn't really know him or his wife; they'd only recently moved to our neighborhood. All we had heard about him was that he was a youth minister at a local Baptist church.
"Are you sure he heard me?" I asked her.
"We'll know," she said, with a sigh, "if the police knock on our door tonight."
They didn't, as things turned out, and I pretty much forgot about the whole thing. Then, a few days later, I noticed something as I was mowing our side yard, which runs just outside our fence and borders our Baptist neighbor's lot.
It was a metal sign with two wire supports, like those that list the ten commandments or announce that your lawn has won Yard of the Month. This one was planted right on our property line and aimed in our direction, and said, in big block letters: YOU ARE BEING PRAYED FOR.
Several weeks later our neighbor moved away, and I hope to this day that I wasn't the cause. I also hope I was, and still am, being prayed for, because I almost certainly need it.
Having said all that, I want you to know that I no longer talk at full volume on the phone, inside or outside our fence, and I also try to avoid fictional storyline discussions if I'm in the vicinity of a church official of any kind.
Oh, I almost forgot — there's one more thing that came out of this little incident. We decided not to kill the lady in the movie after all. We killed a guy instead, and since he died in a fiery vehicle/train collision we didn't even have to bury him.
And I know what you're going to ask: Has the script been sold? Alas, not yet.
But I'm expecting a call any day now …